KINGSWAP: A REWARDING PLATFORM FOR ALL TYPES OF PAYMENT AND CURRENCY CONVERSION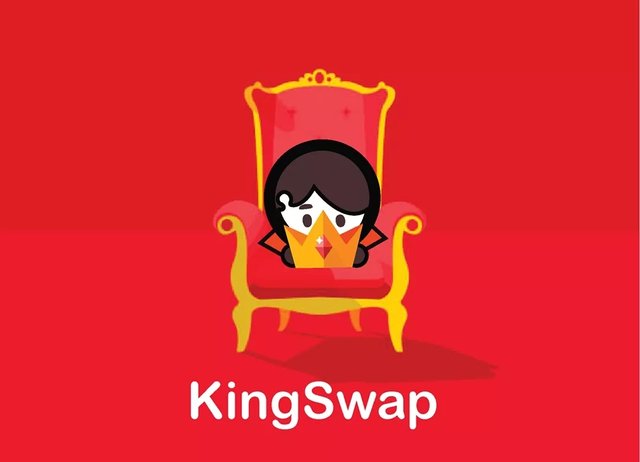 Credit
INTRODUCTION
There are so many exchange platform out on the blockchain for users but only a few are worth users allegiance. Making transactions on the blockchain however is a big part of the plan that involves users interacting and sharing their funds or exchanging them as it were. But there is still a need for them to advance and trade in a better way if there is a way to convert tokens to another form of money for the sake of their transactions. Now on the blockchain, there is a new platform of choice that has so much to offer users in terms of the use of tokens and other financial services. The platform is named Kingswap.
WHAT IS KINGSWAP ?
This platform has all what it takes to win user's heart and make them loyal to it. It is a platform that provides free token and steadily reward the users in it. It does this with the help of the liquidity pool it features and the way the $king token has been made to serve the platform financial transactions. Everyone loves free stuffs which is why they can choose to remain in this platform. It will also provide liquidity and engage all the users in the platform so that can swap cryptocurrencies and also use fiats on the platform when they want to do so.
This platform however plan to carryout a silent airdrop program which it plan to have on Kingswap for those users who are ready to provide liquidity in the ecosystem. That will be the criteria for qualifying and as that would be done, so many swappers would be taken to participate in the airdrop program.
HIGHLIGHTS OF KINGSWAP
This platform provides a very convenient atmosphere for users to operate at best in their finances, enjoying all their transactions and getting the benefits as befitting the merchants. All they need to do is get their accounts and start optimizing the free access that would make them able to stake and bag so much rewards at the end of the staking process.
One of the features that makes this platform so beautiful is the very useful and friendly interface which it gives the users. Its interface is simple and classy for all types of users or traders but has a little bit of variation from uniswap from which this innovation is derived. With this, a much more better experience is enjoyed and compatibility is seen as another feature. It also offers the best security and a medium that makes it easy.
The way it operates is far better than uniswap or sushiswap which can be compared to it just a little. It uses a unique design and that alone has proved to be an effective tool that has secured its space in the DEX market where it has so much relevance. This project operates without the need for order books or third parties which unlike the existing systems are a very core part of their activities. It even does better without centralized parties involved and yet the $KING token remain as relevant and contributive to the platform as possible.
CONCLUSION
The main design for reward in this platform is the $KING Token. It would be used by the users for liquidity mining and holders will have so much more to use other than just the token alone but the ability to customize their trades and convert the funds used so easily.
USEFUL LINKS
Website: https://kingswap.io/
Twitter: https://twitter.com/defi_kingswap
Discord: https://discord.com/invite/fD2DrJY
Github: https://github.com/KingLuigy/KingSwap
LinkedIn: https://www.linkedin.com/company/kingswap
Telegram: https://t.me/kingswap
AUTHOR'S DETAILS
Bitcointalk Username: Darlingtonchuka
Bitcointalk Profile Link: https://bitcointalk.org/index.php?action=profile;u=2802464