Relictum Pro and Blockchain 5.0 - What does it mean and how can it improve the industry?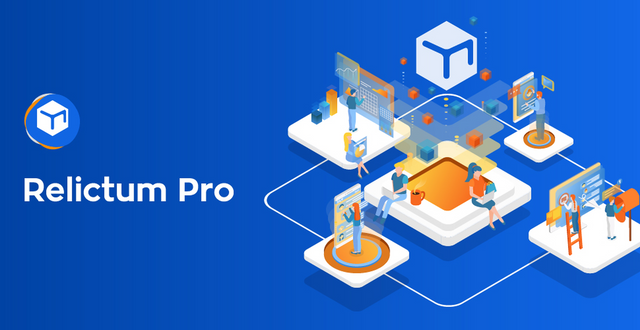 Relictum Pro is solving such massive problems of the whole industry as scaling and low productivity. Furthermore, for those who are tired of typical 7 transactions per second with BTC, Relictum can perform up to 100.000. transactions per second, but we will get into details a little bit later.
Blockchain 5.0

Relictum Pro was created back in 2019 and it has all begun with an idea to improve blockchain technology. But what does 5.0 means actually? As a normal user it is pretty hard to get it, but we will explain everything guys, no worries. Blockchain 1.0 is where everything started, so obviously Bitcoin. The next giant that improved blockchain was Ethereum, made it faster, scalable and cheaper, this was blockchain 2.0. Remember the hype around EOS? That was the next step towards improvement, it was blockchain 3.0. Shortly after EOS, Seele.pro came into the action and made blockchain even more attractive, they increased transaction speed and reduced the block size. Finally we are coming to the latest blockchain generation which is represented by Relictum Pro. So what is the difference? => smallest block size, largest amount of transactions per second, node is fillied with 0,5-1 second. Furthermore, with Relictum we will finally achieve full decentralization of blockchain.
Team and Roadmap

As we already mentioned Relictum Pro was created back in 2019 and the main characters that played big role in this project creation are Alexanderr Srigin and Franco Fiore. Let us go through the Roadmap and look what is already achieved and what are the future plans. So 3rd and 4th Quartel were pretty busy as the team has developed an alpha version of a product and managed to do first sales rounds. 2020 has started very difficult for the whole world, but despite this fact Relictum Pro has managed to continue the sale rounds and the last one is still live and will continue till the 31st of May. Relictum Pro team wants to continue development roadmap and plans to create a lot of smart contracts for different industries like Medicine and Logistics. In Q4 network development would have the highest priority and in 2021 marketing will get more and more important to gain the new audience.
Products
Relictum Pro is going to offer a lot of different products that would be helpful to improve the level of decentralization and safety in todays world. We will look at all three products that Relictum Pro has developed:

We all knew the problem of copywriting. Nowadays it is almost impossible to restrict the usage of the original file and it is getting harder and harder because pirate copies are getting more and more difficult to track. Furthermore, have you ever experienced a problem of data leaks in the cloud? Or at least heard that user data of some big company was hacked and millions of clients data were stolen? I am sure you have and with distributed storage provided by Relictum, you can forget about those issues. Users would have instant access to their storage from anywhere in the world and would have an outstanding access speed. Secondly, decentralized storage would not be restricted by time, users would have lifelong access. Thirdly, copyright smart contracts would allow to secure your original files and forget about hunting pirate copies. The last but not least, is the safety of your data, Relictum Pro is a blockchain based project which would ensure the cybersecurity of your precious files.

At the moment, there is an overwhelming amount of crypto currency exchanges. Every day a lot of projects are willing to collect a lot of funds for another exchange. The only problem is that all of those are centralized. All funds are stored by an exchange, you do not have access to your funds until you withdraw them. To perform good volume and get a big amount of crypto, you will need to verify your identity and pass the KYC verification. Furthermore, all exchanges are charging huge fees for trading and withdrawing. Relictum Pro is creating a decentralized exchange, where you would not need to bother about all those issues. Users will have the full control of their funds, will have an opportunity to trade with over 500 cryptocurrency pairs and will not be charged with unbelievable fees. Relictum Pro exchange will be user friendly, easy to use and most importantly will have a high security level for protection against hackers or DDOS attacks.

Have you ever wondered about chatting with someone privately, without anybody possible reading your chat with you? This problem is solved by secret chat by Relictum Pro. Every chat would have private keys, so only the two persons in dialog would have access to this information. Moreover, with secret chat it would be possible to send crypto currencies to anyone from anywhere in the world at any moment of time. As we all know Telegram project got suspended few days ago, so it would be a nice opportunity to jump in and to join secret chat by Relictum.
As you have already mentioned Relictum Pro is not only another blockchain, it is a huge ecosystem with a lot of products and opportutnities for their users. And as every ecosystem, Relictum Pro needs a native coin that serve as a basement for transactions. This coin is called Genesis token or GNT. The total supply of GNT tokens is going to be 10 billion tokens and the price is 0,0045 USD. Furthermore Relictum pro is going to creat a stable coin called RLC, which is going to be based on mathematical algorithm to protect this coin from inflation. For those who are interested in more detailed description to tokenomics, we will leave the whitepaper in the description below.
Personal Cabinet and Token sale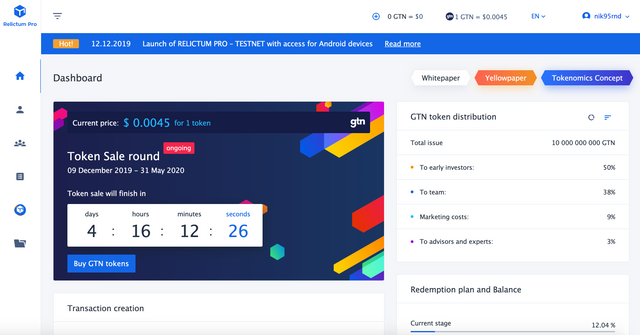 Now we can talk about the token sale and how we can contribute to Relictum Pro and get some of their tokens. First of all, you need to go to the main page and click on get started in the top right corner of the page. You will need to fill your username, email, create password, choose your country and click sign up. Once you have done those steps, you will get an e-mail with registration link, click on it and you will be redirected to your personal page. Now we can see that the current token sale round is still live and will last until the 31st of May. The current token price is 0,0045 USD, you can scroll a little bit down to use Relictum calculator to know how much tokens you can get. Fore example we want to buy 100 USD worth of GNT token. For 100 USD we will get around 22.000 GNT tokens. Click on buy and you will see transactions details we will need to perform. (do the same please) So now we have reserved our 100 USD worth of GNT tokens for 24 hours. You will need to perform this transaction within this time to get your tokens. Furthermore if you scroll down, you will see TEAM STATICS and your referral link. You can invite your friends to take part in Relictum token sale to get good bonuses.
Conclusion
All in all, Relictum Pro is going to launch another blockchain revolution which would improve transactions speed and prices and most importantly will near the mass adoption by making blockchain more user friendly and accessible. Here are some useful links, so you can make a deep dive:
Website: https://relictum.pro
Whitepaper: https://relictum.pro/cabinet/docs/whitepaper_en.pdf
Tokenomics: https://relictum.pro/cabinet/docs/concept_en.pdf
Twitter: https://twitter.com/relictumpro
Facebook: https://www.facebook.com/relictumpr/
Medium: https://medium.com/@relictumpro
Telegram Chat: https://t.me/relictum_pro_chat
Telegram Channel: https://t.me/Relictum_Pro_Official
Instagram: https://www.instagram.com/relictum_pro_official/
Youtube: https://www.youtube.com/channel/UCvj6aITqEO76WXPgwfjzfYw
Reddit: https://www.reddit.com/user/RelictumPro_official
Linkedin: https://www.linkedin.com/company/relictum-pro/
VK: https://vk.com/relictumpro
Author:
Bitcointalk: cribusen
Telegram: @nik95rnd