HOMT: All-in-One Blockchain Solution for Student's Rental Accommodation Industry. Listed on Probit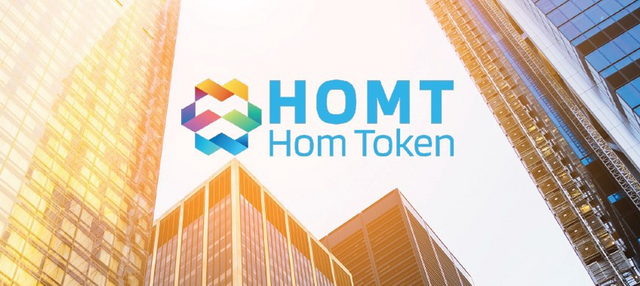 Nowadays it is getting harder and harder to become a student and to get a degree because of the several factors. First of all, a lot of colleges have studying fee which is in the number of cases too high to afford for a regular student. The second problem is the cost of living in university cities. Besides paying for books, every kind of equipment from a pen to an iPad, the biggest amount of money that students are paying is for rent. Living in such cities is becoming a disaster, because the demand is huge, more and more people want to study, but the capacities of such cities are not endless. This causes unbelievable prices for a room or a whole apartment in such cities. In Germany for example, you can easily pay from 700 to 1000 Euros for a small apartment in such a university city. This is just not affordable. Today we are going to introduce HOMT project, which aims to solve this problem and help students to get access to an affordable living space without selling their kidney.
So what is HOMT project all about? They have a pretty good description of their duties:
"HOMT aims to provide a centralized market place for Student's Rental Accommodation Industry, a one-stop solution using blockchain, AI, Big Data and Smart contracts thereby un leasing the unexplored potential of nearly 6.23 million students studying in USA, NA & Europe between 2020-2023 translating into 900 million Euro opportunity."
In other words, HOMT is going to lease properties in student cities that will provide low entry barriers from students from all around the world and it would be much easier to get a room or an apartment for your stay at university. There will be an online platform where students would be able to rent properties within several clicks for the lowest possible fees and no hidden costs. This whole platform will be based on blockchain technology, including several AI algorithms. The core fuel of HOMT would be their ecosystem token called HOM that will allow transparency, high transaction speed and a lot of advantages for token holders.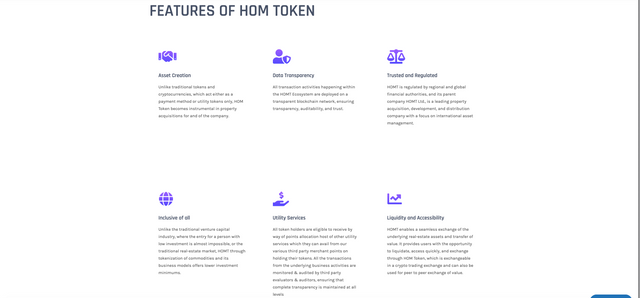 Besides having a function of a payment method, HOM token will have several more features.
First of all, HOM will have a certain value, because it will represent the property acquisitions.

Secondly, thanks to the blockchain technology, all transactions will be deployed on a decentralized network that will ensure high transparency, better auditability and the highest level of trust.

Thirdly, HOM is not just another startup idea with no real backup, HOMT is backed by a real company called HOMT Ltd. with a focus on international asset management.

Furthermore, HOMT tokens are going to offer an investment opportunity in real estate and due to tokenization of commodities people will have lower investment barriers as in traditional venture capital industry.

Moreover, HOM token holders will get access to a lot of utility services which will be available through certain points allocation. Users will be able to earn points by renting/leasing properties and for holding HOM tokens.

Last but not least, HOMT will enable liquidity and accessibility. It will be much easier to sell or buy HOMT tokens rather than a property.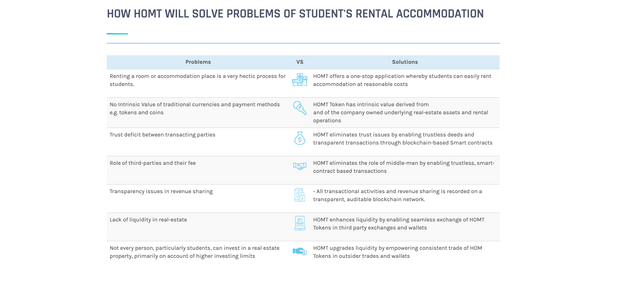 Lets talk about problems and solutions that HOMT is offering.
The first problem is a very unpleasant process of renting a room. If you are students or were such, you can easily agree with that statement, because it literally take ages from the start of your apartment search to the point where you are getting the keys. With an all-in-one platform it would be easy, comfortable and more importantly very quick to rent an accommodation.

The second problem is the value that traditional currencies do not have, which is an opposite by HOMT token. Though owning a lot of real estate HOM token will be backed by a certain value.

Following two problems which are lack of trust and high fees can be combined into one. It is common that sometimes renters are having troubles with the third party, it can be the lack of trust or just high commission fees. Both of those problems are getting out of the way because of blockchain technology. Blockchain eliminates the third party and has very low fees.

Another big problem that is being addressed here is the lack of transparency, which is again gets eliminated by blockchain. On blockchain every single transaction is recorded and it becomes very easy to track all transactions to get the information that is needed.

Finally the most common problems which are lack of liquidity and high entry barriers could also be defeated by HOMT. The problem of liquidity is solved by exchange listing, due to the fact, that every token holder will be able to exchange his or her coins at any moment. The level of accessibility of HOM token will lower the barriers to investors and will ensure that everyone that wants is able to enter this industry.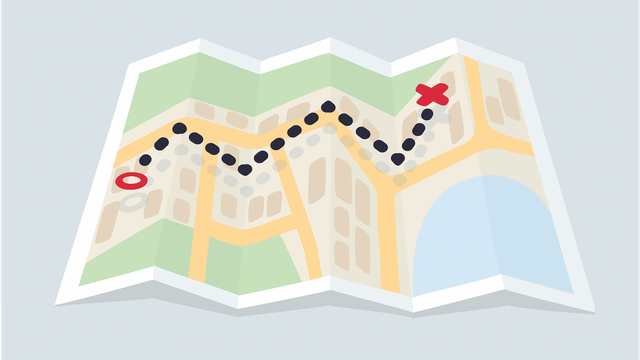 Now it is time to take a look at HOMT roadmap. The idea was born back in February 2019. Following by initial research and the first rounds of fundraising in 2020 the team has launched HOMT website. Right now we are in the stage of further fundraising and active development. The plans for the rest of 2020 are to develop Student's Rental Portal and a mobile app following by identification and acquisition of properties. In 2020 the team will get to the action by executing their business plan and generating their first yield. If we scroll down further, we would see the list of advantages including already mentioned topics as an all-in-one solution, transparency, scalability and security of assets following by liquidity and value of HOM token. By going down the page, you will mention the most important people that are standing behind HOMT project including CEO Saurabth Patil and COO Michael J. Fiedler. You can visit their social media profiles and get in contact with them if you have direct questions by clicking on their pictures, where social media links are stated.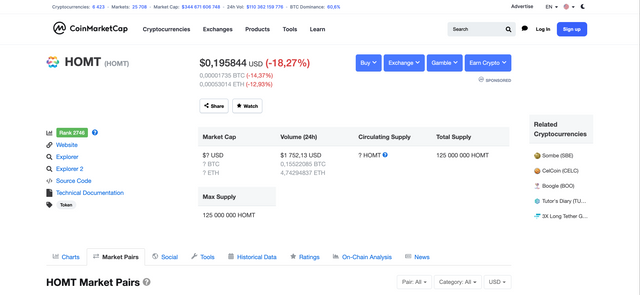 The most important question to each new project is when you are going to list on the market. And the answer is simple. HOMT is already on the market with a price of around 0,2 USD per token. HOM is having a limited supply of 125 million tokens and is listed on Probit exchange. So everyone who would like to be a part of HOMT is able to purchase their tokens already right now.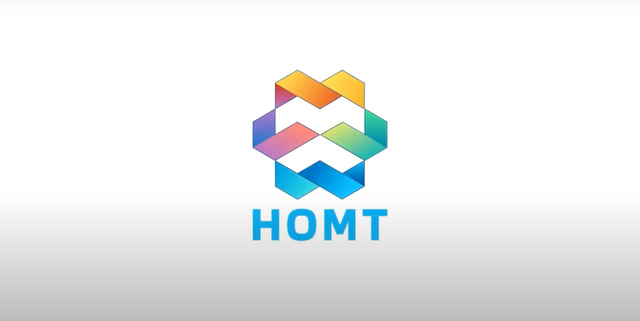 All in all, HOMT is solving a big problem, because it is very hard to find an affordable apartment in general and especially for students, that do not have a stable source of income. HOMT will make it easy for student to rent a place to live and will lower the entry barriers to the real estate sector, so everybody can take part.
Website: https://homt.net
Whitepaper: https://homt.net/Whitepaper.pdf
Facebook: https://www.facebook.com/homtoken/
Linkedin: https://www.linkedin.com/company/homt...
Twitter: https://twitter.com/homtoken
Telegram: https://t.me/homtokenofficial
Reddit: https://www.reddit.com/r/HOM_Token/
Youtube: https://www.youtube.com/channel/UCSB9...
Medium: https://medium.com/@homtoken
Instagram: https://www.instagram.com/homtoken/
Bounty: https://bitcointalk.org/index.php?top...
Author:
Bitcointalk: cribusen
Telegram: @nik95rnd