EzyStayz - New Crypto Use Case for Travellers.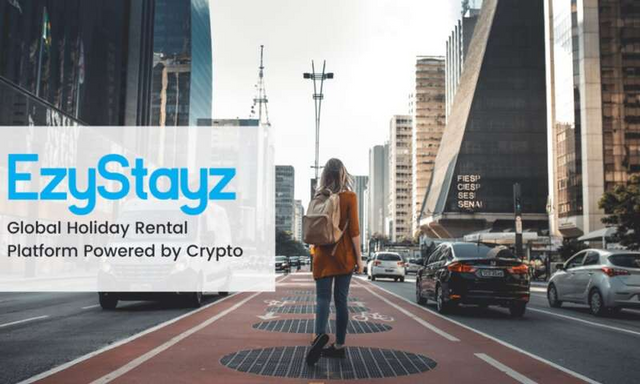 Due to the current world situation travel industry is doing not so great as before, but sooner or later we will come back to our normal lives and would be finally able to travel across the world. I believe that because people had 3-5 months lock down, as soon as everything will get back to normal, people are going to travel like crazy. And what if you do not need any credit cards for booking a hotel room and cryptocurrency would be enough, so it is possible to pay with Bitcoin for a 5 days Paris apartment? Sounds interesting right? So lets move further and get familiar with EzyStayz . So what is actually EzyStayz? You may think that EzyStayz is a start up holiday rental platform where you can book your accommodation. But there is much more that stands behind EzyStayz. Firstly, this platform offers regular booking services all across the world by paying with credit card or by paying with crypto currencies. Imagine that you have some BTC and want to make a great holiday with your friends in Europe. Usually, you will need to withdrawal your funds from an exchange and search for a way of how to swap BTC into cash. Now you can forget about those troubles, you just need to find a hotel room and purchase it with crypto.
Ezystayz is not another start up with just an idea, it is a company that was founded in 2018 in Australia. Ezystayz is operating as an booking company for two years, with millions of users that decided to implement crypto payments and make few steps towards decentralised world. Travel industry has faced some problems during the last several years, including high commission fees, lack of customer orientation, limitation of landlords and tenants and the lack of service quality. EzyStayz is going to solve the majority of this problems by integrating crypto payment methods, that would eliminate the third party, is offering 0% commission fees and is providing the best customer experience and outstanding service quality. Ezystayz is a strong company that is operating for a while and has more than 1 million accommodations across the world. Furthermore Ezystayz decided to implement a gaming section for their users where it would be possible to play different games with like black jack, poker and much more with EZY tokens, earn big bonuses and pay with won amounts for hotel rooms!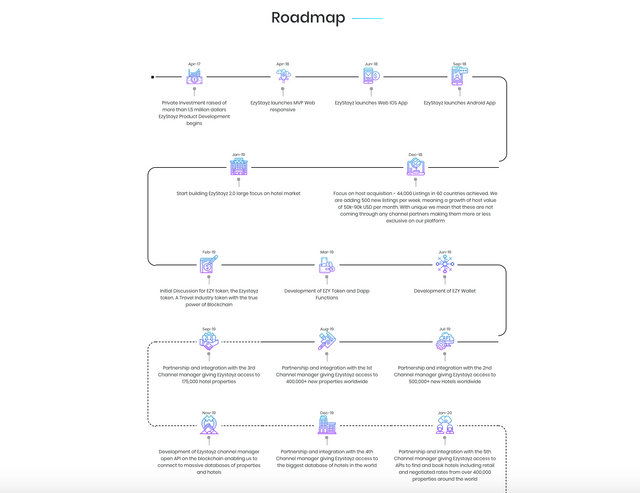 It all has begun with private investment rounds in 2017. In 2018 Ezystayz started to operate and has made some good progress by developing IOS and Android apps, and gained 40.000 listings in 60 countries across the world. 2019 was even better, because during 2019 Ezystayz gained a lot of partnerships, increased hotel offers, amount of clients, developed EZY token and EZY wallet. In 2020 EzyStayz integrated gaming section added 400.000 new properties and is going to release their credit cards with cashback opportunities on bookings. Furthermore, EzyStayz has some big cooperations including the worlds leading hotel networks like Hilton, Marriott and Renaissance.

You can search for accommodations directly without creating an account, but it is recommend to open one, because you will get a tiny surprise when you finish your registration. In the right top corner click on SIGN UP and then on register. Fill all your details, pass the captcha and click on REGISTER . Go to the icon in the top right corner and click on My profile. After that click on wallet and you will see the surprise that we were talking about, for opening an account, you will be credited with 1000 EZY tokens that you can spend on gaming or purchasing you hotel rooms.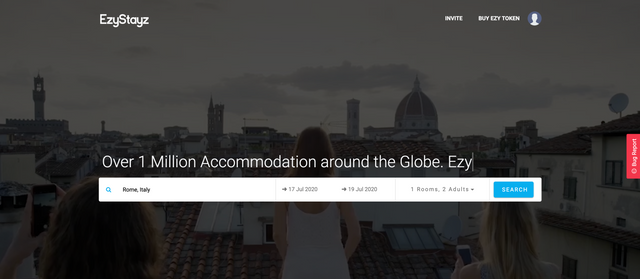 Now let say we want to make a trip to Rome and need a hotel room. We will type Rome and select Rome, Italy. Will choose our dates, from 17 July till 19 July, just for one weekend and click on search. We will reduce the price to 150 USD and select 3 stars hotel and look what can be offered to us.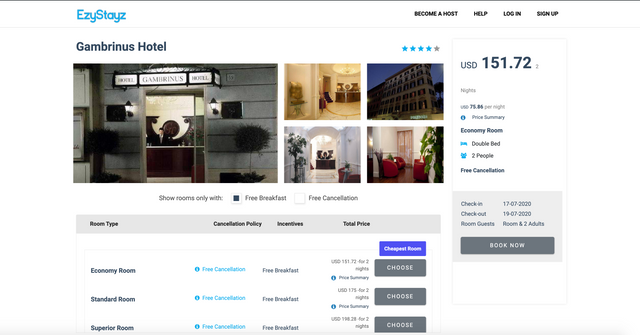 Click on hotel of your choice and you will be able to see the most important information like pictures of rooms, if there is a free breakfast and so on. So we will choose the cheapest room with free breakfast included and click on CHOOSE or BOOK NOW. Then you will be redirected to the payment website, where you should fill your personal information and select the payment details. As you can see you can pay with a credit card AND with crypto currencies. When you click on CRYPTO, you will have 8 crypto currencies to choose from.

You will need to select any cryptocurrency, accept term and conditions and cancellation policy. Always triple check the cancelation policy because some hotels are offering a free cancellation till a specific date, after that date your order will get not refundable, so just pay attention to such details.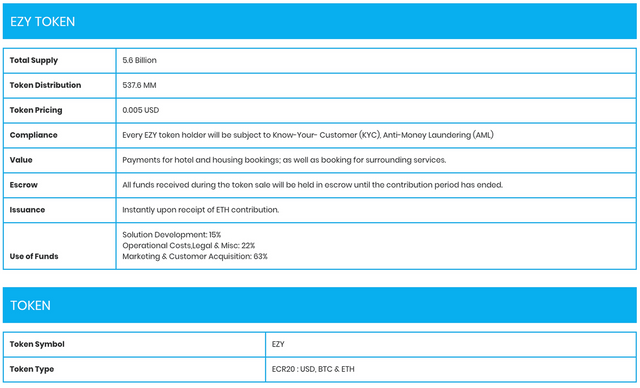 However, there is one more important detail that we did not talk about and this is EZY token. EZY is the native platform token that has a lot of use cases like paying for hotels or playing games on the gaming section. The total supply of EZY is 5,6 billion token and EZY is based on Ethereum blockchain. EzyStayz has held several funding rounds on exchanges and is successfully listed on two crypto exchanges Probit and Foblgate.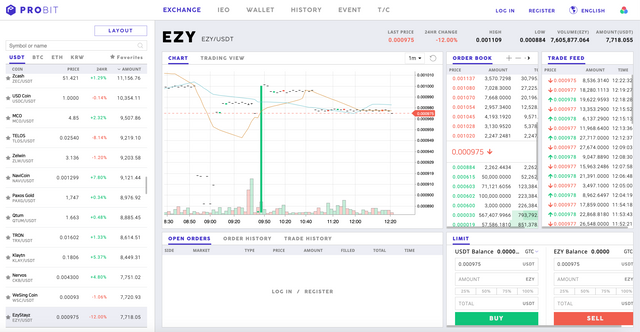 The easiest option to buy EZY tokens would be to register on Probit exchange and purchase EZY with BTC or USDT. You can also purchase EZY tokens if you would visit the main page and click on buy now. You will be redirected to your personal cabinet, and will be able to purchase EZY tokens from there. However, it is definitely worth it to buy EZY on Probit as of now, while recording this video, because the price on Probit is better.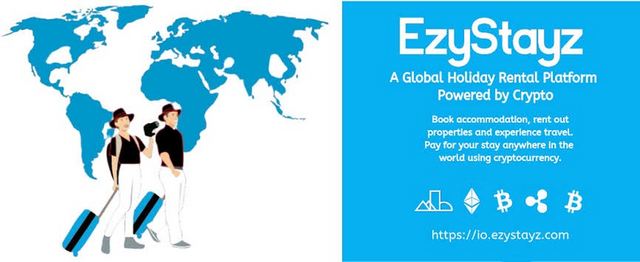 All in all, Ezystayz is a growing business that is integrating a blockchain payment gateways. Crypto industry is huge and there is the lack of use cases at the moment, you can buy crypto and hold it, but Ezystayz is offering a way to spend your crypto right here and right now in an easy way. EzyStayz is not just another start up with a good idea, but it is a working company that has already achieved a lot. Travelling industry will have a huge increase after world conditions would get better, so you can definitely take a look at Ezystayz.
Here are some important links:
Website: https://io.ezystayz.com/#/
Platform: https://www.ezystayz.com
Facebook: https://www.facebook.com/ezystayzofficial/
Twitter: https://twitter.com/ezystayz2014
Instagram: https://www.instagram.com/ezystayz/
Telegram: https://t.me/EzyStayzofficial
Medium: https://medium.com/@ezystayz
Youtube: https://www.youtube.com/channel/UCDvQOHa-9pwh_PEEsgjsFWQ
FOLBGATE: https://www.foblgate.com/trade?pairName=EZY/KRW
PROBIT: https://www.probit.com/app/exchange/EZY-USDT
Bounty: https://bitcointalk.org/index.php?topic=5242599.0
Author:
Bitcointalk: cribusen
Telegram: @nik95rnd