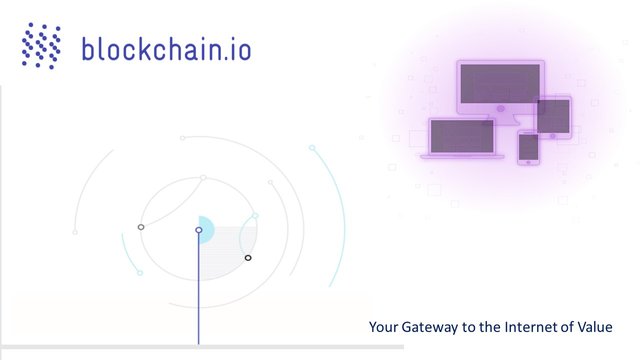 Source of image taken from Blockchain.io's website and modified with PowerPoint

Introduction
Since the blockchain system was born with Bitcoin, decentralization has brought great technological benefits. Decentralization has allowed new projects and platforms to emerge in all areas of society, but despite the great benefits, the blockchain has not yet been massively adopted due to the limitations it has: speed of transactions, scalability, the high cost in energy of its mining among others are some of these limitations.
But despite the limitations of the new cryptocurrency blocks, new and wonderful projects emerge that seek to attract investors to the emerging cryptocurrency markets. In a highly competitive world, attracting traditional investors and financial systems is not an easy task, especially since the decentralized system is not governed by a government entity or by regulations that traditional financial systems are accustomed to and that generate certain security.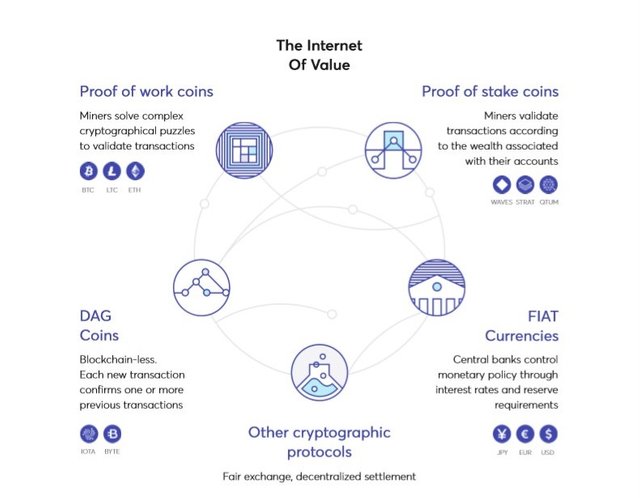 Source of Image
Here is when Blockchain.io appears that combines the two financial worlds, the centralized one to give security to the traditional investors and the decentralized one that offers a greater security of exchange to the investors.
Blockchain.io will be a unique platform that unites the best of two proven systems and that will exceed the expectations of its users offering advantages that no other exchange platform.

What is Blockchain.io?
It is the next exchange of currencies based in Paris, France. Its founder and CEO Pierre Noizat, who also founded Paymium, one of the first fiduciary exchange houses in Europe.Blockchain.io is an exchange with a centralized order book for a fast and secure trade, but also offers the option of decentralized settlement so that users can trade securely and without confidence.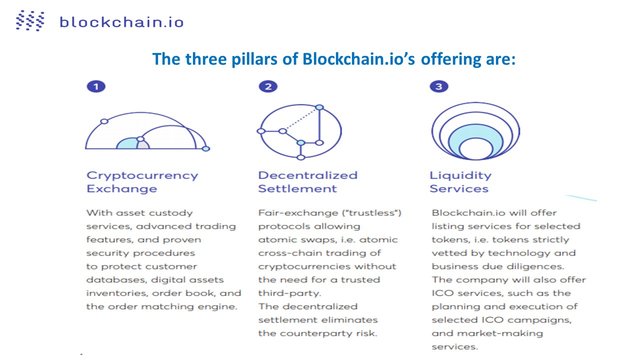 Source of Image modified with PowerPoint
In other words Blockchain.io is a semi-centralized hybrid exchange that seeks to provide the speed and confidence of a centralized exchange with the security of a decentralized exchange in which it does not require users to deposit funds in the stock market for trade.Another advantage of Blockchain is that it will offer advisory services and technologies for projects and companies seeking to launch their ICOs.
Blockchain.io seeks to remain as transparent and compatible as possible in all its practices and for this reason will work closely with the French government on the regulations on exchange ciphers and will have external financial and technical audits. Thus guaranteeing its transparency.

What makes Blockchain.io unique as an exchange and what helps them differentiate themselves from other exchanges? What are their points of view towards regulatory compliance, its advantages and vision?
Blockchain.io is an exchange platform that unites decentralization with centralization, it is semi-centralized, which makes it faster, more reliable and safer than any other platform. It has a team with cryptographic experience and advanced software development and proven thanks to its experience in Paymium that is reflected in its processes.
Blockchain.io as well as its parent company Paymium will work closely with the government to comply with the ACPR and have an accounting certified by external auditors. This gives the platform a guarantee of transparency that other platforms do not have and its users will feel more secure.
The Blockchain.io in association with Paymium seeks to become the first exchange of cryptocurrencies in Europe by 2020. Its vision is to help the expansion and growth of the "value internet" and this is achieved to serve as a gateway for new users and companies begin to market in the digital world of cryptocurrencies.
Blockchain.io by dedicating itself completely to cryptography will offer:
•For users: centralized order books (maximum liquidity) and decentralized settlement, advanced commercial orders with Maker & Taker tariffs of 0.1% with additional discounts, market creation and peer to peer loans.
•For entrepreneurs and institutions: ICOs planning and execution services, up to the Blockchain.io exchange list and the guaranteed liquidity of the BCIO tokens.
What differentiates Blockchain from other platforms is the concentrated effort in Europe, where the cryptography market has not developed and lacks a transparent, regulated exchange that allows institutions to launch their ICOs. With Blockchain.io, incentives can be offered that will allow restarting the liquidity of the commercial platform with the BCIO token.

What are the unique characteristics of Blockchain.io?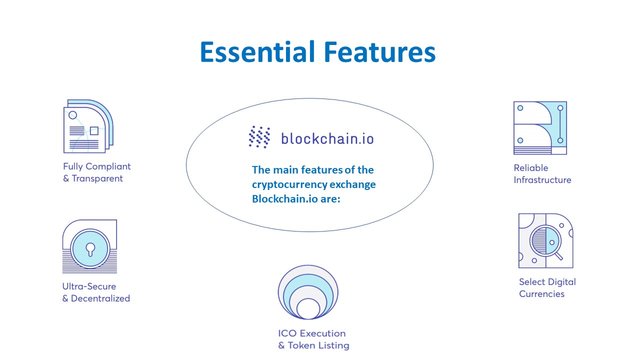 Source of Image modified with PowerPoint
■ Decentralized settlement through the use of cross-chain atomic exchanges.
■ Take advantage of Paymium's advanced technology architecture and software.
■ 98% of the funds saved in a cold wallet as a reinforced security measure.
■ Integration and implementation of advanced cryptographic protocols that take advantage of Lightning Network, Rootstock, Tumblebit and more technology
■ Liquidity services for merchants, markets and projects.
■ Peer to peer loans and property loans for users are available.
■ New listings of tokens and token airdrops for BCIO holders
■ The BCIO utility token provides users with discounted trading fees and survey participation fees for new listings and more.

What is the connection between Blockchain.io and Paymium? And how will Paymium support Blockchain.io?
Paymium is the parent company of Blockchain.io is the first Bitcoin exchange in Europe founded in 2011. Blockchain.io will have the experience and the Paymium team in the processes of its platform and with the list of more than 180,000 users. that they will be encouraged and encouraged to join the Blochain.io.
Paymium has committed $ 2.3M of its own treasury funds to further support the development and operations of Blockchain.io (There are no BCIO tokens involved in this commitment).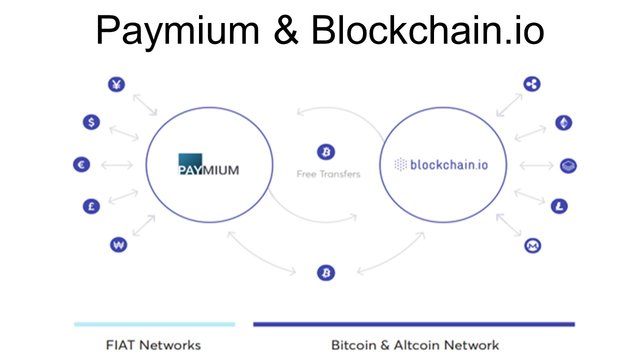 Source of Image modified with PowerPoint
The existing Paymium platform will provide blockchain.io users with a preferred gateway to currency networks.
• Blockchain.io will be strictly an exchange of cryptocurrencies (without fiduciary money).
• Investors with fiat will have privileged access to blockchain.io through Paymium where they can exchange their fiat for bitcoins, ethereums or BCIO tokens.
• Members of the Paymium community can, if they wish, become a Blockchain community. Members will be encouraged to do so.
• The role of Paymium as a fiat exchange is to offer Blockchain.io customers a gateway to fiat. Currency networks (EURO, and in the next year USD, GBP, JPY and others).
• Blockchain.io will accept compatible cryptographic currency / chip deposits from all platforms and portfolios (including, of course, the Paymium wallet).
• Blockchain.io will allow Paymium and international merchants to access cryptocurrency ecosystems and the Internet of value in all forms as technology evolves.
• All transfers of coins / tokens between Paymium and Blockchain.io will be free.
(without withdrawal costs).

Use of Token BCIO
-Trade houses with discount.
-Pay the platform fees using the BCIO token.
-Weighted token points from new token lists
-Voluntary voting rights to participate in the development of the exchange and new token listings
-Loyalty award and campaigns for BCIO token holders.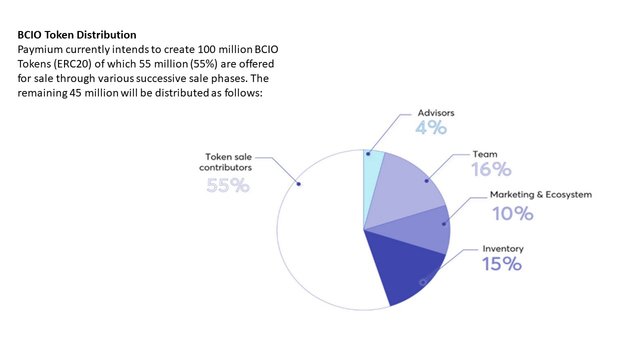 Source of Image modified with PowerPoint
Crowdsale
Blockchain.io is currently in the third week of its crowdsale and its crowdsale will end on October 25, 2018 at 6:00 AM UTC. There is no softcap for the collective sale, since the exchange will be developed independently of the total amount collected.
In the first 7 days of the collective sale, $ 1.2M USD was raised despite the current market conditions. All unsold chips will be burned, which means that the exchange could enter the market with a generally low market capitalization for a project of this stature.
The BCIO tokens will be unlocked in December 2018, after the launch of the exchange in November 2018.
There is also an additional 5% bonus per reference available for the referee and the referee. To qualify, a contribution must be made using a reference code that is equal to 100 euros or more.
Make sure to cover the crowdsale and token sale details. Including unsold tokens being burned, no softcap, a 5% contribution bonus, and an additional 5% more from a referral bonus for any contributions made above 100 Euros using the referral code: emwinVWrVCzugXiWVP3z

Final Considerations
Blockchain.io is emerging as the best platform for exchanges of cryptocurrencies because it combines the best of the centralized system with the decentralized system.
Blockchain.io guarantees the security, trust and speed of the transactions in the exchange and provides transparency in the platform.
Blockchain.io provides a gateway to connect traditional investors and financial institutions with emerging cryptocurrency markets in a fast, reliable and secure way.
For all these reasons, Blockchain.io is the gateway to the Internet of value.

Additional Links and Resources:
Blockchain.io Website
Blockchain.io Token Sale Page and Details
Blockchain.io Token Sale Contribution Guide
Blockchain.io Whitepaper
Blockchain.io Medium
Blockchain.io YouTube
Blockchain.io Telegram
Blockchain.io Twitter
Blockchain.io Reddit