Announcemnt of BTC & EOS gateway for NBS platform and crypto balance top up with bank cards service launch.

Hello everyone, today we are launching pilot gateways to NBS blockchain. The first two gateways to this platform will be the gateways to BTC and EOS and their respective markets:
During the design of the gateway we were aiming to ensure the following parameters:
- Security
- Independence
- Transparency and ease of audit
- Public trading bots
- Strict correlation between amount of tokens in the wallet and on the DEX
- Minimization of the fees
- Ease of use
- Stability
- No KYC, no max. limits

AUDIT
Top up cryptocurrency balances with a bank card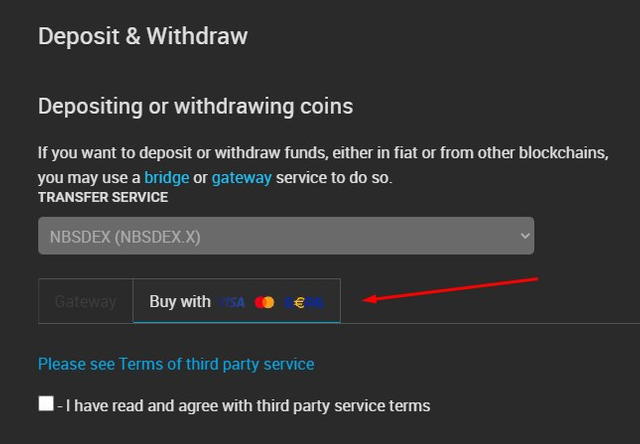 We've added the option to top up NBSDEX assets balances using bank cards and SEPA, which was made possible by our partner Raido Finance.
Raido Finance is a licensed cryptocurrency platform, that operates under Estonian law.
The platform provides fiat-to-crypto and crypto-to-fiat service - it is a quick way to Buy/Sell cryptocurrency for fiat money using bank cards (Visa, Mastercard) and Sepa (EUR).

Supported exchange directions:

Fiat Deposit:
Visa, Mastercard (USD, EUR) -> BTC/ETH/EURS/USDT
SEPA (EUR) -> BTC/ETH/USDT

Fiat withdrawal:
BTC/ETH/USDT -> SEPA (EUR)

For bank cards Raido Finance supports payment from cards in 100+ currencies.
Fiat gateway is available for all countries except USA, Iran, Iraq and North Korea.
Join trading on NBSDEX, now with a fiat gateway dozens of markets have become one step closer to you. Subscribe to our blog and don't miss the upcoming announcements of brand-new services!