Interview with the big man himself!
A few days back, we published our interview with Ivan Jelic, our ICO advisor. We have no desire to overshadow that interview in any way. However, we have had the opportunity to interview someone very important, and frankly, such an interview does not come along every day. The man in question is a titan of production, with only one factory, a small workforce and one delivery vehicle. Amazon has nothing on this guy and, we can't wait for you to meet him, read on with haste!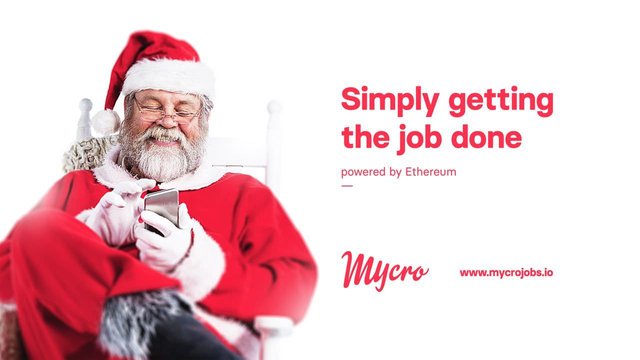 Producing through the ages
"I've been at this for a long time now," Santa tells me, "I'm 1,747 years old, let me tell you, it ain't getting easier!" With a big white beard, rosy red cheeks and a beaming smile, Santa looks young for his age but all the years must take their toll. As you probably know, jolly old Saint Nick makes all of his deliveries in one night. Production, however, is all year round. "The elves have it easy!" Santa chuckles, "you try making deliveries to 1.2 billion homes in one night."
As it turns out, Christmas Eve is the elves night off. While Santa is out making his deliveries, the elves kick back and enjoy their Christmas party. I wanted to point out working one night compared to 364 days a year is a better deal but who wants to get on the naughty list this close to Christmas! Not this interviewer, that's for sure.
Bringing jolly to the gig economy
"I'm definitely taking this year off!", Santa smiles, "if anyone can pick up the slack, Mycro can" We've given Kris Kringle exclusive access to the Mycro app and he's throwing in his sleigh, eight reindeer, presents for everyone and the red suit to boot! "I'll be paying in MYO tokens," Santa says, "which you generously gifted me along with the app." We kind of had to, how else was André going to get on the nice list?
Santa continues, "I look forward to some fresh, young Mycro worker doing my deliveries for me, maybe next year I'll look for some helpers for the elves!"
We're branching out into all areas of the gig economy and, it's our privilege to pitch in this festive period. We have no doubt that Santa will be posting the same job next year. Jump on the social media links below and let us know if you have what it takes to deliver to 1.2 billion houses! We might even let you take Milly Hampe along for the ride!
Telegram Instagram Facebook Twitter LinkedIn Website Whitepaper