MyCreditChain entered into an agreement with IMDARC on the basis industrial-educational cooperation
마이크레딧체인 서울대 수학기반 산업데이터해석 연구센터와 산합협력 맺어
MyCreditChain entered into an agreement with Research Center for Analysis of Mathematical Infrastructure of Seoul National University on the basis of industrial-educational cooperation for the purpose of educating professionals who utilize mathematical theory and knowledge in the digital finance industry.
5월 9일 마이크레딧 체인은 서울대 수학기반 산업데이터 해석 연구센터(http://imdarc.math.snu.ac.kr)와 산학협력을 맺었습니다.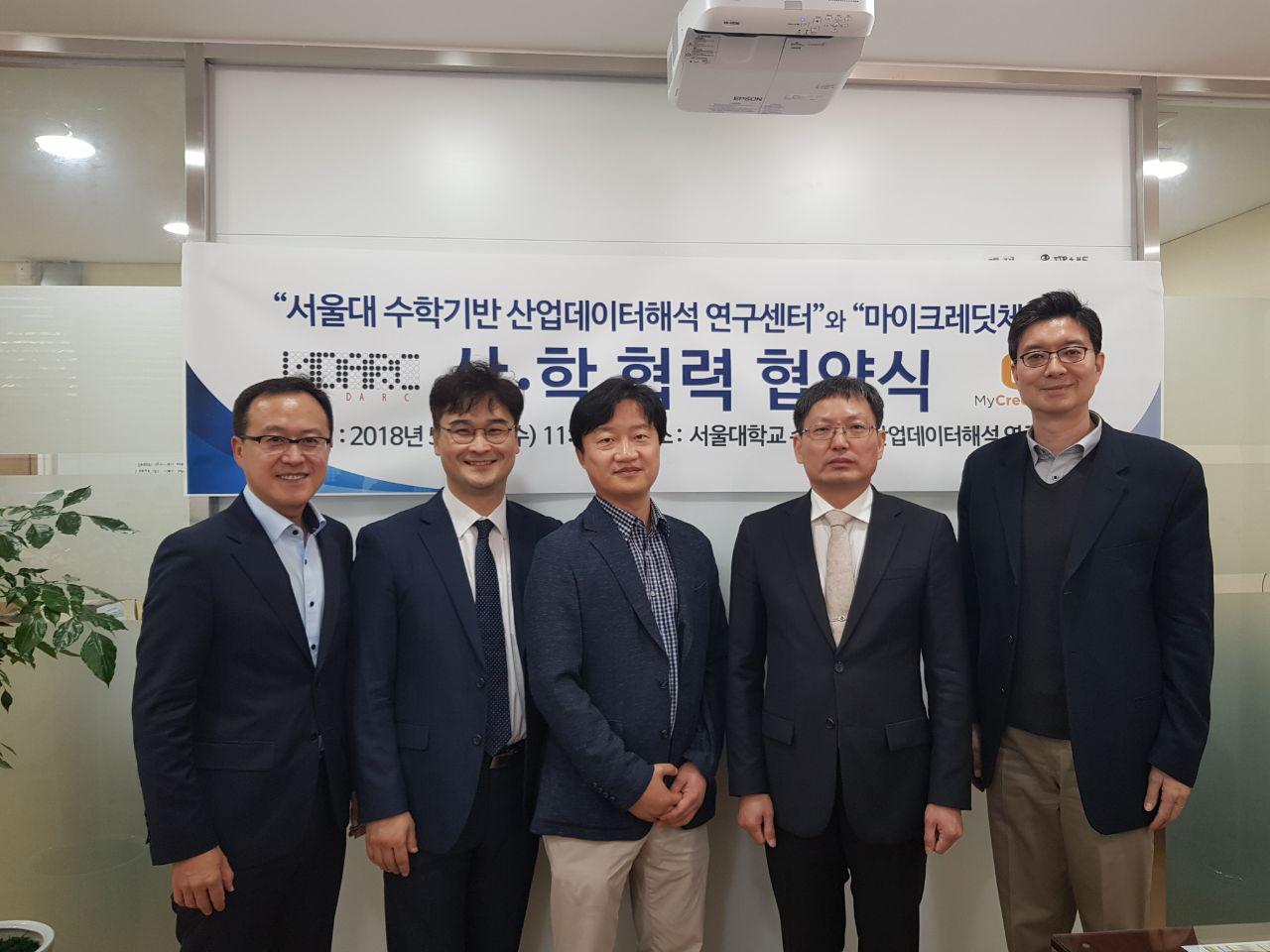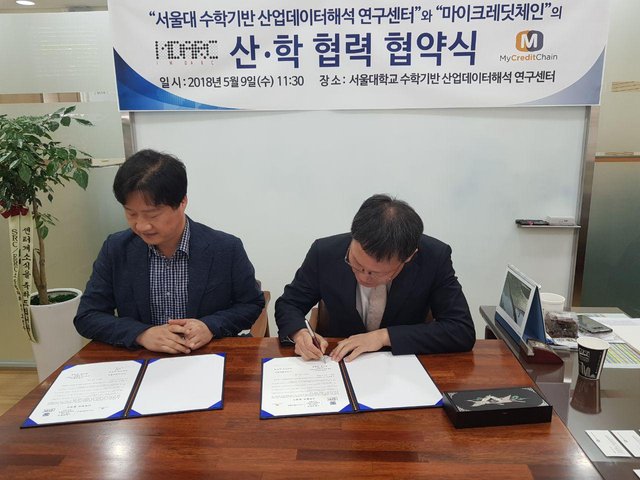 마이크레딧체인과 서울대학교 산업수학센터는 상호 발전을 위한 산학협력의 필요성을 인식하고 이에 대한 협력을 추진하게 되었습니다.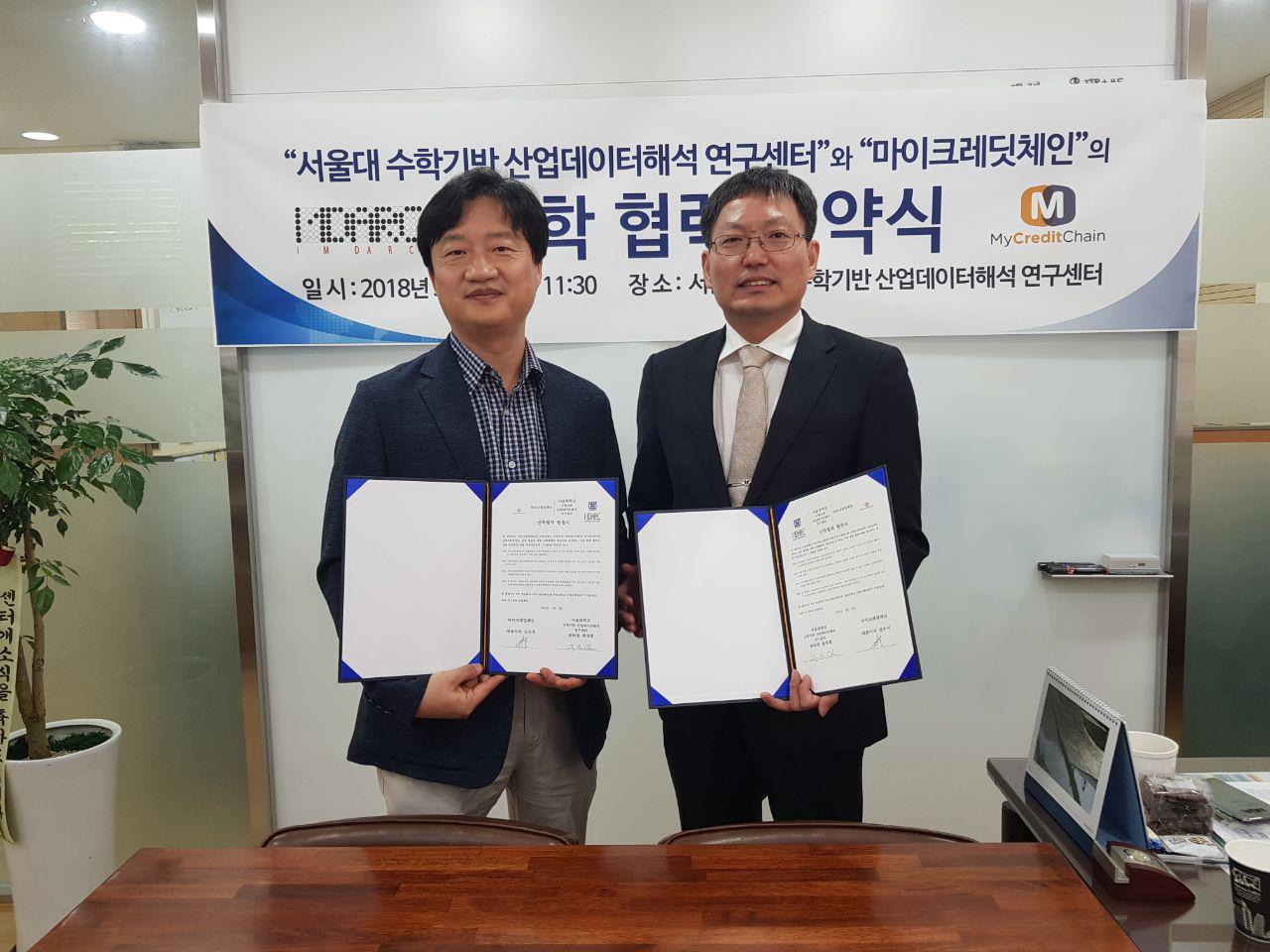 이번 협약은 마이크레딧체인의 핵심요인인 DAD(Daily Airdrop) 씨앗과 열매 네트워킹의 수학적 논리와 알고리즘을 보다 고도화하기 위한 협업로써 마이크레딧체인과 서울대학교 산업수학센터는 상호 협동을 통해 다양한 방법론 전수 및 노하우 공유를 노력해나갈 예정입니다.
※ DAD(Daily Airdrop)는 씨앗을 선물하는 행위를 통해 MCC 고유의 신뢰 지수를 만들어 냅니다.
- 씨앗이란?
ABOUT MYCREDITCHAIN

MyCreditChain(MCC) is a blockchain platform for personal credit information. The MyCreditChain platform enables the creation of new relationships based on user's financial activities. MyCreditChain aims to bring major innovation in credit information, enabling a person's credit data to become an asset itself. MyCreditChain plans to bring the ownership of credit data back to the people, so individuals can have a full control over their own information. MyCreditChain aims to build a more equal society.
▶️Homepage ▶️Telegram ▶️facebook ▶️twitter ▶️YouTube
▷Bounty Program