Future of Blockchan| A success story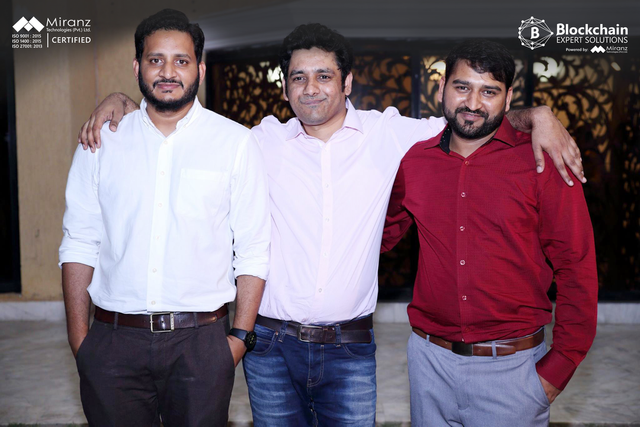 We barely had enough money to put the food on our tables when we decided that our current jobs won't do and we had to start our own business. The research was essential so we explored three futuristic technologies (AI, VR, and Blockchain) to look for business opportunities and chose Blockchain since it featured the most potential. Believing the Blockchain technology to be our future, we initiated an in-depth study about the blockchain technology and worked on ways it can benefit businesses around the globe. The work wasn't easy but we were persistent. With very little to lose, we prepared ourselves to take risks that many businesses would avoid.
"There are no secrets to success. It is the result of preparation, hard work, and learning from failure."
-- Colin Powell
We started offering our services when had no portfolio or profile on the internet and zero contacts in the industries we were targeting. So we started with the top freelancer website and developed an attractive profile focusing on blockchain technology. After spending some time bidding on various projects and learning from our mistakes, we won our first project worth $1,000. This was where we recognized our potential and envisioned ourselves as one of the largest Blockchain service providing company globally.
"If you really look closely, most overnight successes took a long time."
-- Steve Jobs
Good work and timely delivery of projects followed by excellent post-project delivery services can generate a good word of mouth. As we started getting more projects, we hired 8 to 10 Blockchain developers on a paid internship. Within a year, we had more than 50 experts working on various blockchain projects from different countries. Our business experienced exponential growth as we researched on the sustainability of various blockchain-based business models by creating forks, blockchain networks, IPFS, blockchain explorers, and mobile wallets.
"Success is not final; failure is not fatal: It is the courage to continue that counts."
-- Winston S. Churchill
The projects we received led us to develop numerous ICO smart contracts and dApps on Ethereum, stellar, EOS and Hyperledger along with many proofs of concept applications in IBM Hyperledger Fabric including a letter of credit demo for banks. The more projects we executed, the more resilient we became and the world started noticing us. One of our Hyperledger projects found a place in the top 20 Hyperledger projects listing by IBM Watson and this was just a stepping stone of the incredible journey we found ourselves on. There were many turbulences, roadblocks, and barriers that we couldn't overcome, but we learned fast, stood strong with our commitment and kept on working dedicatedly and all obstacles just melted away.
"Service to others is the rent you pay for your room here on earth."
--Muhammad Ali
I believe the perfect implementation of the agile process model in our workflow and our decision of empowering our employees in making their own decisions and solving problems allowed us to make the difference. We encourage and educate our employees to give end to end solutions to the client, independently. They understand client business model themselves and implement solutions from HTML to Blockchain network deployment. This automated process makes our employees responsible and removes the need for hiring supervisors and managers over them. We think that it was this culture that led us to receive ISO 9001, 14001 and 27001 certifications.
"The secret of success is to do the common thing uncommonly well."
-- John D. Rockefeller Jr.
The three of us (Mudaser Iqbal, Rosheel Baig, and Asher Azad) are the minds behind Miranz Technologies. Our vision is to make our company as great as Apple or Microsoft. We started this business with zero capital money when we barely had enough to support our families. We know how hard it gets and how important your project is for you. We have been tested with fire so we can save you from it. If you are looking for guidance on building sustainable blockchain solutions, contact us here. We would love to help you in implementing blockchain-based solutions for your business.
Please email me at [email protected]
Visit our website http://bit.ly/2FI2K2t