Medipedia Medical Service Consultation and Matching System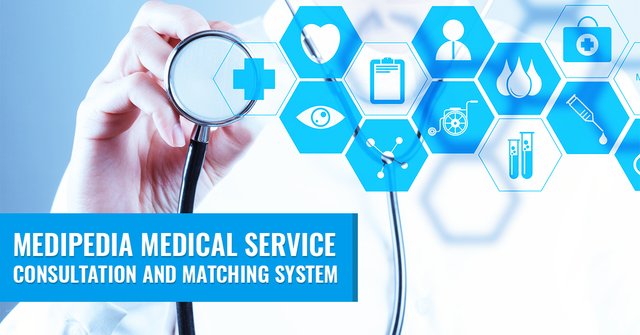 Blockchain has no doubt grabbed the attention of one and all due to its largely untapped potential. A real-world decentralised application will require a robust service layer which would be the first point of contact between consumers of blockchain driven services.
Medipedia being a blockchain driven medical tourism service provider needed to ensure that credentials of the participants on the Medipedia Platform were authentic. To do this Medipedia employs a hybrid proof system. This hybrid verification system ensures high value and reliability to medical consumers. There are two components to this hybrid system:
First is the Centralised System to cross check credentials and certificates of concerned body.
Second is the network authentication P2P Protocol.
While the above provides for a credible pool of service providers on the Medipedia Network. The service layer of the Medipedia platform ensures an efficient Patient Matching and Consultation system that benefits service providers and consumers alike. In this blog, we throw light on the Medipedia Medical Service Consultation and Matching System.
One of the key features of the Medipedia Platform is its robust service matching and consultation solution for medical service providers and medical tourists/consumers. The matching algorithm works on the broadcast from one to all logic.
This means a single service request from a particular medical user is immediately shared with all service providers part of the Medipedia Platform that fit the request. Service providers will confirm request acceptance and revert accordingly.
During this stage, the service provider offers the best solution based on the information and medical record of the patient/consumer. The solution will subsume all information related to appropriate applicable medical treatment and surgical (if required) fees. Further, speed of communication is expedited using notification functions that alert both parties on reverts.
To make the system more transparent and tamper proof, Medipedia uses Intel Software Guard Extensions (SGX). The SGX checks that even Medipedia Administrators cannot breach the network to gain access to personal formation of patients let alone the other participants in the Blockchain Network.
Medipedia uses the Intel Software Guard Extensions (SGX) system to ensure that even Medipedia search system administrators do not know about participant information registered in the system and to minimize personal information exposure to other participants. SGX is the perfect threat repellant on the information network. SGX creates an enclave (boundary) around personal formation. This means when stored, the information path remains guarded against exposure to other participants as well as network administrators too.
In conclusion, we can see that Medipedia service layer ensures a robust and secure network for information transfer free of fears of misuse or foul play. The Medical Consumers can select from a host of alternatives as well as the service providers can benefit from a good feedback from patients. A good feedback will transform into value and reward points (MEP Tokens) for the service providers. Hence, Medipedia Medical Service Consultation and Matching System is a win-win blockchain solution for medical consumers and service providers alike.