👩🏼‍💻 Cryptoland || How to get 25$ (up to 50$) in crypto for free, in 3 minutes.
Do you wanna gain 25$ in Stellar Lumens (XLM) for free, in 3 minutes?
Step 1
Click on this link and sign in at the exchange "Blockchain". https://www.blockchain.com/getcrypto
Step 2
You will have to complete fields with your data and you will be asked to take a picture of you with you personal ID.
Step 3
Done! Wait until the confirmation email and then you will receive your Stellars on your account, ready to be converted in other cryptocurrencies or sent to another wallet.
Friendly reminder: if you want to send your Stellars to another exchange, remember to insert the Memo and the wallet address or you will lose all the coins!
To speed up the verification, I suggest you to follow this procedure with smartphone.
After the click on the link you have to download the App on your smarphone and proceed with the regular registration.
If you are lucky, you may gain even 50$!!!!
This is for sure the fastest and the most profitable existing Airdrop.
Hurry and sign up: the offer is valid for a limited period!!
It took me only 3 minutes to sign up and gain my 25$ in Stellars, and some of my friends gained even 50$!!!
And you? How much do you earn with this Airdrop? 25$ or 50$?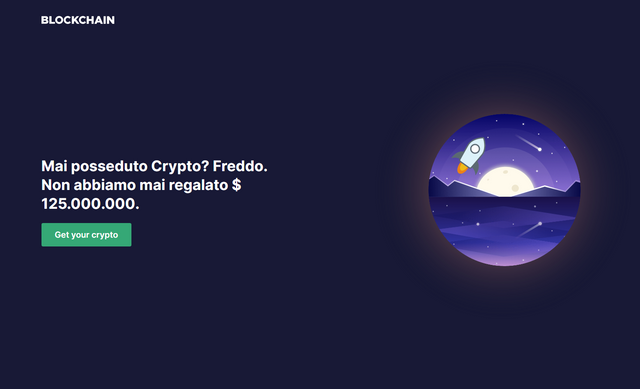 Vuoi ricevere gratuitamente 25$ in Stellar Lumens(XLM) in tre minuti?
Step 1
Clicca su questo link ed effettua la registrazione all' exchange "Blockchain". https://www.blockchain.com/getcrypto
Step 2
Compila i campi con i tuoi dati e ti verrà chiesto di scattarti una tua foto assieme a quella di un tuo documento.
Step 3
Fatto! Ora attendi la mail con la conferma di registrazione e i tuoi Stellar saranno già sul tuo conto pronti per essere convertiti in altre crypto o inviati ad un altro wallet.
Se intendi inviare i tuoi Stellar ad un altro exchange ricordati di inserire la Memo oltre all' indirizzo di portafogli o rischieresti di perdere le tue coin.
Per velocizzare la verifica ti consiglio di effettuare questa procedura da smartphone.
Ti chiederà prima di scaricare l' App e poi procedere con la normale registrazione.
Se sei fortunato potresti ricevere addirittura 50$, anche se la promozione promette di ricevere 25$!
Questo è sicuramente l' Airdrop più veloce e remunerativo che esiste attualmente.
Affrettati l' offerta è solo per un periodo limitato!
Mi sono bastati appena tre minuti per registrarmi e ricevere i 25$ di Stellar sul mio conto, ma alcuni miei amici hanno ottenuto addirittura 50$!
E tu quanto hai ottenuto dall' Airdrop? 25$ o 50$?