Mileage Points of the 21 Century: Spend, Sell, Exchange with M2O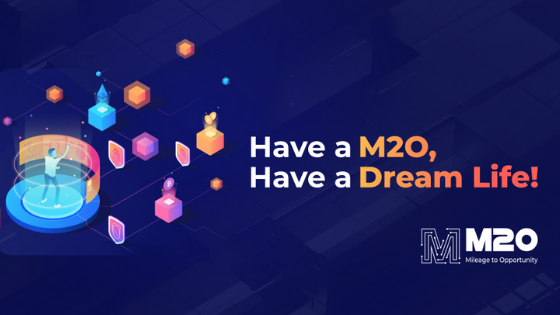 M2O Project has been introduced by CCN. Check this out!
This is a submitted sponsored story. CCN urges readers to conduct their own research with due diligence into the company, product or service mentioned in the content below.
Check your wallet or a card case and you will find at least ten loyalty, discount or membership cards that you have never used. But imagine that you have all points and bonuses in one place and you are able to exchange them for different products, services or even money. Sounds exciting, isn't it? In the near future, it can become a reality as the emerging technologies come in.
Current air miles and bonuses have an expiration date, so you basically collect them and then lose. In fact, 43% of shoppers say rewards expire before they can be redeemed. What's more, you can't sell or exchange your points. As a result, clients miss the chance of saving money, meanwhile, companies throw their resources away without achieving customer loyalty.
Korean company called M2O is set to solve these issues by relying on the blockchain technology and tokenizing points. For this, the project has created its own cryptocurrency called M2O coin. By substituting air miles, membership bonuses and all other rewards for the tokens, customers will be able to trade or exchange them for any product or service they want — both of this brand or any other.
The bonus and mileage programs have obvious drawbacks that negatively impact both business and customers.
Despite the fact that the loyalty program members generate about 20% more revenue than non-members, companies lose up to 70% of the potential clients because of time-consuming and frustrating registration process. Only 37% of consumers find participating in a loyalty program quick and easy to understand.
A high proportion of clients faces another problem which is unappealing rewards. Quite often brands offer bonuses for things people don't actually need, in order to sell out perishable or unpopular goods.Finally, most loyalty programs lack "usability" and user-friendliness. Miles and points are most of the time hard to use or trade.
M2O project team figured out that blockchain technology has the ability to solve all previously discussed issues. What's more, the company focuses on both — the needs of the consumers and of the businesses.
The main idea behind M2O project is not just to form part of a cryptocurrency industry but also to build the first blockchain-based platform that can be used to commercialize mileage and bonuses in the real economy. Thanks to tokenization, previously "intangible" points will become transferable, tradeable, and secure. As a result, M2O will bring a win-win solution to all the participants of the market.
The project will allow converting one's bonuses into universal integration points with no expiration date that will be deemed equal to the currency value and could be used anywhere in the world. The mechanism will be the following: you convert points through M2O Pay system into M2O tokens, which then can be traded on different cryptocurrency exchanges. In addition, users will be able to manage their tokens via M2O wallet and use them as virtual currency afterward.
One of the project's core goal is to create a "Mileage Bank" that will allow users to access their points, regardless of location, transfer and trade them into other cryptocurrencies. Moreover, by storing bonuses on the platform, people can maximize their value through M2O Pay conversion.
Also, it must be noted that M2O is a decentralized network that doesn't have to rely on a third party and thus ensures a high level of privacy and security to its users. M2O Hash Algorithm protects the platform from possible hacking attacks.
Powered by blockchain technology, M2O project is going to disrupt current mileage and points market. Its tokenization will benefit all the participants, bringing transparency, privacy, and security to the new level. What's more important, M2O will enable everyone to spend, sell, exchange their loyalty points with no limits.
It is worth mentioning that you can already be a part of the M2O project because they are starting the global ICO soon. For the record, M2O team has successfully completed their first crowdsale, which shows a great level of public attention and interest. Their hard cap is $56 million and the soft cap is $5.6 million. Token crowdsale begins on October 29, 2018, 16:00 JST time (UTC +9) and finishes on November 23, 2018, 16:00 JST time (UTC +9).
A couple of additional and equally important details: all the contributions during the crowdsale will be made in Ethereum, with the token price of 30000 M2O for 1 ETH. The minimum contribution is 1 ETH. Total Supply is 35 billion M2O; meanwhile, supply for the ICO is 14 billion tokens.
To learn more about the M2O project, please visit its website, follow the growing communities on Facebook, Twitter and join the discussion on Telegram.