Lisk Core 1.0.1 Patch Release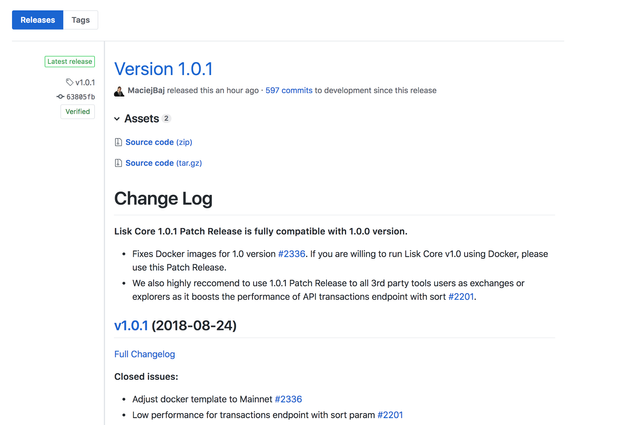 Hey Lisk Community,
We wanted to give node operators, exchanges and other service operators a quick update regarding the migration of Lisk Core 1.0 to Mainnet. We have decided to release a patch, Lisk Core 1.0.1. It is fully compatible with Lisk Core 1.0.0. It is not mandatory to use the 1.0.1 version for the migration if you are not affected by the issues described below. However, for node operators that are willing to migrate using the Docker image, version 1.0.1 is required.
We also highly recommend that all exchanges and other service operators (tools, explorers, etc.) use Lisk Core version 1.0.1 rather than version 1.0.0.
Lisk Core 1.0.1 brings with it two solved issues:
Issue #2336: The Docker configuration file was outdated, resulting in an inability to migrate using the Docker container platform. For this reason, we fixed the Docker configuration template. We have also updated the relevant section in our documentation — Lisk Core Docker Installation.
Issue #2201: This issue (which was described in detail in the last development update) was solved in version 1.2.0, but we decided to include it in this patch release. The /api/transactions endpoint is incredibly important and is used by various third-party applications using the Lisk Core API. The performance of this endpoint is crucial, especially for exchanges and Lisk Explorer as they heavily utilize this endpoint. The corresponding Lisk Core v1.0.0-rc.3 patch only improving the described performance is available to install on Testnet.
We're looking forward to the migration on Wednesday, August 29. The Mainnet migration block height will remain the same — 6,901,027.
-The Lisk Team
---
Posted by us also on

---
Is this one of the first posts that you're seeing about Lisk? See more at Lisk.io or Github.