Lisk Community Update — July 2018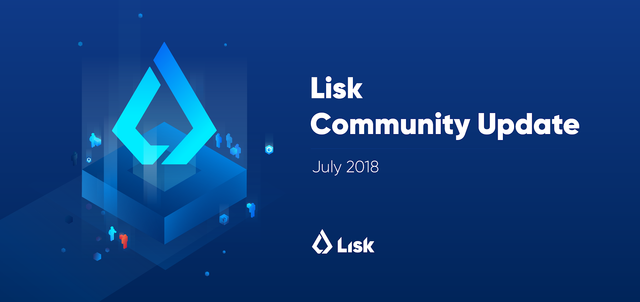 Hey Lisk Community!
We may be in the midst of the dog days of summer here in Berlin, but Lisk is rolling full steam ahead. Eight new talented individuals joined the Lightcurve team and that number is only set to increase throughout the rest of the year. Our development team is working harder than ever to reach the Lisk Core 1.0.0 Mainnet milestone and we will soon announce the anticipated date of the release. But until then, please make sure to continue reading our Weekly Development Updates on the Lisk Blog to get the latest on what the development team has been up to over the past week. And don't forget to stay in touch on our other social media channels to get the latest news.
To complement this blog post, we've included the Lisk Vlog #5, which provides a visual recap of all the happenings at Lisk in July.
The Community Update for July will cover the following:
Company Update

Development Update

Marketing Update

Community Update

Next Steps
Company Update
The Lisk Foundation is excited to announce that Pascal Schmid will be joining the foundation's board effective immediately, bringing with him extensive expertise in finance and business economics. We've put together an extensive blog post for you to learn more about Schmid and board changes.

This month was chock full of new hires! They will be joining the various Lightcurve departments, including the Science team, Development, Marketing, and Operations. The new hires are:
Andreas Kendziorra, Cryptographer
Mehmet Yatki, Backend Developer
Andrei Klimenok, Frontend QA Engineer
Domenico Loia, UI/UX Designer
Angela van den Eijnden, Office Manager
Anastasia Albert, Marketing Manager
Monica Tartau, Events Manager
Jana Bachstrom, Business Development Intern
We will soon update our website to reflect these additions to the team with their bios and photos. We're thrilled to have them on board.
Lisk is now on featured on Blockfolio Signal! Launched to over 4 million Blockfolio users, Signal allows LSK token holders to easily keep up-to-date with major business and technology developments directly within the app. We're glad that LSK token holders will now have additional channels to stay updated on the important happenings at Lisk.

The Lightcurve Finance department spent the last month laying the groundwork for financial operations to support future projects with quantifiable output, measurements, projections, milestone-tracking and scenario analysis. This was done to improve the overall operation regarding time management and decision-making for all departments, with an alignment towards strategies backed by the new forward-looking budgeting plan.
*Starting on August 1, MADANA, a future Lisk sidechain project, will open the whitelisting process for its pre-sale. This marks a huge milestone for the whole Lisk ecosystem and we're proud to support this blockchain project in its mission to return data privacy to the individual.
Development Update
The Lightcurve team has contacted and updated all of the exchanges where LSK is listed regarding the migration to Mainnet to ensure a smooth transition for all stakeholders.

We've been continuously updating the Lisk Documentation and Guidelines to make it as user-friendly and comprehensive as possible for delegates, developers, exchanges, and the greater community. We also plan to work with technical writers in the near future and, as always, will take community feedback into account. Please make sure to visit the documentation from time to time, as we will continue to update the content to reflect updates, product additions, and more.

We put out four Weekly Development Updates in July. You can read them by clicking on the links below.
Weekly Development Update: July 5
Weekly Development Update: July 12
Weekly Development Update: July 19
Weekly Development Update: July 26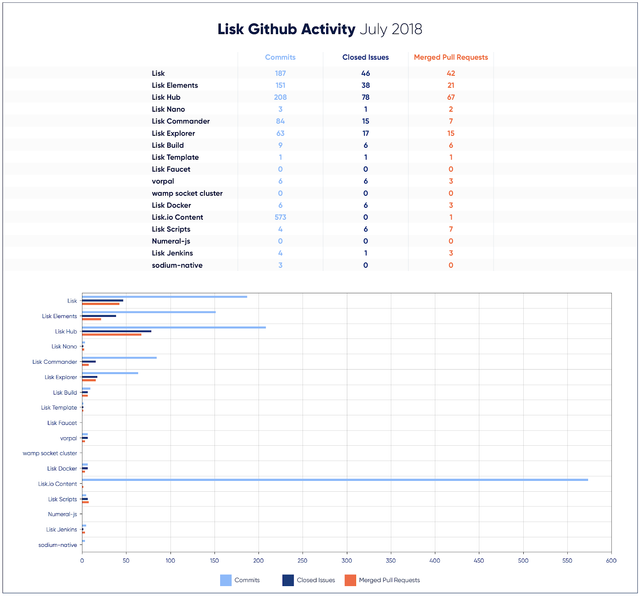 Marketing Update
Last month, we announced our partnership with Netguru, a renowned digital agency from Poland to help take our UI and UX on our products' platforms to the next level. The first phase, which included intense workshops and on-boarding to lay a solid foundation for our future, is drawing to a close. We're excited to keep you up-to-date as this exciting process moves along.

The Lisk Blog put out a number of blog posts last month, including an interview with SONM for our Future in Focus series. SONM aims to create a decentralized marketplace where consumers and suppliers can exchange computing power between one another to be used for specific computing tasks.

Lisk had 152 media mentions and 6 media placements for the month of July.
Jacob was interviewed by NXTalpha
An article by Shusetsu was published on JAXenter
Thomas was interviewed by DZone
Andries and Jacob were interviewed by Bloomberg BNA
Michael was interviewed by Comparic

** Community Update**
In early July, several members of the Lightcurve team traveled to three cities in Poland — Krakow, Wroclaw, and Warsaw — to host Lisk Meetups in collaboration with BitBayPolska. Local Lisk community members, developers, and business representatives were in attendance. It was great connecting with Lisk fans from all over Poland while also recruiting dozens of newcomers and future users to our community. We look forward to more Lisk Meetup tours in the future.

Last month, several dedicated Lisk community members in China founded the first-ever Lisk-focused blockchain incubator. The incubator, known as Elite Center, held its inaugural conference in Xiamen, China on July 7. The 500 square meter venue will be the first-ever Asian hub for Lisk sidechain projects. We're grateful that our community is taking the initiative to help foster future blockchain app creation on Lisk. Check out our detailed blog post about the incubator.

Last month, our prolific Lisk community members at Bloqspace hosted a blockchain meetup in El Paso, Texas and have also sponsored the CAMPJS Code Retreat beginning on August 10 on behalf of the Lisk Community. As the main sponsor of the three-day event on Australia's Gold Coast, Lisk will have a strong visual presence across the talks and workshops. We want to extend an extra big thanks to them for continuously driving awareness of the Lisk brand all around the world.
Because your feedback is important to us, we've put together a Community Survey. Participating takes less than five minutes and will help us better tailor our marketing and communications to our audience's diverse needs. Thank you!
Next Steps
As we make our way through the last few weeks of the summer, the Lightcurve team will continue its mission to make the Lisk platform one of the most accessible and easy-to-use in the blockchain industry. We are in the process of forming an internal Business Development team whose first task is to map out and establish contact with the majority of prominent crypto exchanges worldwide.
The Lightcurve team will continue to grow tremendously over the next few months with at least nine new hires. Despite our recent growth, we're still hiring. Please check out AngelList for more information.
Thank you again to our dedicated community for the continued support!
-The Lisk Team
---
Posted by us also on

---
Is this one of the first posts that you're seeing about Lisk? See more at Lisk.io or Github.