Block Height Announcement — Release of Lisk Core 1.0.0 to Mainnet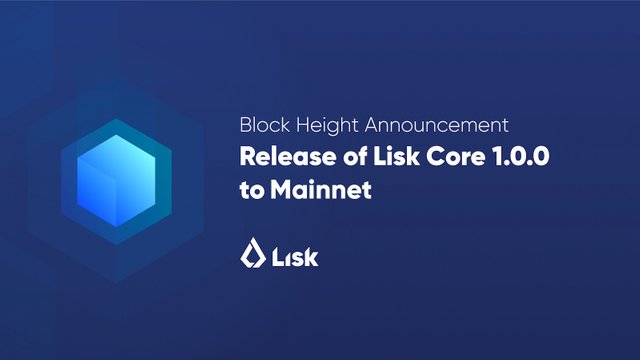 Hello Lisk Community,
Our biggest milestone to date is nearly here. We are very happy to announce that the major release of Lisk Core 1.0 is ready to reach the main network, Mainnet.
The migration of Lisk Core 1.0 to Mainnet will happen when we reach block height 6,901,027 at the end of round 68327. We expect this block height to arrive on Wednesday, August 29, no sooner than 11:00 AM CEST (Important: all the times are approximate).
Following this date, Lisk Mainnet nodes must be upgraded to Lisk Core 1.0, leaving behind the old version, Lisk Core 0.9.16.
Why Lisk Core 1.0 Is Important
There are a number of reasons why the milestone of Lisk Core 1.0 is so important to us. To get here, we employed the efforts of dozens of contributors from LiskHQ and the greater Lisk community — we had over 8,000 commits and over 1,000 issues closed with thousands of peer reviews. This is our first release that has included our new and greatly improved Quality Assurance (QA) process. The Betanet phase lasted several months to ensure top code quality and stability; we also successfully executed two Testnet migrations.
With Lisk Core 1.0 comes a new API design, a new P2P communication layer, and additional features such as an entirely new data field that provides you with the option to include a custom message with your transaction. It also includes atomic block writes, structured test suites and code migrated to JavaScript ES6.
Dependent Product Compatibilities
All of the products in the Lisk ecosystem have been aligned for compatibility with the new API. Each product has bumped its version, publishing code to adapt to the latest version of Lisk Core. You can find several blog posts about the updated products on the Lisk Blog. We've also collected and placed all of the related information into a table showing the specific tags below: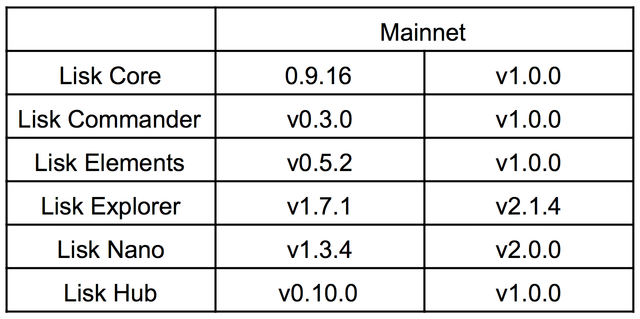 Lisk Core, in turn, has also updated the utilized version of Lisk Elements to the latest published version v1.0.0, since Lisk Elements is a dependency of Lisk Core in both test and production environments. All of our products are now on the same page.
How We Established the Block Height for Migration
In order to choose the ideal date and time for migration, we took a variety of factors into account — resources, timeframes, buffers, possible missed blocks, exchanges, ecosystem alignment, community and many more variables.
We then created a script to accurately estimate which block will happen around the chosen date. The calculation directly depends on the missed blocks per round, which is unpredictable. This is why our calculation assumes the ideal case of no missed blocks between the day we calculated the height and the day when the height is actually reached. Under this premise, our team is to remain unoccupied during this window of time.
As mentioned earlier, the migration of Lisk Core 1.0 to Mainnet will happen when we reach block height 6,901,027, which is expected to arrive on Wednesday, August 29, no sooner than 11:00 AM CEST. However, upon reading data from the blockchain and comparing it to the number of missed blocks during the last few months and the number of missed blocks from the version 0.9.16 in total, we came up with a factor between 0.16 and 0.26 missed blocks per round. These factors imply that a more realistic time for the picked height will be around 12:00 PM CEST. In an effort to maintain transparency, we decided to publish the script which has been audited by the team. This way, you can play with and check several estimations depending on the number of missed blocks per round.
As the block height gets closer, we will be able to have a more accurate time. However, the height remains fixed.
What's next?
On August 29, our engineering team will be on hand to help orchestrate and monitor the migration process
We will publicly communicate any updates/changes in the number of missed blocks as well as a more precise time we expect to reach block height 6,901,027 on August 29
We will maintain close contact with exchanges to ensure minimal disruption to deposits and withdrawals
Recommendations
Please avoid making any transactions during the 24 hours prior to and after the migration. For exchanges, we also recommend not accepting withdrawals/deposits 24 hours prior to and after the migration as well. However, we cannot enforce this, as Lisk Network is fully decentralized and everyone in the community is free to post any transactions that they wish to at anytime.
During the migration, we recommend stakeholders to direct any questions to the network channel in Lisk chat.
Please read our official documentation with a special focus on:
We are excited for this transition and expect it to go smoothly, however, if any unforeseen changes occur, we will keep the community informed throughout this time. Thank you again to the Lisk community for the continued support!
-The Lisk Team
---
Posted by us also on

---
Is this one of the first posts that you're seeing about Lisk? See more at Lisk.io or Github.