Block Height Announcement — Release of Lisk Core 1.0.0-rc.2 to Testnet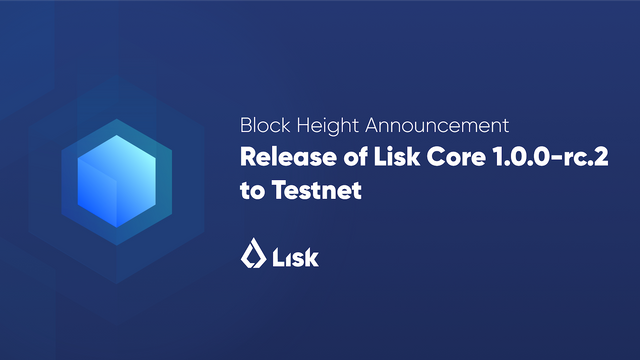 We are excited to announce that Lightcurve has successfully finished the quality assurance (QA) cycle for Lisk Core 1.0.0-rc.2. This means that release candidate number 2 is ready for release onto Testnet. As previously explained in our weekly development updates, this QA cycle was more tedious than a typical one due to the complexity of Lisk Core 1.0.0. Here's a short summary:
15 new issues were attached to the Milestone Board

7 full cycles were performed

We had 2.5 weeks of development and testing
Testnet migration from 1.0.0-rc.1 to 1.0.0-rc.2
As you may have noticed, the Testnet network has been growing since June 28, with blocks produced by nodes on version 1.0.0-rc.1. The next release candidate is a hard fork due to the bumped block version — you can read about this issue in-depth here. The collaboration with the community migrating on the same height would be highly beneficial to test the migration process once again before the final release — to Mainnet. We also encourage everyone to use the lisk-bridge script, which fully automates the migration process by accepting the migration height as a parameter. To get yourself familiar with all of the changes introduced by the Lisk Core 1.0.0-rc.2 version, check out our last development update.
When?
The Testnet migration will happen no sooner than 2 days from now, at height 5932033. We expect this to happen at approximately 12:00 CET on Thursday, 9 August 2018.
The Testnet release block height takes into account the following factors: the missed block slot ratio and the 5 delegates that are not forging on Testnet.
Documentation
Based on the community feedback received during the previous Testnet migration, we've refined and updated our Documentation. Please check out the Migration Guide to prepare for the migration.
-Maciej and the Lightcurve team
---
Posted by us also on

---
Is this one of the first posts that you're seeing about Lisk? See more at Lisk.io or Github.