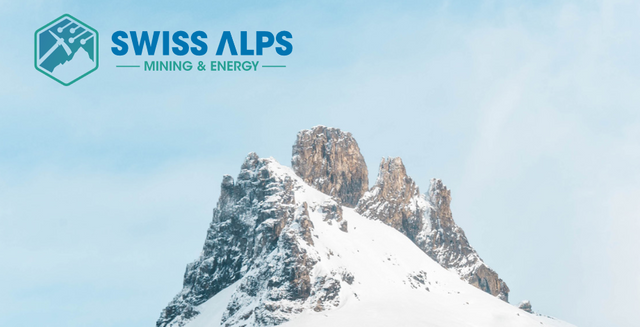 With the world struggling to cope up with the poisonous fumes and incessant use of nonrenewable resources to supply its needs, it is high time to undertake projects that work towards utilizing unused sections of the world. The three R's - Reuse, Reduce and Recycle have become an almost necessity to keep the world going and make it a sustainable place to live in. Right now the greatest disruption ensuing the world is Blockchain. On one hand, we have blockchain technologies doing away with all the ills of centralization and bringing about transparency and immutability to all kinds of businesses, on the other hand, Blockchain technologies are highly bring condemned by environmentalists because of their heavy energy-intensive mining process of cryptocurrencies.
The organization Swiss Alps has recognized the unused structures lying dormant in the Swiss Alps mountains due to prohibited residential use of these buildings. It offers to connect the two worlds of blockchain and Alps using only renewable energy as the source.
Swiss Alps energy AG (SAE) is a distributed ledger-based energy supplier and an operator of flexible modular mining infrastructures that are intended for long-term stationary use. Thereby, SAE preserves unused buildings in the Swiss Alps and uses them sensibly and without interference with either building structure or the environment.
It uses a modular cube system to provide decentralized blockchain infrastructure. The cubes are pre-fabricated and installed with all the mining components on the site.
It uses the Organic Rankine cycle (ORC) system,that uses the waste heat produced by the processes to recover energy. In this way, up to 50% of the energy can be used.
The system uses artificial intelligence or SamaiX and a decision support system that helps the miners.
The services can be rented out to various company blockchains due to the decentralized distribution of various facilities at SAE.
The company is hosted by a team of professionals from fields such as blockchain, cryptocurrency mining, Hyperledger application developers and specialists, civil engineers, infrastructure engineers and industry experts.
Energy requirements
It uses renewable energy only brought forth by long-term wholesale purchasing agreements and their own hydroelectric power plants.
Moreover, Switzerland with its high environmental standards provides for the cheap supply of renewable energy. It is as such becoming a hub for crypto mining.
What does it strive for and its applications in the real world?
To soak in the advantages of blockchain technology and promote its usage.
Provide third parties with the adequate infrastructure to build their projects
Address environmental based issues and strive towards minimal pollution and zero waste practices
Provide support to the local economy in Swiss Alpine areas and facilitate digital transformation
Be an electricity supplier using DLT technology
Applications:
Financial asset custody and transfer
Product tracking through the blockchain
Iot in logistics and transportation
Electronic records in healthcare
Identity management to simplify KYC process
Ancillary benefits:
Real-time monitoring through the SAM app.
Notifications through SamaiX, the decision support system
An exchange powered by cryptocoinexchange is being negotiated and will allow seamless exchange experience
SAM KC/AML solution will be implemented through the app itself.
The SAM token (Sam) and its ICO details
Sam will be an ERC20 based utility token. It will be used on the platform as a means of payment for mining and other services. It will be later on tradeable on a stock exchange.
All services
Purchase of power
Purchase of cubes
Renting and buying of mining units
Electricity supply from SAM power plants
Hosting blockchains on decentralized SAM units
Development of blockchain based services
A total of 239,682,538 Sam tokens will be issued using a smart contract. It will be freely transferable on the ethereum blockchain. 6.0844% tokens will be up for sale in the presale and 68.9156% tokens will be in the ICO. It will be sold for bitcoin, ether and other fiat currencies.
The target for the main sale would be $95,000,000. The price per token would be $0.50 in the first tier, $0.60 in the second tier, $0.70 in the third and $0.80 in the 4th tier. The ICO started in June 3018 and is live now.
Verdict
Swiss Alps energy and mining is a brand new concept that looks environmentally fit and economically sound in approach. It provides an almost self-sufficient outlook towards energy generation and mining of cryptocurrencies through it.
For the users such as blockchain startups, it can be a complete infrastructural solution with reduced cost and trustless contracts. The economy can also benefit from the project as a whole.
From an investors point of view, the project is grand in scale, minimalistic in approach and based on renewable energy. It might interest those who are interested in such affairs or else want to be a part of the huge base program. The tokens are utility tokens with no ownership rights but easy tradeable on stock exchanges and liquid on the ethereum platform. One can avail tokens at lower costs by being part of the project at an early stage.
For more details visit:
Website: https://swissalpsmining.io/
Whitepaper: https://swissalpsmining.io/pdf/whitepaper.pdf
Blog By: Lanirm Knayam
BTT Profile: https://bitcointalk.org/index.php?action=profile;u=1308391