I had the chance of meeting a renowned photographer who clicks real-life people and also caters to some selected portfolios. This meeting was part of an exchange program, I was representing my college. He shared an incident when he ran out of storage space to store his private collection of photographs and was quite apprehensive of some firm alluding to his privacy. Consequently, he had to lighten up his kitty to buy some extra space from one of the reputed cloud storages. My case is stark opposite to his, as more than half of the RAM lies as it is in my CPU. I wish cloud storages could work like Uber and Airbnb and I could get paid out of hiring my idle space. Memority, a blockchain based platform for encrypted decentralized cloud storage, is one such attempt to break the monopoly of the few big names and let individual storage capacities be pooled together.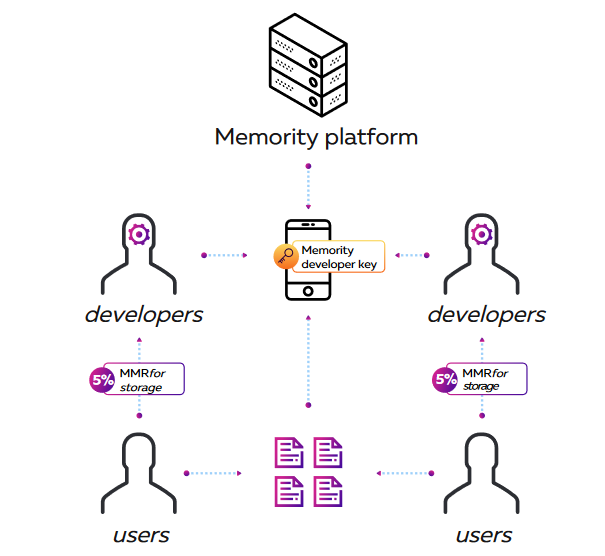 It aims to create a self-sufficient ecosystem and a collection of individual and specialized repositories from around the world.
Salient Features:
The most unique feature of the system is that it keeps 10 file copies on independent storages all over the world at all times.
Files are secured and encrypted with a private key to which only the owner has the access and the data is visible only after decryption with the key.
It continuously checks and restores the multiple copies of a file by using a decentralized monitoring system.
It provides for Unique hash identifiers of data stored in a blockchain such that no copies can be harmed, forged or deleted.
The storage system is a combination of independent repositories of specialized hosting and also ordinary users.
The payments done in MMR tokens are also stored immutably on the blockchain.
They aim to develop their own blockchain with a multitude of applications to serve the purposes of different organizations such as government organizations, individuals, and businesses.
Memority allows for third-party developers to create their own decentralized applications (DApps) on the platform, promote their own products and hence encourage healthy competition.
As per the barter guidelines, one can easily store information on the platform in exchange for providing his own space for storage to the platform.
It will function as a self-sufficient platform with 90% of the developers not required. It will have a self-cleaning mechanism as well.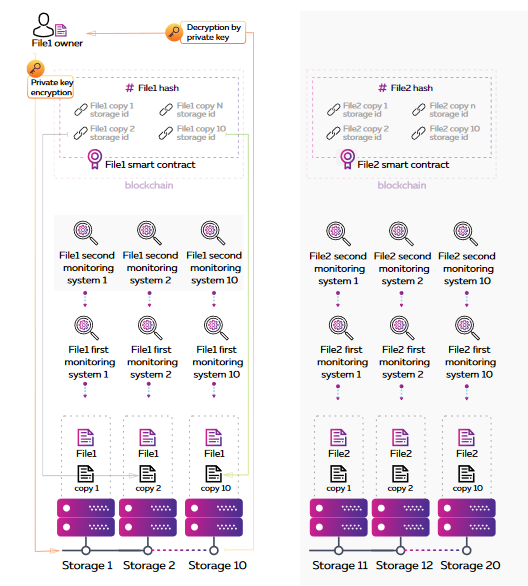 Benefits
It will function as a decentralized ecosystem with smart contracts under operations that will provide for the self-cleaning and trustless environment.
By including individual data hosters it brings in a crowdsourcing mechanism that will help in the expansion of the platform.
Developers are rewarded with 5% payment for all stored files uploaded through their application.
The Proof of authority mechanism makes computing power irrelevant to the process of blocks creation.
The tokens are protected from inflation and cam achieve appreciation with the increasing popularity of the platform. Miners can earn further benefits too.
Reduced costs of storage
Community building
Decentralization of storage facilities
It ensures complete anonymity of the users as well as hosters
Only hashtags are stored on the blockchain and data is duplicated and stored in multiple copies around the world ensuring further security.
Hosters receive 90% of the user's payment for data storing.
Use Cases
Use cases with memority include filechain.com , a file sharing service;
turtle.io , application for downloading and viewing data on patents and scientific inventions on the blockchain;
chain.gallery , an application for downloading and viewing works of art.
EMT token and its ICO details:
EMT token will be an ethereum-based token (Ethereum Memority Token). They are only meant to gain investors at the ICO and would be exchanged later on by MMR tokens at the rate of 1:1 without any further commissions. They will be used inside the platform for all operations and will be essential for the functioning of the ecosystem.
A maximum of 1,500,000,000 out of which 57% tokens would be up for sale during the ICO(855,000,000 tokens). Payments will be acceptable in Ethereum, Visa, MasterCard, Bitcoin, Bitcoin cash, Litecoin.

The bonus of up to 15% is available. The ICO began on 31st May and will end on October 1. The price per token will be 0.1 USD.
Concluding Verdict:
Memority will work on branched nodes using a new algorithm of PoA (proof of authority) consensus. One can be assured of fast network speed and reduction in costs. It will act as a vast community where the users can use the storage space backed by immutable security features on the platform. The users can be the hosts as well providing their private space for storage. The investors can earn early bird bonus of up to 15%. A person with 10,000 or above tokens can become a miner and earn extra profit. Tokens can also be earned by renting storage space or developing applications on the platform. Memority as a platform aims to include all the actors in the profit and development of the platform.
For more details visit:
Website: https://memority.io/
Whitepaper: https://memority.io/docs/whitepaper_memority.pdf
Telegram chat link https://t.me/memority
Blog By: Lanirm Knayam
BTT Profile: https://bitcointalk.org/index.php?action=profile;u=1308391