A young lady tries to adjust her mirror in order to apply some make-up. She seems to be headed to a very important meeting. Two cars down, I can make out a middle aged man yelling on his phone. He looks like he is about to have a heart attack. The guy on my right looks like a zombie that popped out fromThe Walking Dead. Most others are zoned into oblivion.
Stuck on traffic lights during rush hour is perhaps the most depressing thing I can endure as a human being. At some point, I can't help myself but start pondering about the lives of those around me. The thought that they are stuck inside these mobile cubicles trying to reach... a stationary one, poisons my existence. And for what? To fulfill mostly someone else's dream?
These fellow human beings will repeat the same ritual over and over again for years to come. Worse of all, they are stuck inside the wage-slavery limbo. The only reason they can continue doing what they are doing is because everyone else is doing it as well. Is this supposed to be our 'liberating upgrade' from slavery?
The idea of the wage is a dreadful one. A human being is getting paid a fixed amount of money a month, despite their variant performance throughout the year. It is as if you pay an arbitrary rent for being alive. You get a basic stipend so you can continue being relevant.
Slaves 300 years ago had food, water and shelter on a daily basis. Their masters catered for them because they were valuable property. They received free medical care and had allowances. Today, wage-slaves can barely pay for food, shelter or medical care. Bosses treat workers much like disposable underwear and at the end of the month still have nothing to show.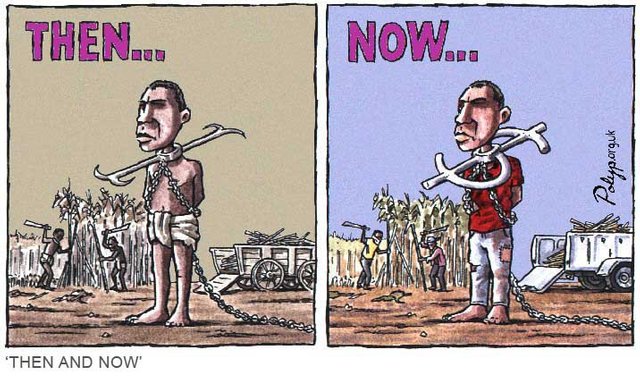 source
The slavery imagery sculpted inside our minds consists of a white man waving a whip on a poor soul. I wonder how future generations will choose to iconize the relationship with our bosses.

More and more people are in need for psychiatric medication in order to handle this existential delirium. More and more 'disorders' are invented in order for people to willingly shove sedatives down their own throat. Forcing someone to accept soul medication appears violent and twisted. Get everyone to do it and it goes almost unnoticed.
Who wouldn't medicate themselves to sleep? How can one bare such a dreadful existence and still be able to get up from the bed and join this charade? Most create families in hope that this will cure or alleviate the pain. They too soon realize that they only propagate the same fortune to their own children.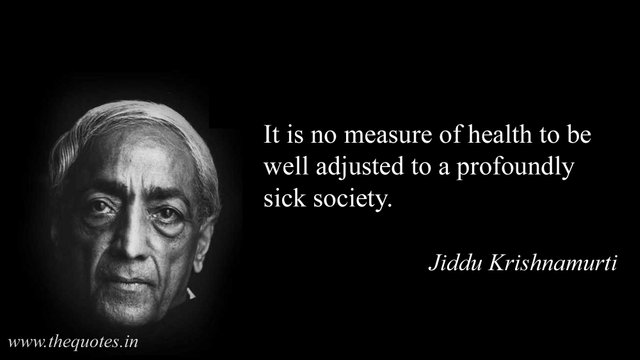 source
We have the chance to break free from all these. We are now taking the first steps towards the blockchain revolution. Individuals no longer need to sell their soul to an arbitrary master. Decentralized networks empower individuals to form and pursue their own dreams.
Initiatives like Aragon, will allow anyone to create and manage their own companies. Bancor will let you create your own tokens. Bitshares powers a decentralized exchange platform. Steemit brings a revolution to the way social media platforms operate. Every sector is being revolutionized as we speak.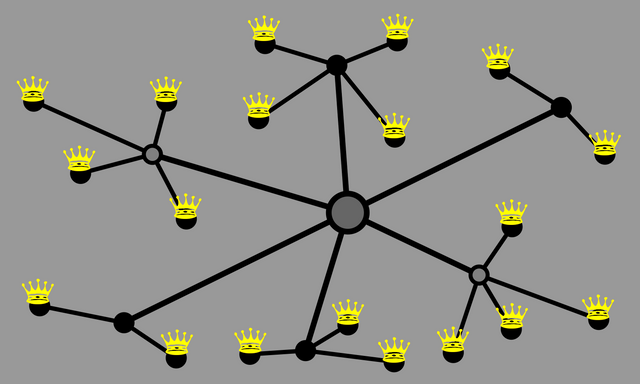 source
The Internet some decades ago begun something that seems to have risen from a science fiction book. The entire planet and its people got connected under an invisible network. The mechanics are still unknown to most people but that doesn't stop it from being the most liberating human initiative. Our minds expanded beyond our wildest dreams compared to our ancestors.
Through the internet humans got to learn about who they are and how we all relate. We got to see our masters up and personal — removing the myth from the man. We started questioning and doubting the status-quo. We understood that we are being played but our feet were still bounded by the wage-slave paradigm of the industrial revolution.
Blockchain technologies can bring an end to this. They can offer solutions to political and economic problems that have been tyrannizing humanity for centuries. A decentralized network no longer relies on the tribe but on the individual. No one is more important than another. One can rise as easy as they can fall.

I believe we will all embrace the potential of blockchain technologies and join the wave. People will come to realize that they can choose not to sacrifice 8 hours a day serving someone else — other than themselves. Our early ancestors spend little time on food and shelter and dedicated much of their existence in enjoying life. We have the tool today to reverse engineer our primitive ways and remember once more how to be human.