https://www.digitalbits.io/
This article is a continuation of a previous article about the introduction of the DigitalBits Project. As explained earlier, DigitalBits is a blockchain-based project that focuses on loyalty and reward points (LRPs) industry. The presence of DigitalBits is expected to solve problems experienced by consumers and program providers by providing protocols for transactions and trade of various kinds of digital assets through applications commonly used by consumers.
For further introduction, you can visit: https://steemit.com/blockchain/@jrasinaga/digitalbits-blockchain-meets-loyalty-and-reward-points
This article will discuss the features of the Blockchain DigitalBits. Here are the features of the DigitalBits blockchain: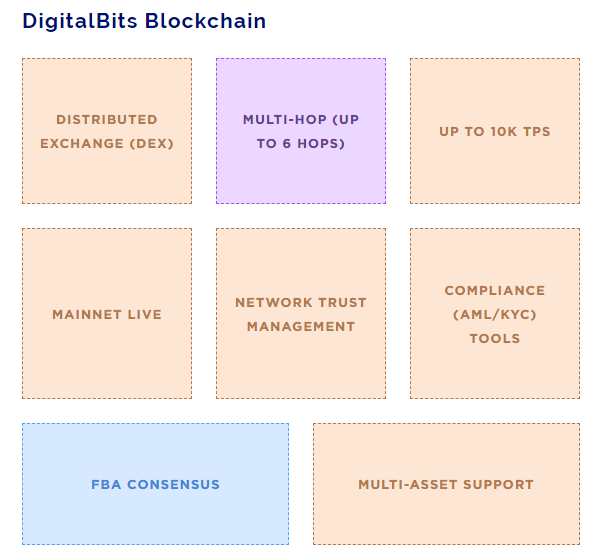 1. Distributed Exchange (DEX)
DEX allows users to move a number of tokenized assets, including tokens originating from the DigitalBits blockchain, other cryptocurrencies (Bitcoin, Ethereum, etc.), and real-world token assets.
If the user wants to buy a product or service that is available only at certain types of points, users can convert their points to other points by making an offer to buy or sell assets to get the corresponding points.
2. Multi-hop (up to 6 hops)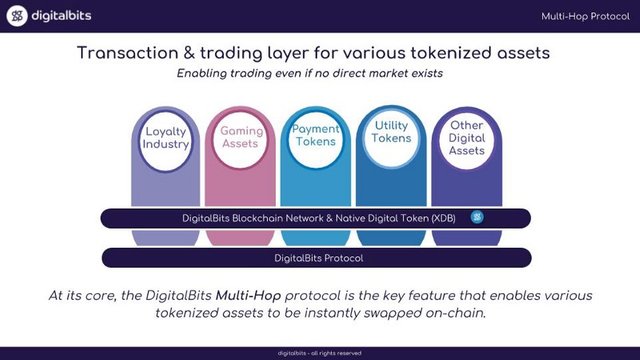 This feature gives consumers complete control over their value by allowing users to exchange values from one program to another. Value exchange can be arranged between many entities to ensure that each individual receives the assets they want. This will allow consumers to optimize the value they collect through points.
3. A Fork of Stellar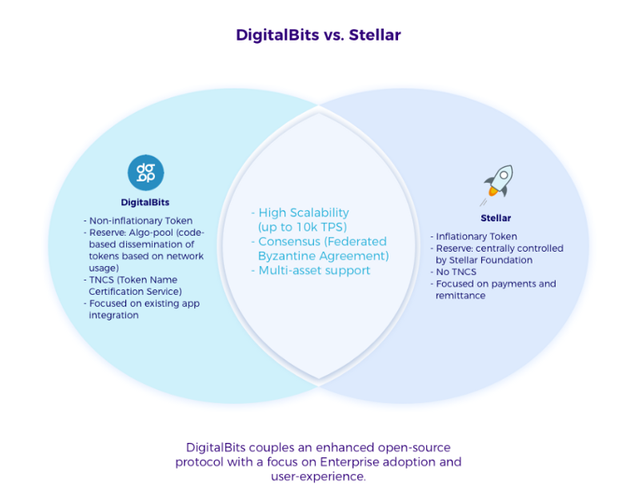 DigitalBits is a fork of Stellar with some modifications. The DigitalBits blockchain works with a Federated Byzantine Agreement (FBA) consensus, able to process transactions up to 10k per second, and supports multi-assets.
4. Compliance (KYC/AML) Tools
DigitalBits will apply AML to companies to find out who their customers send the value to and from whom their customers receive value. The DigitalBits compliance protocol supports the exchange of compliance information to pre-approve transactions with other companies. Customer information exchanged between companies consists of full name, date of birth and physical address.
For more Information about the DigitalBits Project, visit the DigitalBits website and read the whitepaper.
Website: https://www.digitalbits.io/
Westart: https://www.westart.co/project/digitalbits-presale
Twitter: https://twitter.com/DigitalBitsOrg?lang=en
Telegram Group: http://t.me/digitalbits
ANN Thread: https://bitcointalk.org/index.php?topic=5026550.0
BTT Author Link: https://bitcointalk.org/index.php?action=profile;u=2256570