Complete Guide to Join the WELL Crowdsale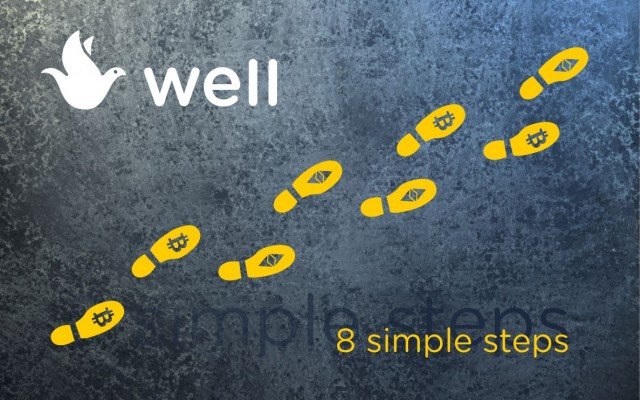 Hello WELL Community!
We wanted to provide instructions for joining the WELL crowdsale via our site.
You can buy WELL tokens by following these easy steps:
Attention: Keep in mind that the tokens are available for the purchase only via your private dashboard on the WELL website. Don't send any money to the addresses you get from anyone by email or social media.
STEP 1. GO TO THE OFFICIAL WEBSITE of WELL (joinwell.io). Check the URL twice to make sure you access the legit website.
STEP 2. VISIT THE PERSONAL DASHBOARD by clicking to "purchase tokens" or "sign in".
IMPORTANT: You can skip STEP 1 and get direct access to the personal dashboard by following this link.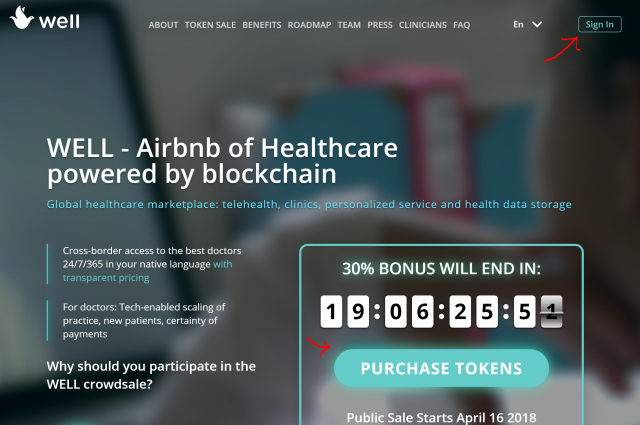 If you have not registered yet, then sign up by entering your email and creating a strong password. Also, you can use your Facebook or Google account. If you have a referral coupon (for example, from your friend), don't forget to enter it in the "coupon" field.
Please note, this screen allows you to both Login and Register, so make sure you select the proper action after entering your information.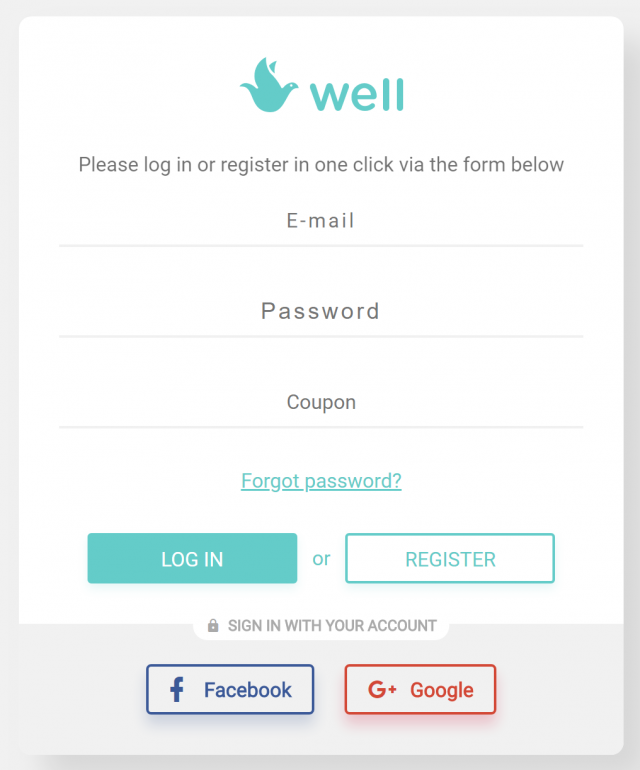 STEP 3. CHOOSE THE PREFERRED METHOD OF PAYMENT
You can buy WELL tokens with BTC or ETH.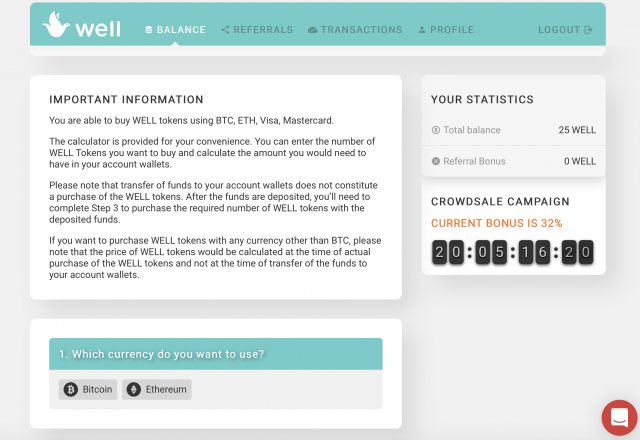 STEP 4. ENTER THE AMOUNT OF TOKENS YOU'D LIKE TO PURCHASE
For your convenience, you can state the sum in BTC/ ETH that you are going to spend. Note that a minimum contribution is $100 worth of tokens.
WELL's calculator shows the exact amount of tokens you will get with your contribution.
Please keep in mind that the number of tokens you will see on your balance after the transaction is completed might slightly differ from the one given on the calculator, as the exchange rate ETH/WELL or BTC/WELL is calculated exactly at the moment when the transaction is performed.
STEP 5. GET THE PAYMENT ADDRESS
After double-checking the information you stated click the orange button saying "confirm and get payment address".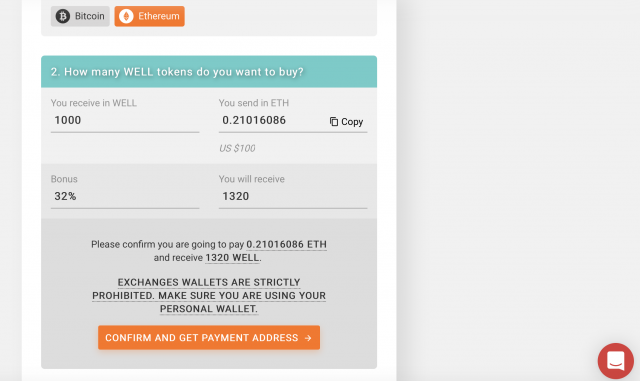 Enter the wallet address you'll use to pay for the tokens.
Remember that you should only use your PERSONAL WALLET. Don't send any funds for an exchange address.
After putting the address, click confirm one more time.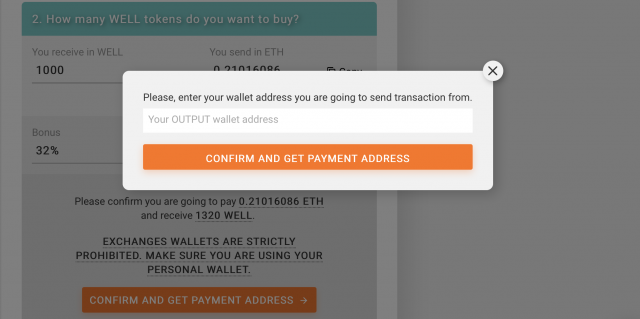 STEP 6. GET & SCAN YOUR UNIQUE QR-CODE OR COPY THE WALLET ADDRESS
By clicking "Confirm" at the previous step, you'll get a generated wallet address that you should transfer the funds to. You can either scan the displayed QR-code or copy it manually.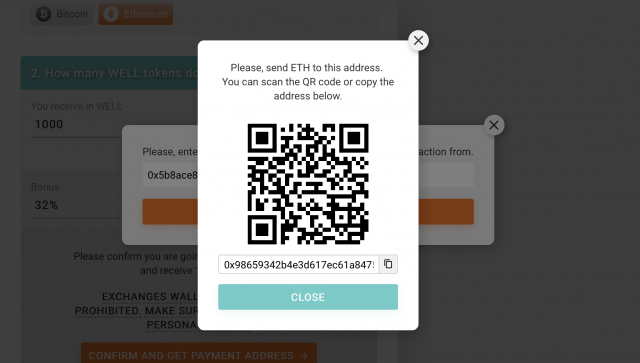 Note that each user receives HIS UNIQUE WALLET ADDRESS, that's why do not accept the wallet address from any person.
STEP 7. SEND ETH OR BTC TO THIS ADDRESS
Go to your own wallet (for instance, My Ether Wallet for ETH or Blockchain.info for BTC/ETH). We will show you an example from a Blockchain.info wallet.
Please keep in mind that the procedure may be a bit different depending on the wallet you use.
Insert the copied wallet address (if you haven't put it via QR-code), state the amount of fund you are going to transfer and proceed with the transaction.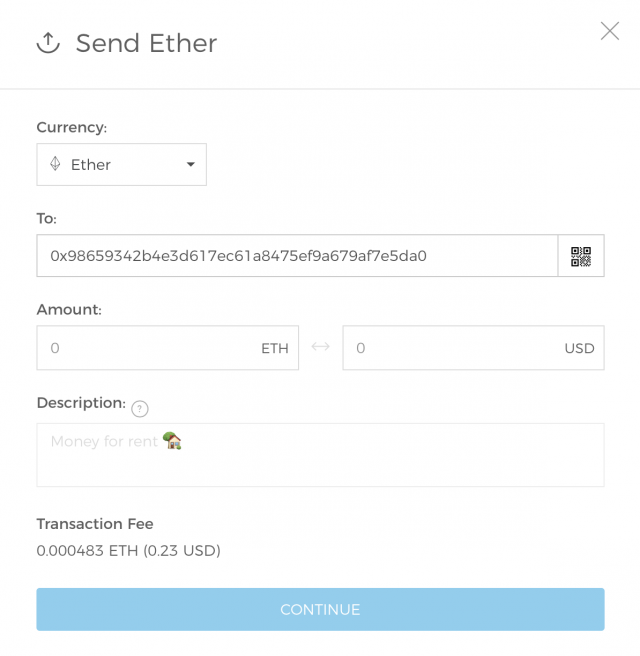 The suggested gas for sending ETH is 200,000
STEP 8. Check your contribution status and balance. Voila!
Congratulations, you now have WELL tokens in your personal dashboard!
If you have any questions, issues or doubts regarding any steps, don't hesitate to reach out to us. You can always contact our managers on the WELL telegram chat or by using the chat on the dashboard — they will be more than happy to help you proceed with the token sale.