At HIMSS18, New Connections Are Made by WELL
What happens in Vegas doesn't always stay in Vegas — at least not when WELL is involved. WELL project manager Nate Flake attended HIMSS18, the annual conference for the Healthcare Information and Management Systems Society, last week in Las Vegas. With 54,000 attendees and 28,000 vendors, including WELL provider Optum, which was an anchor exhibitor at the conference, it's the largest healthcare conference in the world, which meant plenty of opportunities for WELL to connect with healthcare professionals about its platform.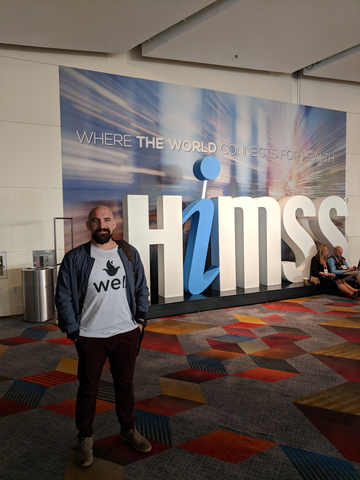 WELL project Manager Nate Flake at HIMSS18
Top on Nate's agenda was speaking to companies about electronic medical records and best practices, and he was able to meet with Health Finance, a platform for affordable payment options in healthcare; Ventech Solutions, which provides customer-driven intelligently smart solutions; and 11 Health, a connected health network built around a smart sensor.
In addition, Nate met with WELL team member, Chief Medical Information Officer Roque Espinal-Valdez, who was also in attendance. After the two caught up on official business, they set out together to spread the word about WELL and speak with some of the biggest influencers in the healthcare space.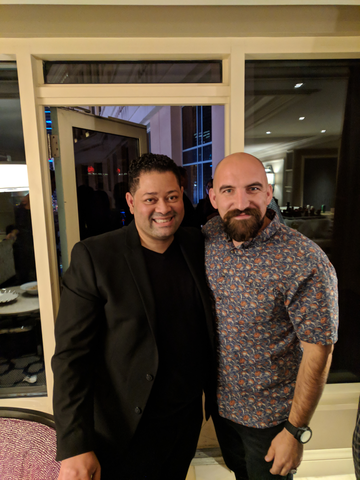 It was a WELL reunion with Roque Espinal-Valdez (L), WELL's Chief Medical Information Officer, and Nate Flake.
Among the main areas of focus at this year's conference were privacy and security, innovation and entrepreneurship, and population health, all high-interest topics for WELL as it builds its global telemedicine platform.
---
About WELL
Founded on the belief that quality care should be available to all, WELL is globalizing healthcare and eliminating country borders to directly connect doctors, therapists, psychologists, and other healthcare specialists with patients worldwide. Combining the proven success of telemedicine with blockchain technology, WELL aims to solve issues surrounding cross-border payments, data accessibility, and payment risk, while making it possible for the highest quality healthcare providers to serve anyone, anywhere. For more information on WELL, visit https://joinwell.io, or follow our Telegram group at https://t.me/joinwell.