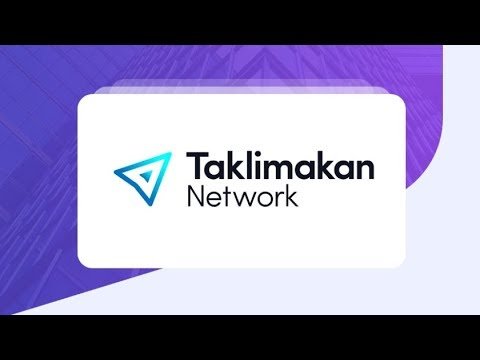 Taklimakan Network is an investment and educational platform for crypto enthusiasts, analysts and traders, allowing users to make professional investment decisions regardless of their level of financial literacy, using educational materials, analytical and trading tools, reviews, etc.
The platform provides trading signals, strategies and recommendations from professionals, available only to users of the platform.
In addition, analytics of ICO projects and other coins will also be available to platform users. Clients will also be offered investment portfolios formed by professionals.
Newcomers to the cryptocurrency market will be able to access training materials and knowledge base, thereby greatly improving their knowledge and literacy.
About Taklimakan NetworkTAKLIMAKAN NETWORK is an investment and training business platform that gives its customers the opportunity to increase their knowledge in the cryptocurrency industry and learn trading skills.
Each user will be able to choose his personal investment mentor and take courses in webinars and lectures.
All users will also be provided with full access to the library of blockchain technologies, a description of various ways of investment and trading tools in the cryptocurrency market.
The training materials will be structured and delivered according to the user's level of knowledge and the goals of the learning process.
Experienced and qualified users will be able to provide their author's content, trade materials, articles, provide individual consultations, master classes and webinars for users from different countries, while receiving remuneration in TKLN tokens.
Therefore, we are creating a unique educational platform that will benefit everyone, from beginners to professional traders.
The Taklimakan Network platform will become your mentor and guide to the world of cryptocurrencies, helping you choose the best way to manage your finances.
Overview of the Taklimakan Platform.The platform will bring great benefits to both novice and professional traders.
The main features of the platform are:news aggregator, managed by our full-time analytical service, educational center, stock exchange of analytical and trading tools, analytical reviews and special cryptocurrency portfolio management tools.
But more about this below.
The main goal of the creators of the Taklimakan Network is to create an association of professionals and experts.
Our platform will bring together leading cryptocurrency analysts, experienced cryptocurrency investors with newbies and provide them with all the necessary tools to bring the cryptocurrency market to a new level.
The main functions of the platform:
Aggregation, collection and structuring of general information and news about cryptocurrency.
The educational center.
Analytical center of the platform – unique tools for work and expert assistance.
Information on asset management, specially developed by experts.
Trading tools for cryptocurrency analysis.
Analytical service for moderation of materials developed by platform experts.
Market signals and trends
Creating a personal portfolio, control over various cryptocurrency trends and trends, analysis and comparison of cryptocurrency assets.
Benefit and benefits for the end user.The Taklimakan platform provides all its customers, regardless of their location, knowledge and start-up capital, with all the necessary cryptocurrency instruments.
The expert team of the Taklimakan Network, which includes experienced financial analysts and traders who form the main platform, provides many benefits to users.
– News aggregator with pre-moderated materials.
The analytical service of the project aggregates, checks and evaluates news and materials about various cryptocurrencies before placing it in a structured and convenient form for the community.
-High-quality analytical reviews and educational materials.
Each user of the platform gets access to high-quality analytical materials and recommendations from professional advisers and experts in the field of digital assets.
For beginners, there is a basic information about cryptocurrencies, courses on trading and trading, as well as useful knowledge to improve financial literacy and a wide variety of practical tasks on the use of trading tools.
-Large selection of analytical tools.
The platform allows the use of trading tools that are available only to institutional investors for traditional markets.
They help users make rational investments based on accurate and objective information.
Platform participants can also learn how to work with tools at the training center.
-Ability to get professional advice regardless of the amount of start-up capital.
Using an internal token and a reduced transaction commission, each user can receive professional advice. This step helps to attract investors from all over the world, regardless of their disposable income.
Platform Functions:-Social network for cryptocurrency professionals and beginners.
– Access to market experts.
– Stock and market instruments, reviews and courses.
-The ability to create a personal portfolio, controlling information about cryptocurrencies and access to their detailed analysis and comparison.
Platform user capabilitiesEach user gets access to the personal account of the investor allowing:
-Create your own portfolio and customize the platform based on personal preferences.
-Have access to the latest news about the market and stock exchanges selected by the analytical service of the platform and structured by the client.
-Have a subscription to trading signals and expert reviews.
-Use tools for statistical analysis and evaluation.
– Lead by professional managers and funds to select effective investment strategies for managing your assets.
– Compare the behavior and performance of your cryptocurrency portfolio with the indicators and portfolios of other users.
-Get knowledge in the educational center of the platform and learn to use analytical tools.Functions and features for professionals:-Publish analytical materials and send them directly to your subscribers.
-Provide a strategy for managing user assets.
– To conduct lectures, webinars and consultations to provide the beginners with the basics of blockchain technology.
-The use of analytical tools for statistical analysis and evaluation of data.
-Access to the news portal containing information about cryptocurrencies and also access to the structured analytical services of the platform.
Application token.– Subscription to analytical materials and services.
The user can use his tokens as a means of paying for a subscription to analytical materials published by experts of the Taklimakan Network, and also get full access to materials, lectures and practical lessons from the training center.
– Commission for the use of expert strategies.
To gain access to trading strategies, the user must pay a commission for using the turnkey solution and the analyst's advice.
– Referral bonuses and bonuses for contributing to the development of the project.
Platform participants can earn additional tokens by taking part in the referral program and receive bonuses for participating in the CPA-model (cost per action).
–Token to vote.
Each platform member having TAN tokens in his account has the right to vote for innovations within the framework of the platform.
– Payment of participation and access to the news platform Taklimakan Network.
After the end of the trial period, access to news and materials will be available only to users who have a certain number of TAN tokens in their account.
Additional information for study :
Register - https://taklimakan.network?ref=9985
Follow :
https://t.me/taklimakan_en https://www.facebook.com/taklimakannetwork
https://twitter.com/taklimakan_net
Author of article :
https://taklimakan.network/u/kriiptochelovek
kriiptochelovek
https://bitcointalk.org/index.php?action=profile;u=2519258
0x13B5F3975077d6Bdfe51681D2715a8A162c81bcB