Announcement
Many dapp platforms incorporate some form of profit-sharing instrument, like our iPLAY token. We wanted to take IOSTPlay a step beyond this and develop an additional mechanism to reward our community. We are building the first casino where the player simply cannot lose!
We are excited to announce that we will be running a community-based Servi Node on IOST! A Servi Node stores the full transaction history of the blockchain, produces blocks, and validates transactions. The IOSTPlay Node will benefit the entire IOST ecosystem, and especially reward players, iPLAY holders and voters.
What it means
We will be the first gaming platform where no matter what, the player wins! Win your bet and receive IOST plus our iPLAY dividend token. Lose your bet and receive our iPLAY dividend token as well as future interest on the IOST lost!
If you win, you win! If you lose, you earn future interest on your losses, forever!
How it works
You're probably wondering, how do I receive dividends and continual interest in the future? Here's how:
Profit generated by the platform will be used to vote for our Servi Node
Thanks to the structure of the IOST blockchain, this node will generate significant rewards. We expect close to 10% rewards on all profit generated by IOSTPlay, assuming we can rank highly in the "community service" category, which is determined by the IOST team's ranking system
All rewards generated by player losses will be used to purchase iPLAY on the market
This iPLAY will then be distributed to people who vote for our node
We will not distribute iPLAY to ourselves (the IOST from player losses). Instead, these tokens will be permanently burnt.
This constant buyback (and burn) of tokens will increase the price of iPLAY on the market. This system will also promote others to vote for our node, as unlike other nodes, they will be rewarded with iPLAY (in addition to the normal voting rewards).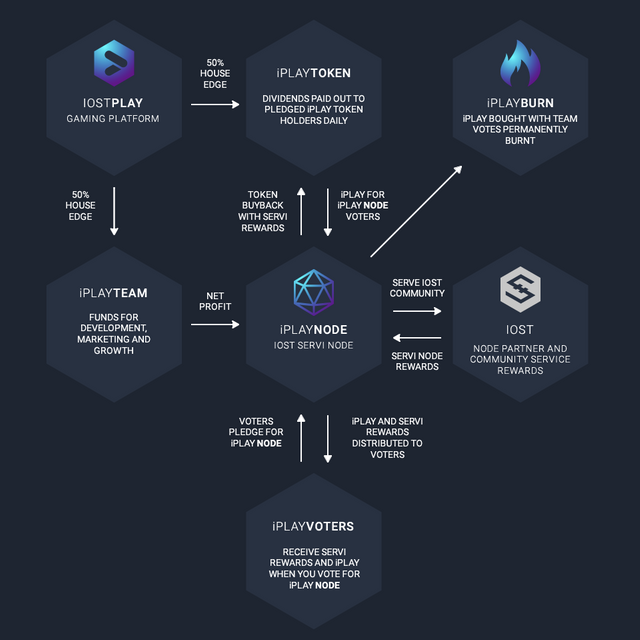 The Service Node will also serve as an excellent form of marketing. Key players in IOST (VC firms, large holders, core team members) all watch the node rankings daily. If we continue to climb the rankings, we will definitely be noticed. We will also be structuring marketing events for milestones, such as passing 200m votes, or ranking 3rd place in the rankings, flipping certain nodes, etc.
Conclusion
Our node is up and running! Once we hit 8m votes we will begin producing blocks. The team will put up some of their personal funds to vote, but all community votes are greatly appreciated (our name is iplaynode). We will have more detailed information of the specific mechanics of the node next week.
IOSTPlay is more than just a gaming platform; we aim to be a central facet of the IOST ecosystem by being a highly ranked block producer and community contributor. We are already developing open source tools, wallets, and software aimed at pushing the IOST blockchain to new heights. Our team strongly believes that IOST has a massive opportunity ahead, and we are beyond excited to play an integral role in fostering community, on-boarding users, and improving the entire ecosystem.
Best regards,
The IOSTPlay Team
Website: iostplay.com
Telegram: t.me/iostplay
Twitter: @iostplay
Reddit: r/iostplay
Email: [email protected]