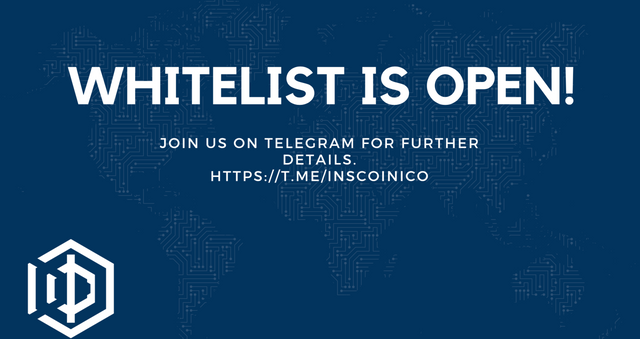 WHITELIST and TOKEN SALE DETAILS
We are pleased to announce that our WHITELIST(https://my.inscoin.co/register) has been officially opened.
We decided to create this WHITELIST following the interest created by our ico after the presentation of the project at ICORace in Lugano, an important European event where all the major experts of the blockchain world and many institutional investors were present.
To protect the investors who have been following us for longer, we have therefore decided to allow the investment, in the first 3 days of Preico, only to people who have registered with the whitelist of a certain number of tokens that will be calculated when the list is closed.
This will ensure that as many people as possible can participate in our project and that the distribution of tokens is as diverse as possible.
Let's now see our bonus in detail.
We have decided to include two types of bonus in our ICO.
TIME BONUSES.
Pre-ICO Bonus
1 Week of PREico: 30%.
2 Week of PREico: 25%.
ICO Bonus
1-10 days of ICO: 20%.
11-20 days of ICO: 15%.
21-30 days of ICO: 10%.
In addition to these bonuses we have included an additional benefit for those who decide to invest a certain amount of ETH in our project
During the Token Sale (Pre-ICO and ICO) there will be Bonus based on investment amount.
For 10 - 29 ETH will be a +5% Bonus of INSC In addition to the periodical bonus.
For 30 - 49 ETH will be a +10% Bonus of INSC In addition to the periodical bonus.
For > 50 ETH will be a +15% Bonus of INSC In addition to the periodical bonus
This bonus structure allows first investors, if they invest 50 or more ETHs, to get a 45% (30%+15%) bonus on the full ICO price.
For Further details
https://inscoin.co