Are you an aspiring Shakespeare or a new J.R.R. Tolkien?
The INSCOIN for Knox team is looking for you!
THE BOUNTY PROGRAM
We have just published and started our bounty program. you can find it here!
https://bitcointalk.org/index.php?topic=4494867.0
WHEN THE PROGRAM IS ACTIVE?
Already today, these are the dates you'll have to keep in mind:
Bounty campaign will run from
18th June 2018 - 12:00 UTC to 30th August 2018 - 12:00 UTC
Week 1: 18th June - to 24th June
Week 2: 25th June - to 1st July
Week 3: 2nd June - to 8th July
Week 4: 9th June - to 15th July
Week 5: 16th June - to 22th July
Week 6: 23th June - to 29th July
Week 7: 30th June - to 5th August
Week 8: 6th June - to 12th August
Week 9: 13th June - to 19th August
Week 10: 20th June - to 26th August.
HOW MUCH MONEY ARE WE GOING TO DISTRIBUTE?
within 10 weeks we will distribute the beauty of 7,500,000 INSC tokens, the equivalent of 1500ETH or at the time we are writing this article 750,000$!
WHAT TASKS CAN YOU COMPLETE?
We decided to distribute the bounty program funds in the most correct and heterogeneous way possible.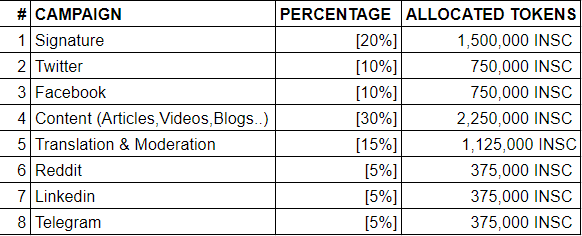 WHAT TO DO NOW?
If you're looking forward to getting to work and redeeming the INSC tokens you deserve, go to our Bitcointalk thread and follow all the instructions that come with it!
https://bitcointalk.org/index.php?topic=4494867.0
OTHER IMPORTANT THINGS TO KEEP IN MIND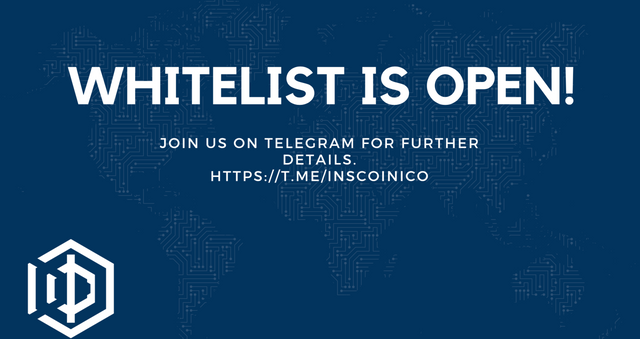 We are pleased to announce that our WHITELIST(https://my.inscoin.co/register) has been officially opened.
We decided to create this WHITELIST following the interest created by our ico after the presentation of the project at ICORace in Lugano, an important European event where all the major experts of the blockchain world and many institutional investors were present.
ABOUT INSCOIN FOR KNOX
Based in Estonia, InsCoin for Knox Project aims to establish the first insurance company that will accept a Crypto (INSC) for the payment of insurance premiums, and the first that, with the help of the blockchain, will solve the problem of falsification of insurance policies.
One of our strengths will be the automation of the issuance of policies and the payment of compensation when the claim that is the subject of the policy occurs.