BLOCKCHAIN FOR CITIES, INDUSTRY AND PUBLIC SECTOR

Blockchain Island - the new face of Blockchain Leadership Summit in Barcelona
19-21 November 2019, Barcelona, Spain
InnMind is happy to present you the BLOCKCHAIN ISLAND – the 3rd edition of the Blockchain Leadership Summit. It will take place on November 19-21, 2019 at the Smart City World Congress in Barcelona, Spain.For the first time ever, there will be a dedicated program about blockchain for enterprise and government sectors at Smart City World Congress, which is recognized as one of the top 10 global industry events.It is a place to meet and network with:
innovation leads from Fortune500 companies
startup accelerators and VCs
early-stage investors and family offices
customers from the public sector: city governments and regulators from the most technologically advanced regions in the world.
We will have a BLS edition "Blockchain Island" -  exclusive venue at the top location of SCWC expo.
Join our 3-day program and listen to skeptics and believers on how blockchain can disrupt the major industry sectors. Learn about blockchain implementations for Smart City, Data Management, Fintech, Mobility and Smart Government, connected with cross-sectors IOT, AI and Deep Tech.We will have 3 days of intense networking and expert discussions, demonstrations of outstanding technical innovations and most important commercial developments.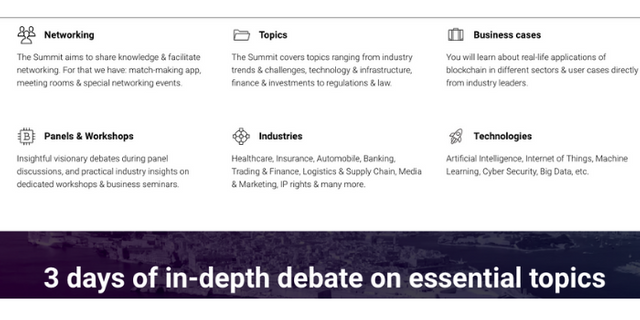 Key figures:
💎 More than 35'000 heads of industries and businesses, investors and financial institutions, leading startups and technological companies, academics and politicians, and many other tech leaders will get together at the biggest conference venue in Barcelona.
💎 700+ Cities and 45+ Countries presented at Smart City World Congress with 400+ Top speakers on stage;
💎 Blockchain Island - is an official SCWC partner with an exclusive program about blockchain and crypto finance industry. All major market players and technology providers addressing global attendees from our pavilion.
Join as a privileged Partner or Sponsor ! Write to [email protected]
Looking forward to seeing you in amazing Barcelona!
Sincerely yours,
Blockchain Leadership Summit and InnMind team