Today is September 24, 2017. We believe this is an especially meaningful day to GXB, and to the blockchain industry in China.
On August 10th 2016, GXB team was born. With the belief that the spark of blockchain technology is bound to spread around like wildfire, and cherishing deep in our heart the aspiration to release data's due value and improve the society's collaboration efficiency.
Over the past year, we went through the milestone events like internal closed beta, open beta, full open source of eight projects, and cooperation with top data source providers. Now, we finally come to the extraordinary moment. Today, GXB Decentralized Data Exchange (GXB DDE) officially launches its commercial use. We are one of the first blockchain projects in China to realize commercialization and reap genuine business revenues.
Next, we will introduce GXB's business map and plans in four sections:
GXB DDE's open-beta operation report

GXB's business development status

GXB's overall business structure and product line

Future business development plan and business forecast in 2018
I. GXB DDE's open-beta operation report
GXB DDE launched internal closed beta operation on June 15 and open beta on July 27. During the time, we invited 31 top-notch financial organizations and internet companies to participate. From dozens of data transactions in the first week to the current weekly average of 430,000 data purchases, GXB's decentralized data trading model has been widely accepted by its partners. (See the table below)


In September, total number of data transactions reached 1062054, yielding 807700 CNY trading volume. (More details in the table below)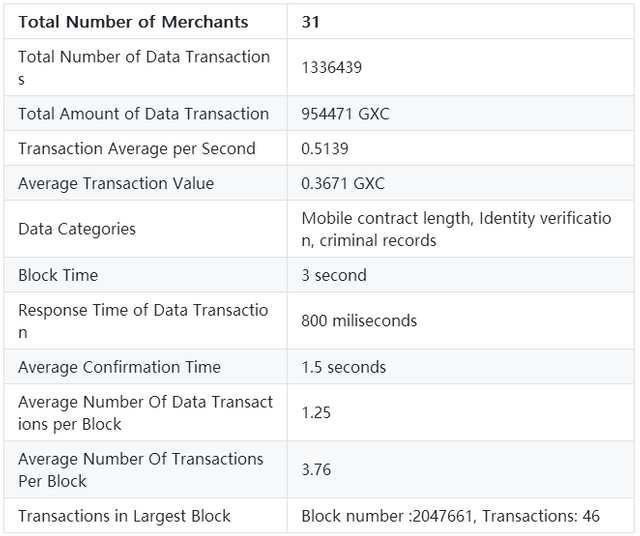 During open beta test, the amount of data purchase at DXB DDE was limited, and only five categories of data were available to users: criminal records, three-factor verification (name, ID, and phone number), ID verification, four-factor verification(required bank account), and mobile contract length. We received dozens of applications from merchants every day requesting access to our data network and make the purchase since open data test. Following GXB DDE's official commercialization today, merchants' privileges will open to more quality corporations, and we will bring out more data categories to truly release the business potential of data exchange.
Amid the fast advancement of commercialization, we will not forget the importance of an open and transparent blockchain. GXB DDE's real-time trading information can always be reviewed via GXWallet: https://wallet.gxb.io/#/explorer/blocks.



GXB DDE's development path and targets in the coming year are laid out in section 4.
II. GXB's business development
Customer development: GXB has set up sales teams in the northern, eastern, southern, central and southwestern parts of China since June, yielding positive news continuously. To date, we have established collaboration with hundreds of financial institutions and internet companies, including CreditEase, Wacai, 9fbank, Shenma, Cashbus, PPdai, Niwodai, to name just a few.
Data source exploration: we have built collaboration with several first-class domestic data sources including China Unicom, Touchstone (a data company jointly founded by China Merchants and China Mobile), Union Pay, Jiguang Big Data, and bad records filed with police authorities. We will support multidimensional data sources like social security and public transportation records soon. Meanwhile, we are actively exploring the possibility of connecting to data sources and catering to the needs in other vertical areas, including real estate, lab, material, etc. Credit information is only a starting point for us; tremendous data have the potential to be utilized.
Moreover, in response to the national call of sharing government-held information and breaking through information silos, we are making great efforts to provide decentralized technical solutions for data exchange in government affairs. GXB has presented a detailed proposal for government data exchange in support of the initiative to "get things done with one visit to administrative authorities" put forward by Zhejiang provincial government for the benefit of people.
The best business models, in most cases, adopt cutting edge technology to solve the problems of the enormous market. The decentralizing, transparent and open concept of blockchain was born to shoot the problems of data silos, data monopoly, privacy leaks, and data copyrights inflicted by data centralization. In the future, data is the energy that more significant than crude oil; it is the most precious means of production. Faced with such a huge market, we have so many opportunities to exploit.
III.GXB's overall business structure and product line
GXB is a company committed to the innovation of blockchain technology. It is staffed with top-notch blockchain talents and developers in China. The company's CEO Minqiang Huang used to be Vice CTO of INSIGMA subsidiary, the General Manager of financial services affiliate to HAKIM UNIQUE, and the CTO of HAKIM UNIQUE. Huang devoted himself to the research and development of blockchain as early as in 2013. GXB's team is comprised of developers from Alibaba, Netease, 51 Credit, Huawei Japan, Tongdun Technology and other top market players, as well as development engineers specializing in the blockchain technology. The whole team is absolutely among the best of its kind in China, be it the resume, the understanding of this business, or the development capabilities. So far, the company boasts a full variety of product line that ranges from GXChain, decentralized data exchange, and GXWallet to blockchain browser. GXB Dapp, the face-to-face application targeted at public users for credit identification, is also under development.
GXChain: GXChain is a public chain that functions as the underlying blockchian of GXB data exchange. Not only does it hold up GXB's highly-frequent data trading, but it provides Bass services, facilitates application development by third parties on the chain, and offers data support. GXShares (GXS), the token issued by GXB, serves as the fuel for application development. In the wake of blooming ecology on GXChain, the value of GXS will form a forward cycle.
GXChain serves as the underlying infrastructure for applications on the chain, while the applications on the chain reciprocate GXChain's ecology with a supply of abundant data resources. Take GXB DDE for example, it is developed on the basis of GXChain; in return, data sources listed at the exchange also provide data for GXChain and even for other applications on the chain.
GXB Dapp developed by GXB is the first GXChain-based application on mobile terminals geared to the needs of public users. By using GXB Dapp, you may conduct face-to-face credit verification in a convenient and safe manner, and access to multi-dimensional information of the inquiree with his/her authorization. We can see GXB Dapp's wide application scenarios from its video.

In addition, GXB Dapp is also GXS' mobile wallet. Users can easily manage their assets on the phone. Such a feature also provides great support for Dapp's preliminary cold boot and calculation of daily active users. GXB Dapp is currently under construction, and is expected to make the debut in December.
Centering on the master network of GXChain, the business-level application GXB DDE has officially launched its commercial use. GXB Dapp designed for the public will be made available soon, with its auxiliary products such as e-wallet client and blockchain browser already released. Thanks to its enriching product structure and rapid development of multiple product lines, GXB has grown into an exuberant tree from a tender seedling in a year.
IV. Future business development plan and business forecast in 2018
In September 2017, seven state ministries and commissions jointly issued Notice on Preventing Financing Risks in Token Issuance. State government's potent regulation will make ample room for those down-to-earth players in the blockchain industry. As one of such companies with pragmatic programs launched, GXB will not fail the great opportunities brought by the times and run even faster. In the next year, our efforts will focus on the following six aspects:
Continue to attract more data merchants. Currently, we have established cooperative relationships with a great number of outstanding domestic financial organizations and internet companies. After the commercialization, these partners will become GXB DDE's business-level users. Then the advantages of blockchain-based data trading solutions will become more evident. And we will further expand our sales teams in the five regions to expedite exploitation of the national market. As the picture for blockchain-based applications gets clearer, the whole industry will receive wider recognition. As the leader of blockchain data exchange, we already established the positive feedback that attracting and receiving recommendations for outstanding talents almost every week.

Continue to tap more quality data sources. GXB's decentralized trading model connects the parties both on the demand and supply side. Like the e-commerce giant TMALL in Alibaba, the increasing number of data merchants will provide ever-growing business revenue for data sources. This is conducive to our faster exploration of quality data sources and helps to realize a virtuous cycle of growth between data sources and data merchants, so as to produce influential network effect.

Promote and popularize GXB Dapp, GXB's mobile application targeted at the general public. Alarmed by recent social incidents such as arson by a housemaid in Hangzhou, the fresh college graduate Wenxing Li accidently joining pyramid selling and the programmer committed suicide after getting coaxed into marriage, the need for credit verification has become a rigid demand of the entire society. GXB Dapp, the solution providing legitimate and convenient face-to-face credit identification services for the public, will be our priority for promotion in the next year.

Enrich the industrial dimensions of data exchange business, and promote decentralized data exchange solutions to more areas. As data plays a fundamental role like water and power in more and more industries, we set our first step on the largest while the most challenging market ---- finance and credit. This choice brought us with precious experience to branch out to more sectors to provide data exchange services. This will be a super take-off runway with colossal market potential and long-term benefits.

Promote GXB's underlying blockchain ---- GXChain, improve the application ecology on GXChain, and provide diversified supports such as technology, capital and resources for application development. As GXB's business model gets acknowledged by the market after its commercialization, and more data sources, data merchants and public users get involved, GXChain's data ecology will become increasingly colorful. It serves as fertile soil for application developers and shortens the distance from zero to one for excellent teams. In the future, GXB will put into more resources to nurture and incubate great applications.

Go overseas in an all-round way. Firstly, we will rapidly establish GXB's overseas communities, make sure our voices are continuously heard in key countries and markets, enhance the publicity of our program, and attract more community lovers and developers. Secondly, we will introduce GXB's sophisticated data exchange solution to overseas market. Compared with the traditional centralized and monopolized data exchange solutions, our program is highly competitive. We will start from the culturally- intimate Asian countries. At present, we are in contact with some preeminent organizations and businesses.
Based on the existing reserve of cooperative resources and operation data assessment on closed and open beta over the past three months, we estimate that as of December 31 2018, GXB DDE's trading volume will reach over 500 million CNY.
Of course, our ambition goes far beyond.
The Spinning Jenny invented in the 1960's liberated hundreds and thousands of spinners; the First Industrial Revolution traced back then. In 1913, Henry Ford conceived and materialized world's first assembly line, bringing collaboration between the man and industrial civilization to a brand-new level. Later, the birth and application of internet protocol made the world change so fast that we could not remember the days without it. These critical technological innovations are like the flapping wings of the butterflies in South American jungles, bringing a storm to its times.
We genuinely believe data is the eye of the storm in our times. To release the due value of data, to enable highly-efficient data exchange and communication, and to lawfully apply it to the utility-maximized scenarios, this will eventually result in a huge improvement in social collaboration efficiency.
It is true there are shadows, and there are high mountains ahead to cross. But, just like what the late singer and poet Leonard Cohen said in his song:
There's a crack in everything. That's how the light gets in.
We would like to be that light.
GXB Team
2017.9.24