If you do a lot of financial dealings, then you must have had the experience of the level of difficulty encountered when trying to execute a transaction, especially for cross-border transactions with your bank. Even worse is when you are trying to convert from a form of currency to another. Say from fiat to a digital currency, or from digital currency to fiat. The worry and challenges are just way too much.
This is an issue that the Hubrisone wallet will address.
Hubrisone is a simple, intuitive and important solution that promises to provide a seamless way of securing your digital assets. The application makes it possible for you to stay in control of your funds on the go. With the app, an Internet connection and a few clicks, you can send and receive money, carry out conversions, etc.
First, to use the application, one has to have an Internet-enabled electronic device like a laptop, smartphone, etc. For smartphones on the android os, you have to go to the good playstore, download and install the application. Same for those running on the ios platform, go to the ios store, search and install the hubrisone application.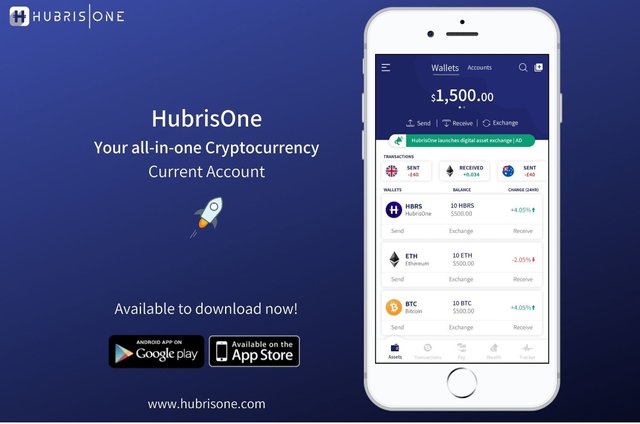 An installed Hubrisone wallet gives you the link between a new world financial system, with digital assets, with the old financial and banking world. This is the future of financial management. Using the blockchain, hubrisone provides a very safe, transparent, and heavily user-intuitive platform to upgrade the orthodox ways of banking and finance management.
With the Hubrisone wallet, you can store, manage, and carry out other financial transactions with your digital assets conveniently. Integrating cryptocurrency like bitcoin, etherum, ripple, etc, with fiat like USD, GBP or EUR.
But first, you have to download the wallet.
IOS: https://apps.apple.com/za/app/hubrisone/id1447229687
Android: https://play.google.com/store/apps/details?id=com.nettechnocrats.hubrisone.hubrisone
More information here.
Website: https://www.hubrisone.com/
Telegram: https://t.me/HubrisOneOfficial
Twitter: https://twitter.com/hubrisone
Bitcointalk: https://bitcointalk.org/index.php?topic=5036334
Bounty: https://bitcointalk.org/index.php?topic=5091901
Written by Goodnuel
Bitcointalk username: Goodnuel
Bitcointalk profile url: https://bitcointalk.org/index.php?action=profile;u=1304832;sa=summary