KOINPRO... A new experience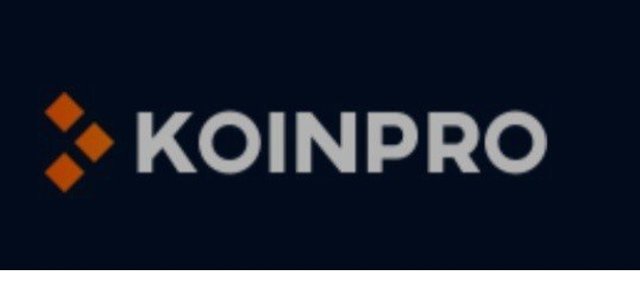 It's no secret that cryptocurrency trading has bexome the thing these days. With the growth of the bitcoin and cryptocurrency, there's been a steady gaining of attention, more persons keep coming in, showing interest and wanting to be a part of the blockchain community.
Yes, you can earn a sizeable amount trading digital currencies, but that's not without risks.
People have come to terms that trading may not be as easy as they had first thought because frankly, buying and selling is risky.
Reading and understanding charts, waiting for the right time to hit or pull out of trades, not a very easy thing to do, especially for newbies.
More interesting is the fact tht these terrible trading experiences have been, ironically, created by trading exchanges. The very people who are supposed to make the trading experience as seamless as possible.
Truth is, trading shouldn't be that cumbersome. It should be a simple system.
But these exchanges don't offer a good degree of security for users and their funds.
There's been series of hacks and loss of funds on the sides of traders.
A lot of exchanges are not intuitive. With very unfriendly layout and charts, noobs, even though keen, are left in a no man's land. They end up losing their funds, and off, they go because they have had a bad experience, they have lost all their funds.
Buying and selling of bitcoin and other digital assets should be safe and simple for everyone. This is why the derivatives exchanges are proving to be the best platforms to trade on, even for experts and noobs.
This is because they offer the trader the leverage on taking the right position to take trades and execute. This way, even noobs aren't really noobs.
Derivative exchanges makes it easy for you to trade because you just have to speculate the price movements, decide if you want to go on a long or short trade, take profits or not. You are basically incharge here.
Bitcoin futures platforms like the exchanges give you an upper hand by allowing you take trades from leveraged positions.
KOINPRO
Koinpro *offers the very best futures exchange experience. This is made possible through the platforms knack for providing the users with the perfect opportunity to catch profits, focusing more on the interest of the traders rather than killing them with excessive fees like other exchanges.
As a trader, KoinPro make things simple and easy to understand for everyone by charging a flat fee. This way, traders are at liberty to do things their way, their terms. No fears of excessive charges or trying to cut out these charges, hence missing trades and juicy taking points.
Liquidity has always been the bane of exchanges. Other exchanges even go as far as offering incentives to traders to help boost liquidity. However, these incentives are guises that ends up putting the trader in higher risks and losses. Koinpro uses a Smart Price Aggregator Engine to provide liquidity. Traders are in no disguised push to provide liquidity.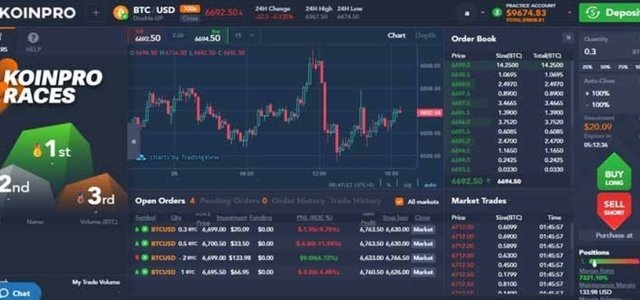 Koinpro offers up to 100x leverage for every trader, pushing the bitcoin futures as the perfect option to hedge. This is a win/win for everyone.
Koinpro features.
Koinpro bases its operations on two key phases.
Double up: Here, new users are hatched here. Taking in the process by enjoying an more intuitive interface and trading experience that will help them launch their trading career. Trades here are done at x100 leverage that eliminate risks as deals are automatically closed when target points have been met.

Perpetual: If you consider yourself an expert already, this is where you rightfully belong. Here, traders enjoy more flexibility by staying ontop of their own transactions all the way in. Even though both sides can be leveraged at x100, it is easier for each arm to enjoy profits.
KOI
As a platform on the blockchain, the koinpro exchange employs the use of a native token that will be the basis of all operations on the platform. The KOI token will be used for payment process on the platform.
The use of a native token opens it up for more transparency and security. With the token, users are in full control of their transactions.
Conclusion
Koinpro is offering you the chance to be the boss and take your trading experience to the next level, by ensuring an easier and more friendly way to trade digital assets.
The platform offers an amazing 50% cash back on trading fees, 100x leverage, and over 40% on refs.
If you are looking to take your trading experience to a greater heig9, or you just a noon trying out for the first time, then this is the platform for you.
For more information, use any of the following links.
Website : https://koinpro.com/
Bitcointalk ANN Thread: https://bitcointalk.org/index.php?topic=5219842
About: https://koinpro.zendesk.com/hc/en-us/categories/360002630653-About-KoinPro-FAQ
Telegram Group: https://t.me/koinpro
Twitter: https://twitter.com/koinprocom
Facebook: https://www.facebook.com/koinprocom/
Medium: https://medium.com/koinprocom
Written by Goodnuel
Bitcointalk username: Goodnuel