Q4 Update: Alphanet Testing & Wallet Development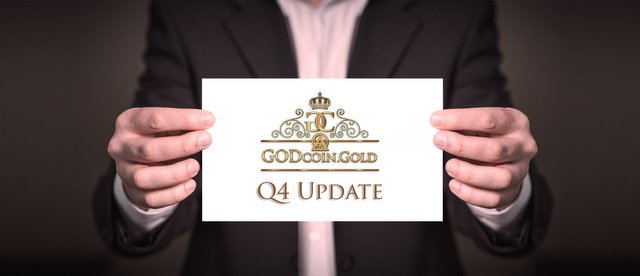 There is some exciting news here at GODcoin! If you've seen on our website timeline, you will notice that right now, in Q4 the alpha test network is to be launched and the wallet built.

As an update, GODcoin has reached alphanet status and testing is in progress among a private network. Wallet development is also on target, going smoothly, and in the testing phase. This is great news and GODcoin is on target! Stay tuned for more exciting updates!
---
This article was authored by Judith Monte, @belovebelight
---
There are many advantages to GODcoin especially since it is one of the few coins that will be backed by gold and silver. Not only does GODcoin offer the illuminated path towards a prosperous future, but very soon, it will be the global currency. To learn more, visit the following links:

Meet the King

View the white paper
---
All information provided is available on the official website at https://godcoin.gold
PREPARE TO INVEST WHILE YOU CAN
Social
https://www.facebook.com/GOD.coin.gold/
https://www.linkedin.com/company/GodCoin/