Entertainment as a form of relaxation is achieved by various means. It could be by watching a favorite TV program, listening to music or playing a computer game. A lot of these have been made possible with the internet as they can also be streamed live.
Wikipedia defines a Streamer as one who live streams their video game play by hobby or profession. These are the guys that are the major drivers of the electronic- gaming subsector. Of particular importance are game streamers who play their games with such finesse and expertise and share the videos with their followers on their social media platforms such as YouTube, snapchat, etc.
Streamers are designed to make a living from their contents via voluntary donations, periodic subscription fees, adverts on their channels. This has however been bedeviled with a difficulties and problem, thereby causing the business to be less lucrative for the Streamers.
MAJOR PROBLEMS STREAMERS ENCOUNTER
A lot of these Streamers encounter a lot of problems in the course of delivering services to their users.
Streamers are bedeviled with a lot of challenges, some of the major problems include;
Hidden charging and high interest on expected payments
Lack of tool for designing mechanisms.
Imposition of very stringent rules and restrictions by middlemen
Lack of guaranteed cash outs and delayed payouts
Multiple payment gateways that effectively reduced payment timelines.
Lack of access to advertising opportunities for smaller streamers
In order to provide solutions to these myriad of problem, I therefore, introduce to you, yet another innovation and brilliant platform called DESTREAM, a fully decentralized platform which targets the Streamers and which aims to provide them with access to better financial services for and also aims to improve on their profitability.
DESTREAM AND THE SOLUTIONS THEY PROFFER
As captured in their whitepaper, DeStream is a fully decentralized financial ecosystem governed by smart contracts that aims to provide additional services to content streaming and providing streamers globally with revolutionary solutions to the problems they are presently facing with traditional means of payments, helping them to be more profitable and providing access to funding required to start a streaming business entity. It is important to note therefore, that DeStream is not a streaming company, but are helping to provide a platform that will make streaming more profitable for streamers and creating an ecosystem for them.
DeStream aims to reduce transaction fees and high interest rates by elimination of intermediaries who impose high interest rates on the expected income of streamers, and have stringent rules and regulations that stifle the streamers.
DeStream plans to eliminate multiple payment gateways by ensuring there's a singularized payment gateway that has the capability of accepting any crypto asset and the ease of conversion of these assets into any currency for ease of payments.
DeStream will also eliminate the need for multiple wallets as DeStream native token (DST) will be the sole means of payment for all transactions.
The DeStream project is creating a decentralized platform that will allow Streamers obtain maximum benefits from their intellectual products or services and it is built on the Stratis blockchain, governed by a smart contract and powered by the platform's DST tokens
DeStream also ensures that Streamers are open to the implementation of a wide variety of ideas via the smart contracts.
PRODUCT USE CASE
Michael is interested in a Streaming service and he selects from the Streamer's catalog and he pays for the service on the platform with any cryptocurrency. Michael thereafter, will get feedbacks if the service filled immediately or deferred to the next gameplay if the streamer is not available.
This is typically how the DeStream platform will function inclusive of a various means the Streamer can interact freely with his subscribers. The platform is very flexible as it also allows the Streamer to engage in various activities to promote his trade and appeal better to his viewers and thus boost his income.
TEAM COMPOSITION
The importance of team composition of the project cannot be overemphasized, especially with regards to their technical know-how and requisite skills needed for the advancement of the project. As an investor, special attention is given to the team composition and their ability to deliver on the job. DeStream is composed of a team of 10 professionals with experience cutting across all the very key sectors required to see the project to a successful launch.
ADVISORS
Destream's core team are being advised by a 8-man advisors with a wealth of experience in the core areas of the project. This is very important as they tend to guide the team and ensure they don't deviate from the project roadmap. Advisors have a reputation to protect and as such, they tend to ensure that the right advice is given to the team per time.
DESTREAM ROADMAP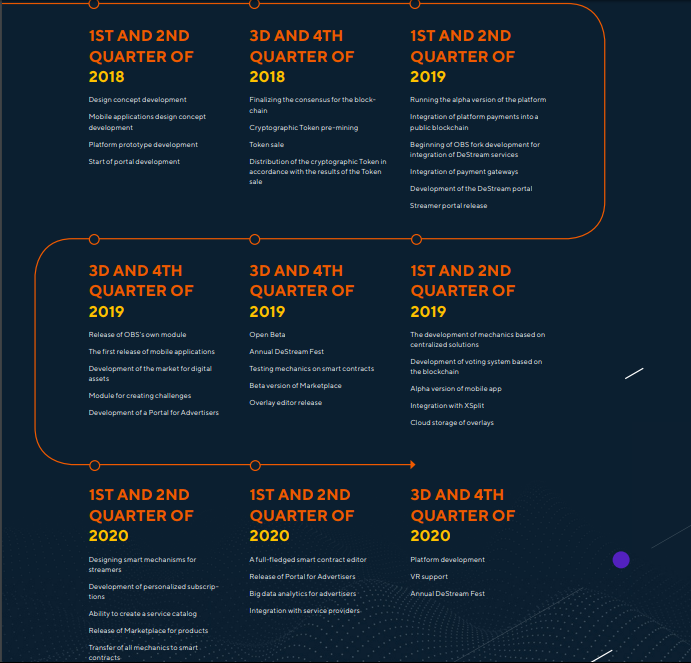 As depicted in their whitepaper, the alpha version of the product is due to be released in the 1st quarter of 2019. This implies that DeStream already achieved major milestones and have a working product. This is very vital for the investing public, as they are not just investing in an idea. It is also a plus for the investors as they don't have to wait too long for product. The 1st and 2nd quarter of 2020 will see a full-fledged product released to the public. This shows that the team is dedicated to the project and intentions to deliver.
TOKEN SALE & MATRIX
This project has a soft cap of USD5.5 million, this implies that's the minimum amount needed for the implementation of the project. They have a hard cap of USD12 million.
Token sale commencement date: August 1st, 2018
Token sale end date: September 30th, 2018
Ticker: DST
Blockchain: Stratis
Token Price: $0.006
Full Supply: 6,000,000,000
**Bonus: 5% for Stratis coin Hodlers till the end of the public sale
For tokens purchases, this is where you visit: https://destream.io/account/
Important Note: DST is not an ERC20 supported token. This implies that you cannot store them in your ETH wallet. You can only store them in a wallet on a fork of the Stratis Blockchain. The project team will give further instructions on how to claim the tokens into the DST wallet, and this will be made available after the token sale.
CONCLUSION
This is a project with real use case and Destream provides a solution to most of the problems confronting streamers. It's also impressive that they plan to eliminate middlemen, and increase profitability for streamers. Apart from providing a platform that will make payments for services and payments to Streamers easier and faster, the Destream platform also provides lots of other features that makes the streaming activities more interactive.
This is a brilliant idea and my recommendation is that you make for further research and take a decision to invest on this novel project. You can invest in this ICO using this referral link- https://destream.io/?referralId=adf52557d7994818a3bf8131262f2179#action=bountyreg/
This review deliberately left out the technical details of the project, should this be something you're interested in, kindly visit the whitepaper in the link provided below. Thank you once again for your time until I come your way again with yet another brilliant project.
REFERENCES:
-Wikipedia (2018). Who is a streamer?- Definition gotten from:
https://en.wikipedia.org/wiki/Streamer
[Accessed September 11, 2018]
-DeStream.io (2018) [Online] Available at:
https://destream.io/media/1101/whitepaper_en.pdf/
[Accessed September 11, 2018]
USEFUL LINKS:
DeStream Website: https://destream.io/
DeStream Whitepaper: https://destream.io/media/1101/whitepaper_en.pdf/
DeStream Telegram: https://t.me/DeStreamEN/
DeStream Bitcointalk [ANN] Thread: https://bitcointalk.org/index.php?topic=4698321/
DeStream Facebook: https://www.facebook.com/destream/
DeStream Twitter: https://twitter.com/destreamproject/
DeStream Medium: https://medium.com/destream/
DeStream Token sale Platform: https://destream.io/account/
You can connect with me on bitcointalk here ==>
Bitcointalk Profile: https://bitcointalk.org/index.php?action=profile;u=1439097