EOS Gravity|Interview Series|EOS Cafe Block
Since its establishment, EOS has been shouldering the heavy responsibility of block chain 3.0. As a block chain project that has always been in the forefront of controversy, it is developing at an incredible speed. When we focus on EOS itself, we find that there is a group of mysterious people working silently on the land with nothing. So we wanted to focus on this group of people and teams who are contributing to the development of EOS.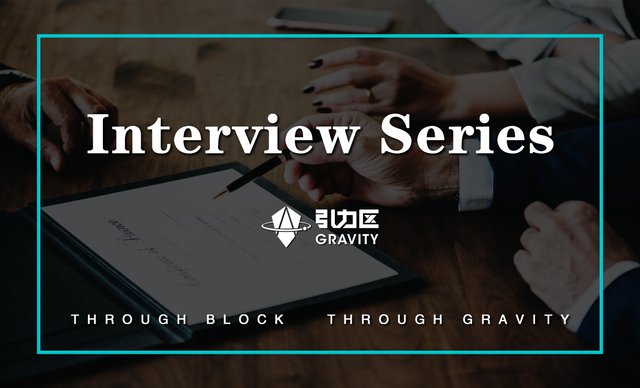 1. How would you describe EOS Cafe Block? Why did you decide to join the EOS ecosystem?
EOS Cafe Block is a leading block producer on the EOS blockchain focused on creating value through innovation, technology, and education. Our team is working in various methods to maximize adoption of EOS, the world's fastest blockchain, by adding tangible value to the EOS ecosystem.
As a group of individuals who have been active and interested in blockchain and cryptocurrency from its early stages, we quickly saw the massive potential EOS has to be the industry changing technology. We all felt that we had what it takes to help EOS be more accessible to the public and successful, and believed there is no better way to be a part of this industry than as an EOS block producer.

2. Can you introduce your team and tell us what makes it special?
Our team consists of five members who all come from a wide range of background with each their own specific set of skills and knowledge. We were all drawn to EOS for different reasons and bring a diverse range of perspectives and strategies on how to build and grow EOS.
Syed Jafri is the CEO and the head developer of EOS Cafe Block and has been active in EOS prior to the mainnet launch through community participation. With his background in bioinformatics and big data, Syed will continue to seek development of dApps, utilize AI, robotics, and big data analysis in blockchain technology.
Haley Thomson comes from a finance background and leads EOS Cafe Block as the CFO. Haley is an economist by trade and has worked as an analyst and trader for both large utility companies and hedge funds that specialize in energy marketing and trading.
Swandoyo Hartono is the primary systems engineer and architect of our block producer's infrastructure. He has extensive past experience in running high-performance computing servers and is carrying out his role as the CTO of EOS Cafe Block by ensuring smooth consistent block production on the EOS network.
Stephan Bazhan is the System Administrator who was drawn to EOS by the strong community and the vision of making the world a better place through blockchain technology. He brings an eagerness to learn and innovate to our team.
Maria Cho handles the business development and project management at EOS Cafe Block. With a background in Economics and Risk Management, Maria previously worked with the government under various departments.
3. As a node on EOS, what contribution does EOS Cafe Block focus on for the EOS ecosystem?
Our main vision for EOS is to harness the power of EOS by providing education, infrastructure and decentralized applications to enrich the global EOS ecosystem. Mass adoption is the only way we see EOS playing a vital role in the blockchain industry, and we support this vision by investing back into the ecosystem, fostering dApps, and creating tools to help the community.
4. What are the conditions for EOS dApp to be used on a large scale, except for gaming projects, which industries do you think will run out first?
Since the launch of the mainnet, EOS has seen an influx of gaming dApps, particularly gambling dApps on the platform. Although the success of these dApps are undeniable and have helped create and maintain a user base on EOS, we believe this is only the beginning of development of dApps on EOSIO. We see potential in EOS in multiple industries at an enterprise level with its ability to scale and are exploring different sectors such as supply chain, health data and more.
5. What stage is the bloks.io at and what are your plans for scaling up?
Bloks.io is the fastest block explorer for EOS where people can view information about blocks, transactions, accounts, and producers on the EOS blockchain. It also offers wallet functions, voting for BPs, proxies, and referendums, and showcases EOS specific dApps. Bloks.io support multichains such as Jungle and Worbli, with plans to support other future EOSIO chains. We are continuously adding new features and functions, as well as upgrading user interface with community feedback. We have plans to track prices for EOS tokens and create a tool similar to coinmarketcap for EOS. We have recently upgraded Bloks.io for ease of use in China and look forward to having a global userbase on Bloks.io.

6. Do you have any interesting projects (dApp) to share with us at the EOS hackathon just finished? What advantages do you think EOSIO can provide for dApps?
The number of amazing projects created and presented at the EOS Hackathons in HK, Sydney, London and San Francisco were outstanding. One of the projects that caught the interest of our team was Team Pollinate, who created a delivery system that incentivizes anyone within a city to pick up and deliver packages. It exhibited a real-life use case and the process was well thought out, with an on-stage smooth live demo.
There are obvious advantages for dApps to be developing on EOSIO, such as no transaction costs and scalability. EOSIO boasts a large community with active technical participants, and dApps should find it promising that block.one has partnered with multiple large profile VCs to support and encourage development on EOS. Any dApps exploring their options for which blockchain platform to choose should consider EOSIO as the top blockchain protocol to develop on.
7. What do you think of the role of the community in EOS? What is the impression of EOS Gravity in Canada? What are the recommendations for Gravity?
We believe community plays a significant role in spreading EOS to attract more users, dApps, and overall increase interest in EOS worldwide. EOS Gravity is a well-known block producer in the EOS community, and recognized for your significant contribution in building the EOS community in China. It would be great to see EOS Gravity expand this effort globally by utilizing other social media platforms such as Twitter and Telegram and unify the communities all over the globe.
8. Can you tell us about the attitude of the Canadian community to EOS? Are there many Canadians working on EOS-related businesses?
We have multiple strong EOS Block Producers based out of Canada who are all working determinedly to place EOS at the forefront of blockchain technology in Canada. EOS is still quite relatively foreign to the average Canadian, but as people become more familiar with blockchain and start looking past Bitcoin and Ethereum, we are working to educate individuals and enterprises alike about the potential of the technology in EOSIO. The number of EOS-related businesses in Canada may seem small in comparison to activities in other parts of the world such as China, but we are bullish and believe the number will increase throughout the next coming years.
9.In the long run, how do you look into the blockchain industry and EOS?
Ever since emerging in 2008, blockchain technology is becoming increasingly embraced by companies, organizations and projects of all industries to utilize the full potential of the technology and how it can alter the ways that people and society interacts. We truly believe that EOS is one of the top, if not best, blockchain protocols available to us to carry out what blockchain technology can do. Our vision for the blockchain industry and EOS is strong going forward, and we will continue to educate individuals, developers, and companies to create on EOS.
@EOSGravity is one of the largest EOS communities in the world, with over 150K members. A vote for us is a vote for the future of EOSIO.If you like our work, please support us by voting eosisgravity.
Take care and best of luck!
• Website —  http://eosgravity.com/
• Telegram —  https://t.me/eosgravity
• Twitter —  https://mobile.twitter.com/EOSGravity
• Medium —  https://medium.com/@eosgravity
• Linkedin —  https://www.linkedin.com/company/eos-gravity/
• Youtube —  https://www.youtube.com/channel/UCGBLMgv51yB80yMKN266Gcg