Bitwings: Your Plug For Secure Consumer Electronics For The Blockchain Era
Introduction
Congratulations to everyone in the blockchain and crypto space. The viable blockchain technology we have so much supported and believe in finding its way into disrupting various industries in the global market. By presenting so much innovative and impressive solutions to various conventional problems, the viable technology has caught the interest of various doubting Thomas.
However, it is not only the blockchain space that is winning. The smartphones industries have also been enjoying immense success as they have gained more popularity than past years. Now, there are smartphones worth as much as the latest Apple MacBook. However, only few projects have thought about combining two of the sector with immense upside values.
Truly, people have thought about integrating the blockchain technology into smartphones, but none have achieved a positive milestone in the development and deployment of this idea. Even now, not many average individuals still believe in the blockchain tech.
However, a disruptive wave is slowly building up. Blockchain technology will eventually find its way into smartphones successfully. And this achievement will undoubtedly happen with the effort of BITWINGS; by Wing Mobiles.
Your curiosity level must have risen with this announcement and must be wondering who they are. Don't you worry, you will get all the information you want.
---
What Is Bitwings?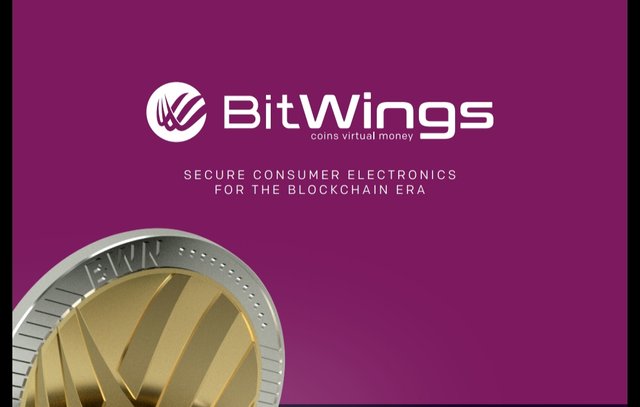 Bitwings is a novel crypto project created by Wings Mobile; an electronics manufacturer, software developers and mobile network operators. The aim is to develop smartphones with blockchain technology for all its customer and other interested users at competitive rates. The multiple activities of the Wing Mobile company is what gives Bitwings an obvious edge over their competitors. With the leadership quality also enjoyed by the company, their aim to link users' needs with technological concepts and produce special products and unique solutions is amenable.
Their smartphone will be an ultra-secure mining smartphone. It would be powered by a neural technology plus a safe core OS, based on it. The mining procedure will use a Proof of Data algorithm which is able to generate as much as 2 ethereum within a month. It is also embedded with sophisticated security features which include fingerprint scanner, face ID, pin and more.
---
Features That Makes Wings Mobile Vision Unique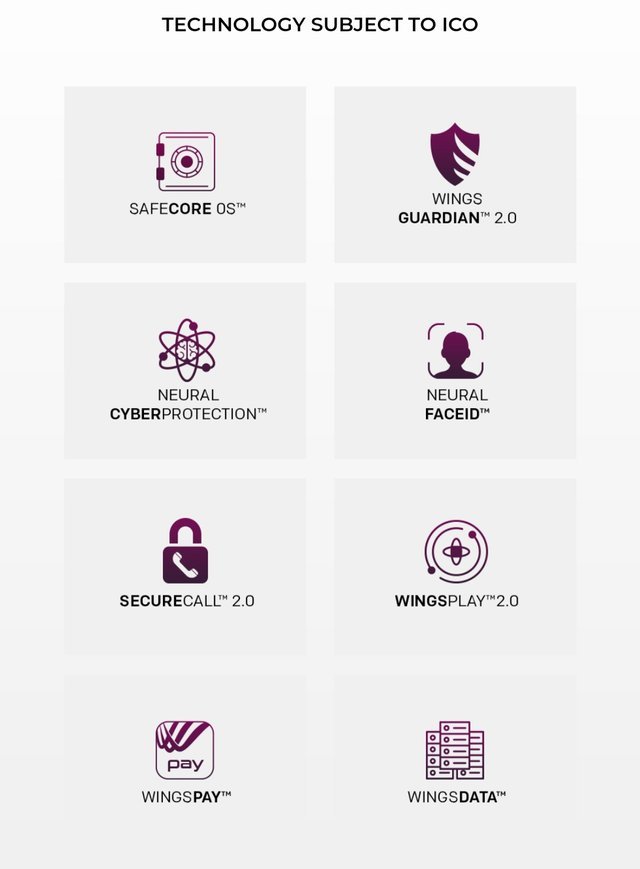 Safe Core OS: The wing safe core OS is based on an encrypted and safe partition of 32GB storage memory. This OS is totally independent from the main android system of the smartphone. The wings safe core is inaccessible for any control, applications or android API.
Privacy: Wings mobile developed a unique software which protects privacy permanently. This is due to the integration of neuronal technology. All calls, videos, private applications and personal data can no longer be leaked or abused.
Crypto Security: The AI integrated with the smartphone allows its user to predict, identify and terminate cyber threats with speed and efficiency not possible with human analysis. Implementing the neural technology enables Wings Mobile to grant its devices greater authority, analysis and security management.
Wings Pay: For merchants and stores, both physical and online, Wings offers a complete payment solution which utilizes the blockchain technology. This is made possible with the integration of WingPos; an android operating device that is available to all stores.
---
How The Smartphone Will Be Able to Mine 2 Ethereum Per Month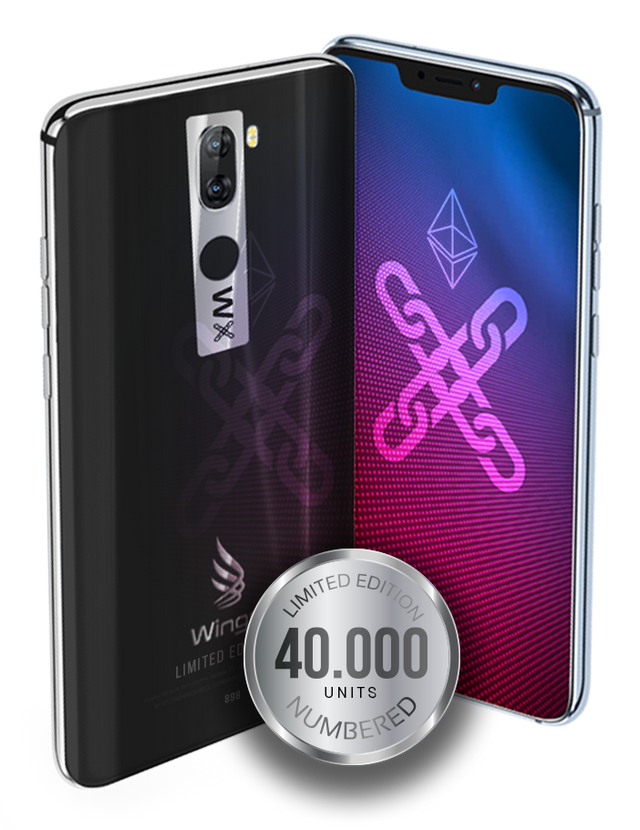 The mining phone; Minephone Wx can mine up to 2 ethereum in month. In the bid to actualize this claim and satisfy the needs of users, Wings Mobile has incorporated the newest software into the MInephone Wx, making it the only minephone that is able to produce the second significant cryptocurrency. With a simple operation mode, even crypto mining beginners will find it easy and straightforward.
The smartphone has a Proof of Data (PoD) that will be used to generate coins for the user. This algorithm makes it the only smartphone to mine for users without efforts. For the optimum performance needed for the mining process to be guaranteed, it will use a MediaTek Helip P60 Neuro Pilot 8-core.
With the mining process, security and privacy of users is needed, Wings Mobile incorporates the Wing Wx a Neural Tech that guarantees secure encrypted calls. A biometric face recognition that allows the smartphone owner to stimulate the phone according to him/herself. When in the company of other users, the Neural FaceID becomes aware of the presence of the other party and show a menu of different applications according to the configuration setup of the owner.
---
Bitwings Native Token (BWN) as A Utility Token
Utility tokens are issued to be used to pay for a service rendered by the issuing company. This is why Bitwings is offering top class services that can only be paid for by those who hold BWN tokens. This services are exclusive to the Bitwings ecosystem who is bringing about a first ever concept ever seen in the world of cryptocurrency, smartphones and technology.
To ensure the BWN maintain its value, the Wing Wx smartphone could be only acquired with 6000 BWN tokens. All products and services on the Wings Mobile ecosystem are only exchanged with BWN token. Using it grants a %10 discount off the actual price. Its true value of $0.20 at issuance also serves as protection against market fluctuations.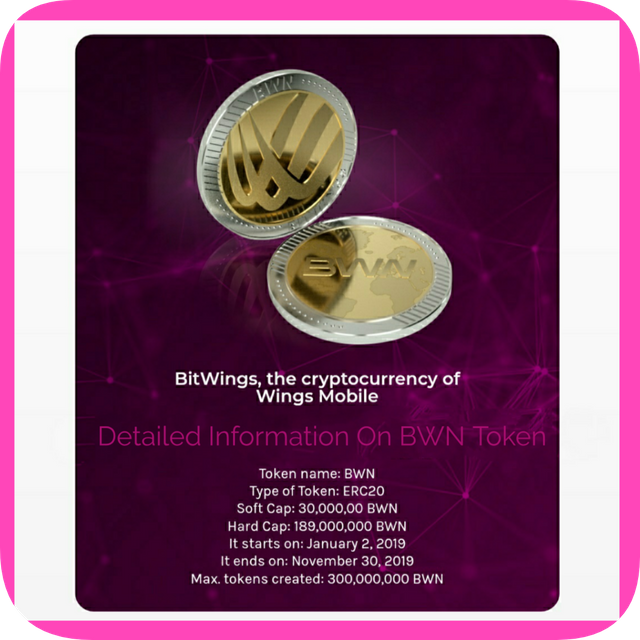 ---
Conclusion
Without doubt, whether you are a crypto mining expert, beginner or enthusiast, the potentials of the Wings Mobile innovation are clear to see. Their solution is much needed for everyone.
The first 40000 edition of the Wings WX smartphone available to the ICO participants is enough reason for you to participate in it. Just have it and allow it to do the job for you. To preorder now, go on http://www.bitwings.org
---
For more information and purchase of the Tokens, visit the following links
Tokensale link: https://tokensale.bitwings.org/?ref=14c75676
Website: https://bitwings.org/
Whitepaper: https://bitwings.org/file/white-paper-2019-en.pdf
Private Sale: https://tokensale.bitwings.org/register
Telegram: https://t.me/bitwings_eng
Twitter: https://twitter.com/bitwingsteam/
Facebook: https://www.facebook.com/bitwings.org
---
Writer's Details
Bitcointalk Profile: https://bitcointalk.org/index.php?action=profile;u=2104177;sa=summary
Bitcointalk Username: Kokoshayor
Tokensale link: https://tokensale.bitwings.org/?ref=14c75676