Source
Minds is a decentralized open source platform that is built on the ethereum network. As a social platform, Minds works similasr to steemit where users get rewarded in cryptocurrency for their contribution to the platform by way of posting contents such as text messages, images, as well as videos
Minds as a blockchain-based platform is powered by its own currency, the minds token. Minds is a utility token. Users can use it to boost their posts or pay to view certain posts by other users.
Minds currently ranks #199 on https://www.stateofthedapps.com.
Minds dapp can be accessed either on the web or with their app which is available for free download on Google play store.
SIGNING UP
To sign up on minds network using the web dapp,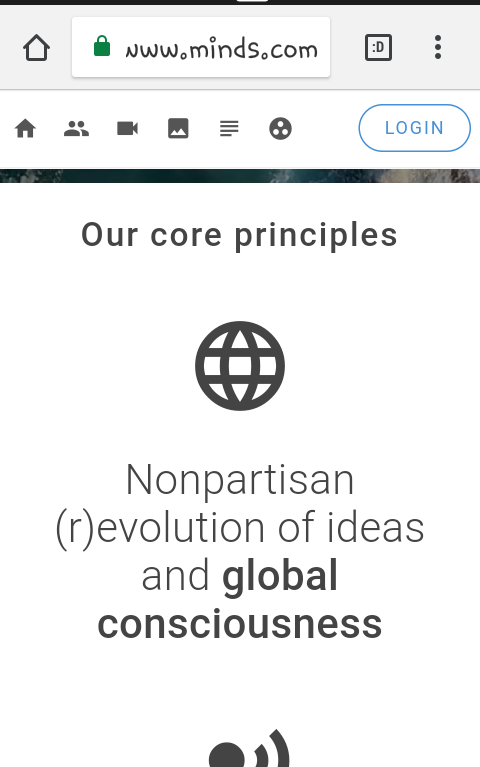 Click on login at the top right corner of the page
You'll be directed to the login page that looks like this: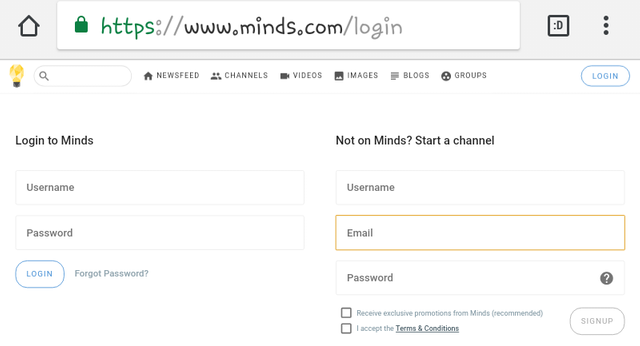 Simply ignore the first section - login to mind - since you are yet to register.
Head rather to the next section Not on minds? Start a channel
Enter a good username that you'll be known on the platform; enter a valid email address and a password you'll remember.
Check if you want to receive promotional emails from the platform, otherwise leave the box empty.
Check the next box below to agree with the terms and conditions of the platform.
Click signup
A page like this would appear asking of your frequency on social media platforms.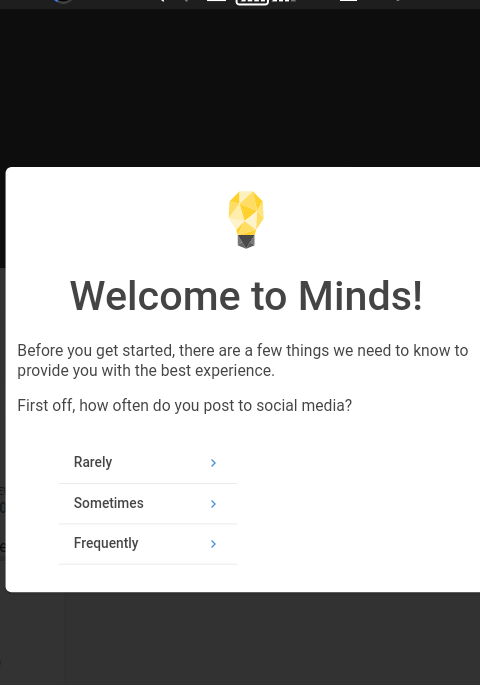 Click whichever applies to you and wait for the next page to display.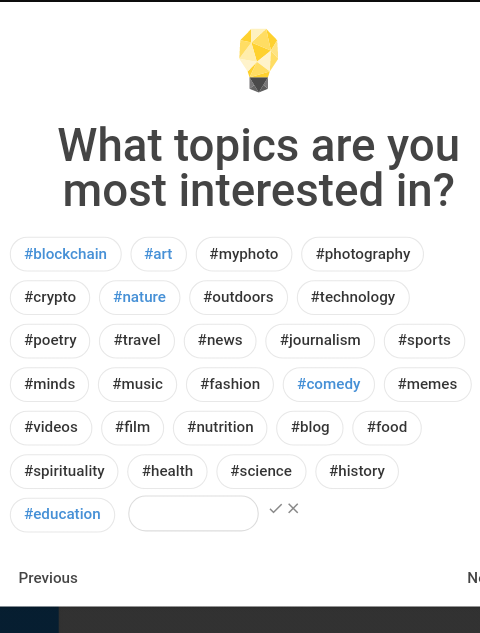 This next page asks you to select the topics you're interested in. Make your selections and click on next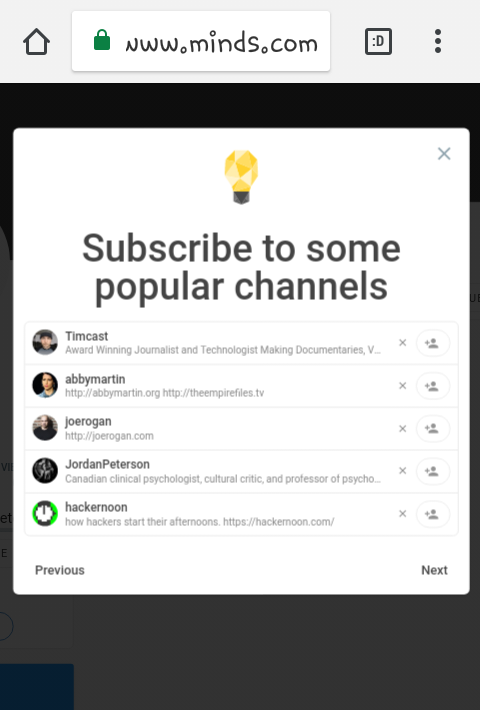 From the next popup page, you are to subscribe to some channels. You'll be able to view posts of these channels in your feeds. Make your subscriptions and hit the next button.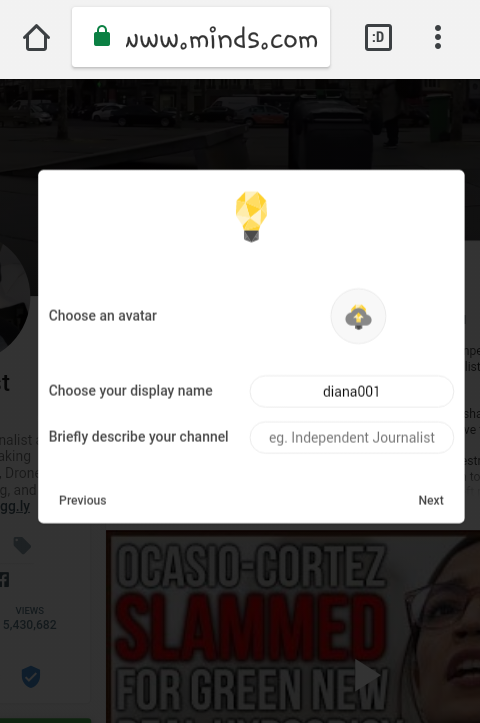 Now in the next page, you're to set up your profile picture, display name (which may not necessarily be the same as your username), and a brief description of yourself.
Fill the boxes appropriately and click next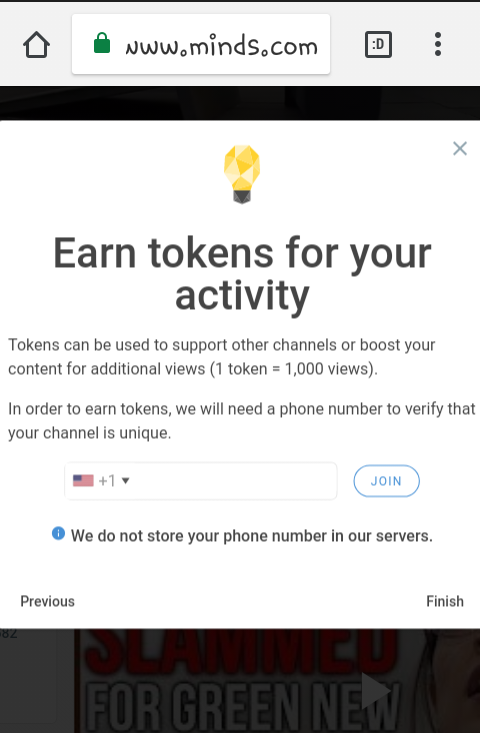 The last page in the signup process asks for your phone number to verify your channel is unique. Select your country, input your phone number to verify, and hit the finish button.
Hurray! Your minds network account is ready!
Now you have something like this as your channel.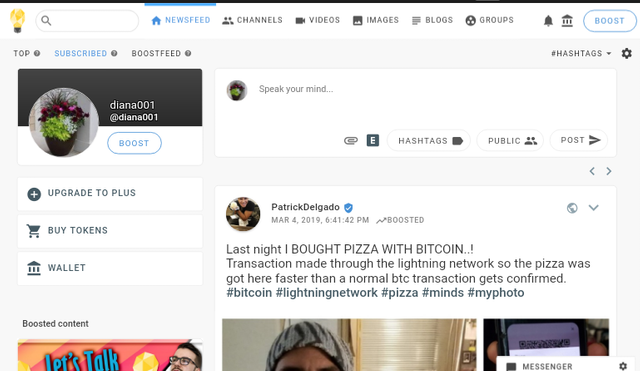 A PLATFORM WITH GREAT FEATURES
Minds network has many great features that make it appealing to users. Some of these include
IMAGES
Here, users can upload every kinds of images to their channels. Only images are allowed for uploads here. They do not necessarily have to be accompanied by texts.
VIDEOS
The video section of minds network operates similar to the image section. It is through here that users get to upload video contents to their channels. They could be educational, entertainment, or other kinds of video users would find useful.
BLOGS
This section of the dapp is for texts. However, it has an option for images in the event that users wish to accompany their texts with graphics.


CREATING A BLOG POST
After your signup on minds network, it is time to begin using the platform. Let's assume you want to make a blog post to say hi to the community. Take the following steps to create your blog post:
Select the blogs option from the menu
Your writing page that looks like this would appear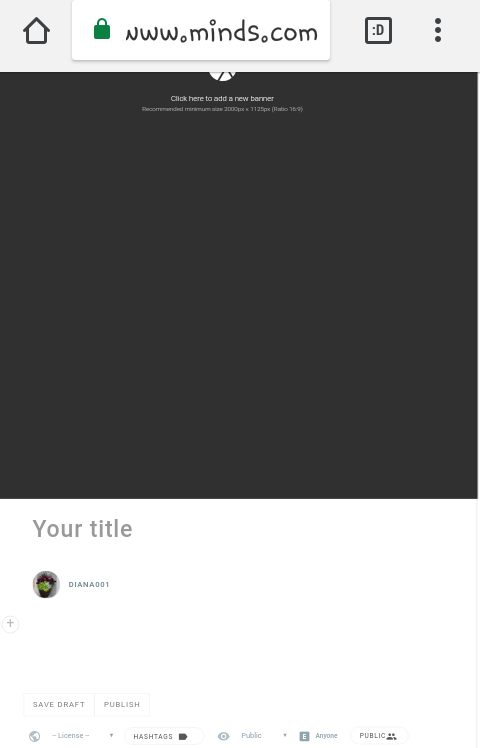 Click on the text in the top dark area to select the image you wish to accompany your text with.

In your title box, input the caption you wish to give your message.

Down below your profile image where you see a plus(+) sign is where you are to enter your main text. Type the message you want to post here.

You might want to copyright your content or give it a license of some sort. In that case, click on the license option below the page to select the license you want or to copyright your content.

Next, select hashtags that are appropriate for your content so users can find it when they search.

Next select if you want your message to be publicly viewed by everyone or if you wish to make your content exclusive (ie it can be viewed only by some users).

Once you have all your information right, click on publish
There it is! Your first blog post is live!
Your blog should now look like this: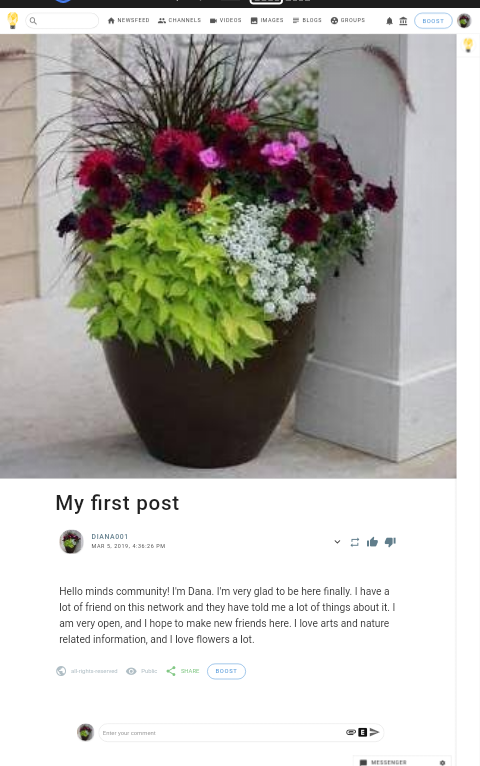 BOOSTING YOUR POST
One of the most unique features of minds network is the option it gives users to boost or promote contents - which could be their own or those of other users. Boosting a content on minds gives the content a wider viewership.
To boost your content or another user's content,
Select the particular content you wish to boost
Just below the content, you'll find a boost button. Click on it.
A popup page like this would appear for you to select your boost options.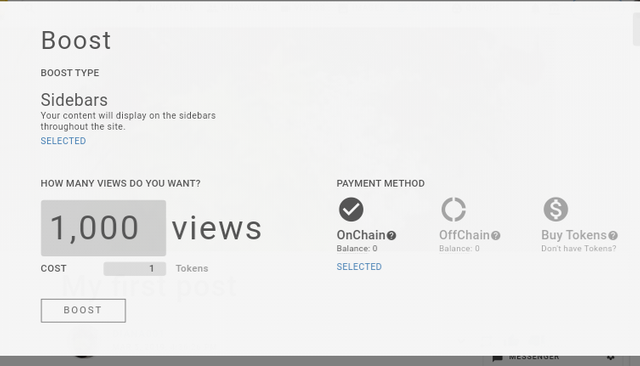 Be mindful that you must have some minds tokens in your account before you can boost a content. You can earn minds tokens when other users on the platform like what you post. Or you can get the tokens from exchanges where it is traded and send them to your minds account.
Also be mindful that you can only boost contents to between 500-5000 viewers. Anything less or more than that would be rejected.
That said, from the boost menu,
Select the number of viewers you wish the content to reach
Select your payment option
Then click *boost
GOOD THINGS ABOUT MINDS NETWORK
Minds has a lot of good features especially when you compare it to other similar dapps. One of the most noticeable of these is the option for users to boost any post so far as they have the required amount of tokens. Minds is also unique and distinct from other dapps for creating distinct pages for each kind of post (videos, images, blogs) instead of merging them all together as we have here on steemit. This feature makes it a lot easier for users to locate their prefered contents when they search for them.
TURN-OFF
The major turnoff on minds network dapp is that it is prone to abuse. Users have the tendency to use promotional tools anyhow. There's the tendency to use the boost feature to boost just any post even those that are plagiarized are are spam.
RECOMMENDATION
I would suggest that the minds team set some measures to check abuse of the boost feature. If such measures are in place, it would help the platform maintain a high level of dignity and sanctity.
RATING
For its awesomeness, minds dapp deserves 4.5/5 stars rating by my opinion.
Follow these links to find more information on Minds dapp: