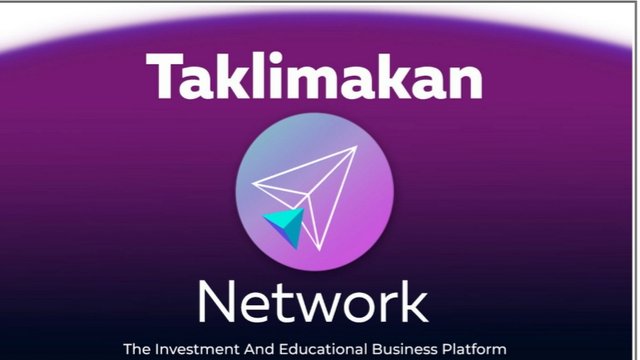 TAKLIMAKAN NETWORK
Ever since the inception of blockchain techology many digital assets and investment platforms have sprang up many of these platforms or project did not even see the light of the day. Among the few that have seen the light of the day is TAKLIMAKAN Network. Taklimakan is an investment and an educational business platform which gives an opportunity for the users to increase their level of literacy in the crypto industry and to learn practical trading skills that will prompt the attainment of desired goals in the cryptphere. With this initiatives each user will be able to select a crypto investment mentor, take a course of webinars and lectures with full access to the blockchain technology library. Description of various capital investment methods and trading instruments in the crypto market will be will be make available and certain materials of the education center will be structured and distributed according to the knowledge level of the user and the goals of the educational process, this initiatives will promote full participation of the platform users.
WHY TAKLIMAKAN PLATFORM?
This innovative platform will operate as a business platform which is going to allow secure and effective interaction between the crypto market and the beginners as well as between traders, asset managers and analysts. Taklimakan platform has alot of comparative advantages for both users, investors, traders and expert. Some of these distinctive looks of the platform are the aggregation of news, moderated by it in-house analytical service, the introduction of educational center, marketplace for analytical and trading tools and special instruments to manage crypto portfolios. Secondly qualified and experienced indivuals will be on the platform to provide author's content, training materials, articles, individual consultations, master classes and webinars for users from different countries and learning ability with view of gaining reward in TAN tokens. Thus, Taklimakan is a unique educational base platform that will benefit both beginners and experienced trade.
WHAT WILL TAKLIMAKAN OFFER:
the following are the various component areas that this project will cover or offer.
Analytics
Trading signals and strategies
Asset and fund management
Internal payment system
Educational Materials
Crowd Predictions
General functionality
The above stated areas of coverage will help in creating a secured and interactive platform that will help beginner's and cryptocurrencies lovers to gain access to variety of materials that enable them to take full advantage of the market. in the same way, those who make efforts to make this resources available will also earn certain monitory gains. This will make the platform proactive and profitable since all parties involved are all on the winning side. This platform will encourage and support analysts and professionals to carry out research on major areas of cryptocurrencies and their report will help investors and traders in taking market decisions. This will action will also ensure continuity and long time survival.
Finally, this platform is the future of blockchain technology because it is the only functional and effective decentralized investment and educational platform for cryptocurrency investors, traders and analysts.
Website : https://taklimakan.network
Twitter: https://twitter.com/taklimakan_net
Facebook: https://www.facebook.com/taklimakannetwork
Telegram: https://t.me/taklimakan_news
Medium: https://medium.com/@taklimakan
Reddit: https://www.reddit.com/user/Taklimakan/
LinkedIn: https://www.linkedin.com/company/taklimakan-network/
Written by brownstein