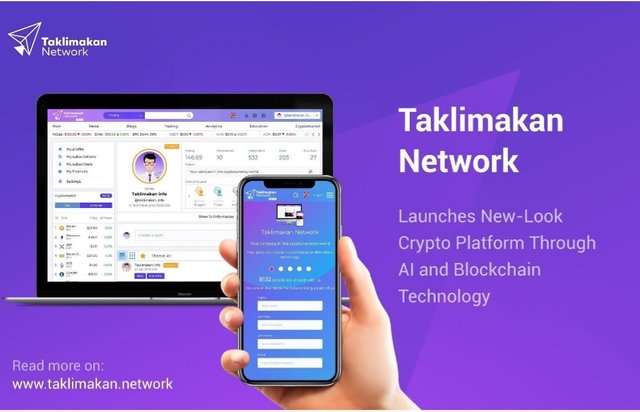 Over the years a lot of transformations have taken place especially in the areas of blockchain and cryptocurrency. This transformations have pave way for the emergence of several platforms within the blockchain arena but with these platforms non have really handle issues that relate to decentralized investment and education for cryptocurrency investors, traders and analysts as many beginners still recmaroll in failures whereas thousand of experts are cross the globe looking for Beginners to mentor. It is on this note that I wish to introduce to you, the number one platform that will apprehend the above issue. This platform is called Taklimakan.
WHAT IS TAKLIMAKAN?
Taklimakan is global initiative that is geared towards the empowerment and attraction of mature investors via the provision of well abrace investment tools and actionable base of knowledge. The primary objectived of this platform is to incentivize experienced traders as well as analysts to share their experience and to assist those who are just stepping into the market to become much more efficient when it comes to their own fund management.This platform will provide a mutual benefit to various key players in the crypto arena for example.
Investor: with this initiatives, will be able to gain access to various educational materials, webinars, selected products for trading and also interact with experienced analysts and traders with good recommeninterac which will eventually reduce stress and failure.
Expert: professionals or expert in the platform will use the platform to earn rewards by simply sharing their expert forecasts and distributions to the platform subscribers. correct.
Crypto beginners: crypto-currency students and beginners will have access to variety of educational materials and instructors which will make them became successful. In the same way they will learn how to invest and trade crypto currency since the platform provide opportunity for learns and expert to meet.
The outstanding unique nature of Taklimakan
Simplicity and ease: most existing platform are complex and difficult to us but Taklimakan network is simple and easy to use despite it sophisticated design that is solution oriented.
Integration: apart from being a solution platform, Taklimakan network is a leading social network for professionals and nonprofessional members which aid technology transfer. This crypto community facilitate local payment system access to market experts, marketplace tools, reviews and courses that enables beginner's to set up their portfolio.
TOKEN INFORMATION
The Symbol of this token is TAN which will be runing on ERC20 standard and they are built upon the Ethereum blockchain.
Conclusively, this platform will operate in the form of a business model and it unique advantage is that it provide a secure and functional interactive system between the crypto market and the various key players in the domment. The interface is designated to deliver the most reliable trading signals and analytics as well as rewards to users who are taking part in the crowd prediction. With this, participants will be able to earn comparative rewards.
Website : https://taklimakan.network
Twitter: https://twitter.com/taklimakan_net
Facebook: https://www.facebook.com/taklimakannetwork
Telegram: https://t.me/taklimakan_news
Medium: https://medium.com/@taklimakan
Reddit: https://www.reddit.com/user/Taklimakan/
LinkedIn: https://www.linkedin.com/company/taklimakan-network/
Written by brownstein