The Reasons Your Blockchain StartUp Needs An Explainer Video
The cryptocurrency market is growing exponentially but the cryptocurrency market is definitely more complex than you think when its comes to marketing a new ICO, exchange, trading portal or any venture in crypto space. As the Blockchain market is booming, the industry is dynamic and it has to be able to fluidly adapt to new technology based ventures and the shifting focus of base consumers.

The blockchain startup goes through a number of phases, starting from idea phase where you are exploring the idea and it's possibilities, then per-launch phase where try to launch you ICO tokens and raise funds. Then startup phase where you need to present the idea to the crypto market to target the potential audience. Doesn't matter what your company stage — you just can't afford to miss the advantages marketing aspects like an explainer video can offer. Let us explain from scratch.
What is an Explainer Video?
A short video that almost every startup, SMB and big businesses use when they want to explain the basic features of offered product and services or want to gain some attention from the industry or attract new potential customers. An explainer video does give a solution to all your problems that a customer want to learn about product or service within a short period.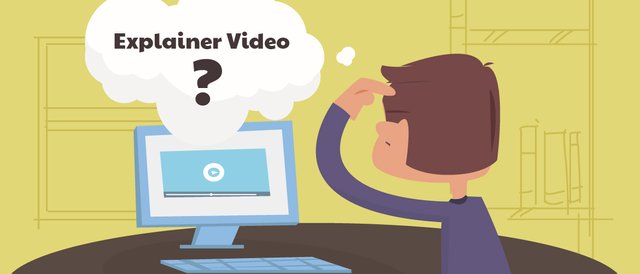 Explainer video can influence your target audience, giving basic information that is always helpful in making a decision. In last few years explainer videos played an important role in startup business growth which also became an important tool of digital marketing.
The Reasons You Must Use Explainer Videos for Crypto StartUp
Helpful to Convert Website Visitors into Leads:
In crypto space people keep visiting the websites of New ICOs and other portals like trading where they want to find a good deal for investments. To getting attention of your visitors, your page must have an explainer video to deliver the exact message effectively within short period.
The world is very busy, according to a research, a visitor spend only 8 seconds on the website / landing page and if you add a well-developed explainer video the visitors may spend at least 100 seconds which is huge percentage in increment. The explainer video for crypto startup can engage your visitors to make them understand what your crypto startup is offering and what are the benefits and that can be helpful to convince them to act quickly.
Helpful & Powerful Resource for Your SEO Strategy
Drawing attention and getting good traffic for a new blockchain startup website, is a big challenge that many companies are facing. Website ranking on search engines like Google. Bing is important but the process is lengthy and best part long-term goal. Well, the website which has videos have more chances to getting ranked on Google's first page comparing the websites that has only texts and images. An explainer video content that will increase the traffic on the website.

An Explainer Video can Convert Visits into Leads and then Customers
What's the motive of building your crypto startup, solving a real world problem in exchange of some compensation. Every startup wants to have paying customers. An explainer video can turn into an asset that effectively reduces the risk of losing the potential customers.
An explainer video is always helpful to build stories that can engage your website visitors, make a natural impact on your customers, also keeps the track the number of visitors and leads into the entire the buying process. A well-developed explainer video can convinces them to connect with your idea at an emotional level and helpful in decision-making that decides if they should choose your crypto startup or your competitors.
An Explainer Video Can be a Resource to engage Customers
An Explainer video can help you to tell the story of your startup within 60–90 seconds [the standard length of a explainer video] in an attractive way. Someway the customers love the way of storytelling, if they like the concept they won't hesitate to share with their online communities, thus it helps to create a brand name among potential audience. It's important to make an impactful video because they will see what you are going sell thus it would become the online identity of your crypto startup.
What is an Video Marketing?
Video is an ideal resource for business branding and story telling, Video marketing, a form for digital marketing & advertising in which business promotes it's short videos about specific business or off topics using content from articles & other text sources. The videos are then uploaded to various video sharing websites, social network channels like YouTube for distribution and exposure. A Video is important which increases the brand value, helpful to reach goal of business, connects immediately with the audiences.
Why Video Marketing is important?
Video helps you connect with your audience of crytptocurrency industry
A Video gives SEO benefits, helpful to build backlinks for your crypto website, boosting likes & shares.
A well crafted explained videos can connect emotionally with your audiences.
The "video" word in email subject-line will increase open rates by 19% & boosts 65% boost in click-throughs.
People prefer to watch a product video than reading a blog or article.
Industry trends says a video increases the chances of signup by 64–85%. Check this report.
Hope you enjoyed this post, do you want to know more about the benefits that comes with explainer video development & marketing? We're always on the look out for another exciting crypto based startup to work on. In that case, just click on the link below. We'd love to hear from you.
Reach out to us on the following channels:
Website:
http://www.ncryptbit.online/
Telegram:
https://t.me/ncryptbit
Twitter:
https://twitter.com/ncryptbit
Facebook:
https://www.facebook.com/Ncryptbit-1620122304733149/
Crypto Explainer Video:
http://ncryptbit.online/explainer-video/
Resources & Credits:
Originally Posted:
http://ncryptbit.online/explainer-video-marketing-for-crypto-startup/
Images :
https://images.google.com/