Could this be a Sneak Peek of a VR Blockchain?
Have you ever thought of working in a digital world earning digital credits and using it in real life? Not sure about you but those who are reading this are probably half way there because you are already in one of the digital platforms (yeah I'm referring to Steemit).
There will be more and more similar platforms, not forget to mentioned there are already quite many that provides users to earn digital credits via digital platforms like Lit, Weku, LBRY, BitTube and so on... (feel free to share with me more via the comments below!)
Now, imagine working in a Virtual Reality and earning credits that can be spent in reality. It sounds crazy but I let me tell you there is development that is heading towards this VR blockchain thingy. There is actually a sneak peak of this VR world, if you don't know yet, go watch Ready Player One. I watched this movie the 3rd time and I will write out my own findings about this movie.
---
READY PLAYER ONE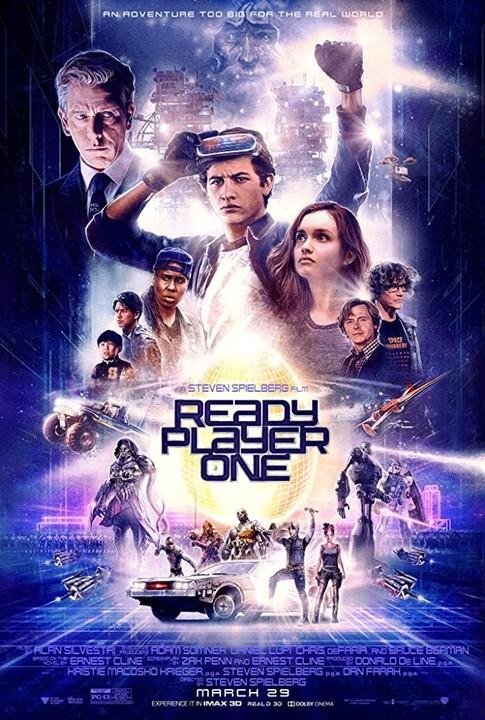 Let me just assumed that you have watched this movie. I will bring out the parts of the movie I find interesting.
EVERYONE IS IN THE VR WORLD

Imagine everyone with this gear irregardless of where they are...
Movie setup is in year 2045. You can see most people are using their VR playing games. In fact they are actually doing something in the VR world to make their life earnings. Let's translate this to doing Steemit, using Lit, posting videos in LBRY or BitTube (or any social media that can let you earn). It becomes part of your life routine.
AVATAR AS YOUR SOCIAL MEDIA PROFILE?

How you want your avatar to look like? Up to your imagination.
Everyone is on the social media platform using their profile. Of course now we still use our real identity in our social media platform because we want to know who we are interacting with and we will also like others to know who we are in the real world. Of course some uses an avatar as an undercover like what the characters in the movie are using. Because you might be some high earning or rich avatar in the VR world that you might wanna hide your real world identity. Just like Wade Watts in the movie using his avatar name as Parzival. So yea, see, some of the Steemians from #teammalaysia uses avatar name too. Examples like @bitrocker2020, @drumsticks, @zord189... nah I can't reveal who they are in the real world :P
FRIENDSHIP IN THE VR WORLD

You definitely have friends that you know through 'the digital world' only.
Due to the need of hiding your real identity in the world, whatever friendship you have in the VR world stays in the VR world. Of course things changes at the end of the movie whereby the new owner of the VR world encourages people to interact more in the real world. I believed that now we can easily interact with people from various places. The social media (Steemit and Lit) and different chat apps (Discord and Telegram) that I am using really let me know friends from other countries. It's like "friends in the VR world", they became my friends on the platforms and haven't meet them in person... yet. Friends that I know through Steemit, thanks to #teammalaysia meetup event and also Facebook, that's where I met them up in person.
THE WHALE THAT CONTROLS EVERYTHING

So do whales really look that cool in the real world? Haha!
Remember the company called IOI in the movie? It is like "a whale in the blockchain" that uses wealth to manipulate things to its own benefit. This company also sells VR gears to consumers and those gears are bought using the digital credits earned in the VR world. Heck, even people work for IOI in the VR world (complete some tasks in the VR world in behalf of the company) to pay off their debts they had with the company. It's like "the whale hiring bots to work for them to earn digital credits". One of the scene is workers are locked in a small VR cage to do some labour work in the VR world. If you missed that, check it out again!
Also, the whale (referring to the CEO of IOI company) actually plan to create some bugs in the game that will spam players' VR lenses with pop-ups ads. Reason is to force them to pay and remove them. Basically its like the ads you see in FB/YouTube videos, in app ads, etc. That's one of the way to fund his company.
THE CURATOR!

You need some help from the curators...
I have no idea whether is it just a coincidence or what. The robot host character in the VR world in the movie is named The Curator! A robot that guides players that need some tips in the VR world's challenge. Anyway, it just reminds me of @qurator and the role of Curator in Steemit. Steemians can definitely relate to this!
WINNING THE CONTEST

Participate in contest and earn digital asset!
In Ready Player One, there are tasks and contests that let players earn artifacts and digital credits. Players can either use the artifacts or trade it off in the VR market. Parzival bought some cool items after winning 100k coins through the first challenge. One of the items bought is the VR gear suit from IOI that can let players have real sense of physical feel from the game in the reality. Imagine getting beat up or getting shot in game but feel in the reality. Not to forget IOI "blockchained" its customers' database (Details of buyers like contacts and address).
Similar to Steemit and Mithril (Lit), there are various contests/tasks arranged to reward users with the cryptocurrency.
BOUNTY

I-R0k, the bounty hunter on the left.
Guess the word 'bounty' ain't unfamiliar to anyone here because some new blockchain projects offer bounty and reward "bounty hunters" with their digital currency. In this movie there is a bounty hunter named I-R0k. The CEO of IOI rewards this bounty hunter if he manages to get rid of Parzival in the game. Also, the bounty hunter also hunts artifacts and trade it with the whale. wink Looks like most of us here are bounty hunters for certain blockchain projects eh? Make sure you don't eliminate someone...
KEEP YOUR PK SAFE!

That's not how you keep your password/PK!
PK (Private Key) is your most important key to your digital asset. In the movie, your VR gear to access the VR world apparently have a "PK" too. Who is stupid enough to stick the note of the PK on its VR gear?! Oops, the stupid whale did that in the movie, sticking his VR gear access password right on his gear. The consequence? People hacked into his gear and manipulated his VR projection view. Lesson here, keep your PK safe and private!
REALITY IS STILL REAL!

Okay, back to reality.
In the VR world, the creator creates it for escapism but still the real world is more important. It's like Facebook, IG or other social medias. It seems like we are still connected in the digital world but truth is how much time do we really spend face to face eating a nice meal, having a nice cup of coffee and talk and laugh 'over a table'. That's where the new owner of the VR world shuts it down on certain days so that people can be more in touch in reality.
---
Okay now you are back here. If you have noticed one of my previous posts about several blockchain projects, I did reveal a little bit about projects that are related to VR on blockchain. This itself is already a long post... shall I continue?
---
Photos from IMDB: Ready Player One