Yandex Money on Deex Exchange.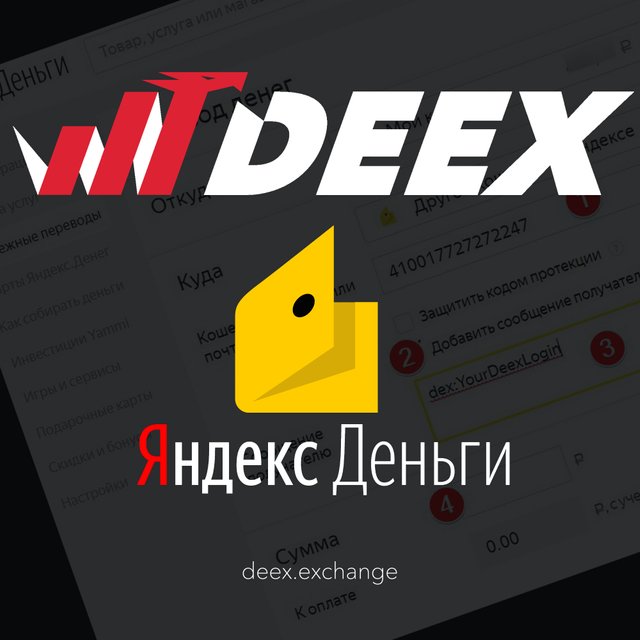 Dear deex holders!
What we've all been waiting for has finally happened! Yandex Money has become available for depositing/withdrawing funds on the Deex Exchange platform. Everyone who uses this payment system can now replenish the stock accounts directly from Yandex wallets. The transfer fee is only 3%!
To replenish your account on Deex Exchange, you need to perform the following steps:
Log in both to your Yandex and Deex Exchange' accounts.
In the Deex Exchange account' wallet select the "Deposit" option near the YANDEX asset.
Copy and save the wallet' address from the "Address" field.
Copy and save the text from the "Note" field.
Go to your Yandex Money account.
In the "Address" field paste the copied address, and in the field "Message to the recipient" - the text of the note in the form of "dex: yourDeexlogin».
ATTENTION!! Without a note your funds will NOT be CREDITED to the exchange account!
To withdraw funds you need to specify the address of the wallet to which you want to transfer funds from the Deex account.
ATTENTION!!
The minimum amount for Deposit/withdrawal of funds in the Yandex Money system is 1000 rubles. Other restrictions depend on the status of your wallet!
https://deex.exchange/
https://deex.one/
Vkontakte https://vk.com/deex.exchange
Twitter https://twitter.com/deex_exchange
YouTube https://www.youtube.com/c/DeexExchangeOfficial
Steemit https://steemit.com/@deex
Golos https://golos.blog/@deexexchange
Medium https://medium.com/@deexexchange_official
Reddit https://www.reddit.com/user/the_deex/
Github https://github.com/thedeex
Instagram https://www.instagram.com/the_deex/
Telegram ENG https://t.me/deexexchange
Telegram RUS https://t.me/deex_exchange
Telegram TR https://t.me/deex_turkiye
Telegram channel https://t.me/deex_exchange_ru