Listing of Ledgit project token on Deex Exchange.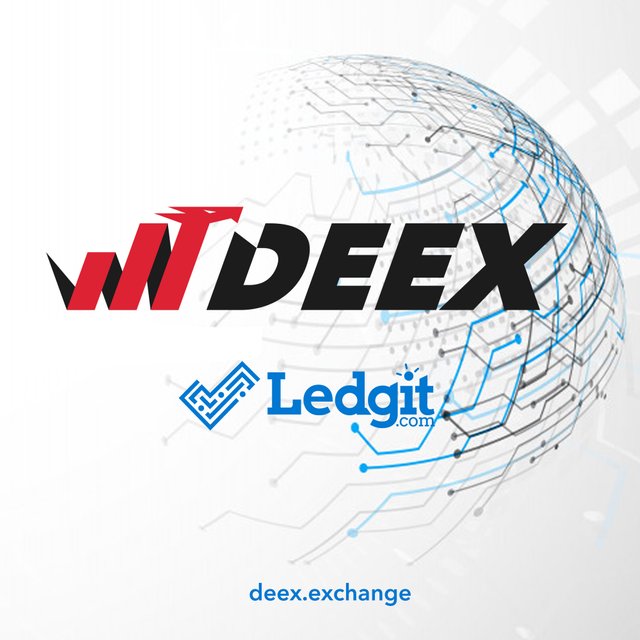 Dear deex holders!
We present you a new DEEX' partner – Ledgit project, which token is available for trading on the main decentralized Deex Exchange platform. Ledgit develops blockchain solutions based on the technology of smart contracts and smart applications to ensure the reliable operation of projects in two main areas: the supply chains and the maintenance of the cultural heritage of different ethnic groups.
Ledgit ecosystem enables suppliers and manufacturers to keep records of their activities, record and store data on the ownership of manufactured goods, as well as track the entire process of delivery of their product to the final user.
The Ledgit project makes it possible to preserve and transmit to future generations the cultural heritage of the ancestors embodied in traditional holidays, cultural elements and special practices. Thus, the blockchain becomes a reliable way to maintain and develop the most important element of communication and information' transfer.
The listing of the erc-20 LDG token will allow traders to get another reliable tool for profit. Come and trade on Deex Exchange – the most secure and reliable decentralized trading platform!
Ledgit official site - http://www.ledgit.com/
https://deex.exchange/
https://deex.one/
Vkontakte https://vk.com/deex.exchange
Twitter https://twitter.com/deex_exchange
YouTube https://www.youtube.com/c/DeexExchangeOfficial
Steemit https://steemit.com/@deex
Golos https://golos.blog/@deexexchange
Medium https://medium.com/@deexexchange_official
Reddit https://www.reddit.com/user/the_deex/
Github https://github.com/thedeex
Instagram https://www.instagram.com/the_deex/
Telegram ENG https://t.me/deexexchange
Telegram RUS https://t.me/deex_exchange
Telegram TR https://t.me/deex_turkiye
Telegram channel https://t.me/deex_exchange_ru