Deex OTC trading platform is ON!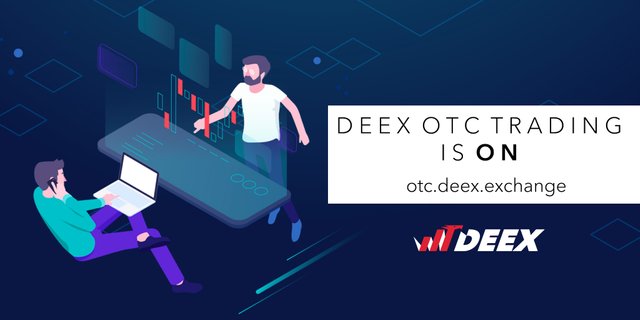 Dear deex holders!
In the life of the main decentralized Deex ecosystem has happened a very important event. Late March we announced the launch of the platform for safe and secure crypto OTC trading - https://deex.blog/en/news/what-is-otc-cryptocurrency-trading/
And today we are pleased to announce the launch of this platform. It is available by the link https://otc.deex.exchange. It is important to understand that for now this is an alpha-version of the product, intended for testing, receiving feedback from the community and further improving. And before you can evaluate all the advantages of working on the OTC market on by your own, we need to make two important remarks. The platform works only with the installed Metamask browser's module and only on desktop computers and laptops. Trading on the otc.deex.exchange using a smartphone is not yet possible!
The OTC Deex platform is fully decentralized and runs on Ethereum smart contracts. So, while it is possible to purchase or sell only Ethereum cryptocurrency. Transaction security is also provided by the operation of smart contracts within the Ethereum network.
Following the principles of decentralization, security and anonymity we offer only the best to the users of the Deex ecosystem. On our OTC platform you can safely buy and sell cryptocurrencies using bank cards and bank transfers in several countries of the world! And all this without the risk of facing with a cryptocurrency scammer! The next stage in the development of the platform will be the opportunity to work with other cryptocurrencies with guarantees of security through the Deex escrow service. The cryptocurrency OTC market is truly large and is probably comparable in volume to 10 percent of the volume shown on coinmarketcap. By the way, the turnover that you see on coinmarketcap and other crypto-currency trackers and listings is only the numbers drawn by crypto-Forex. Of course, there are no such trades on crypto exchanges. But it is possible on OTC-platforms. Waiting for you on otc.deex.exchange! Buy and sell crypto safely together with DEEX!