DEEX and Crypviser partnership.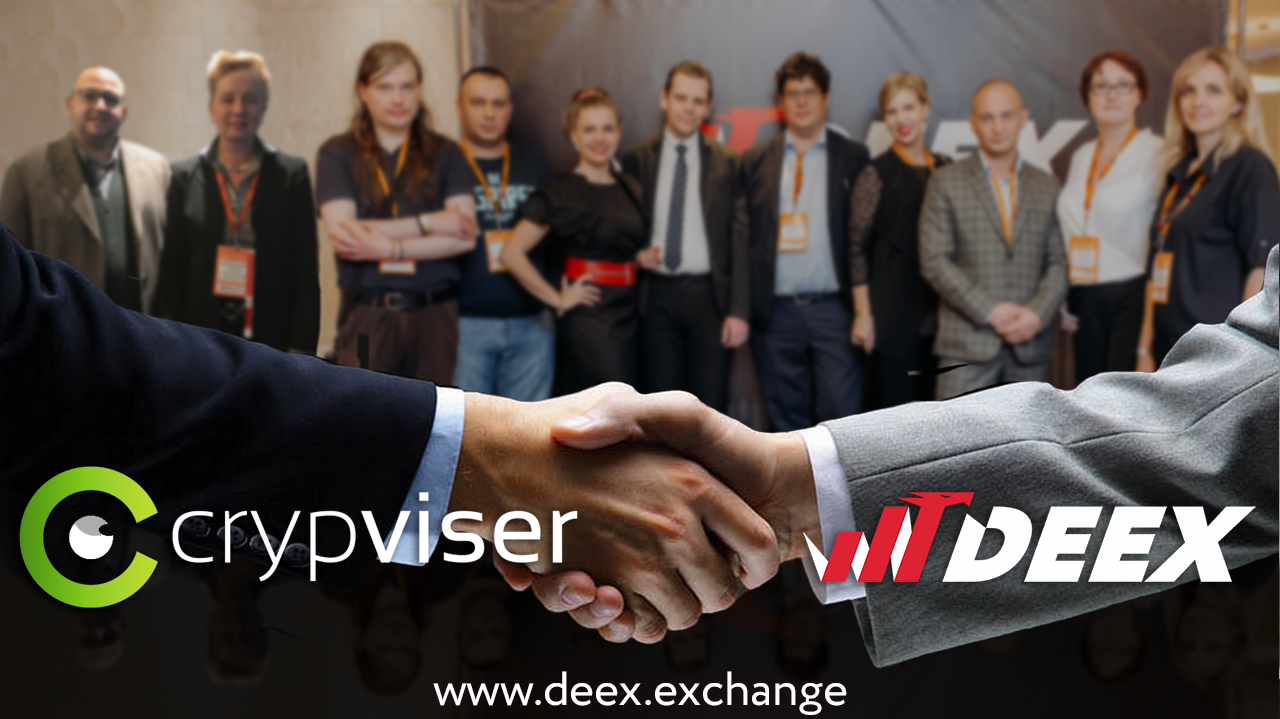 DEEX is happy to announce a cooperation with Crypviser, the company which is on the verge of revolutionizing the social and business communication world using blockchain technologies. The invulnerable cryptographic model and reliable Crypviser security system is designed with the highest technological requirements for secure storage and exchange of all kinds of data, including instant messages (chats), audio-video calls, group calls (voice conferences) and much more.
As part of this partnership, DEEX will integrate Crypviser's encryption and decentralized messaging technologies as a White Label product on the platform of the main decentralized ecosystem and also conduct a listing of the Crypviser token CVcoin(CVN) as the TOP digital asset after the launch.
"We see great potential and the need for the development of technology that allows us to use blockchain solutions to create high-quality and modern projects. Partnership with Crypviser is a new stage in our development that will ultimately lead not only to the improvement of DEEX, but will allow us to expand the boundaries of the decentralized blockchain space in general", - commented the CEO of DEEX, Vladislav Sapozhnikov.
In the very near future we will announce additional agreements and will tell you about joint DEEX and Crypviser actions, for we have many surprises lined up.
Stay with us and follow our news in social networks.
Telegram chat DEEX (eng) https://t.me/deexexchange
DEEX channel https://t.me/deex_exchange_ru
Facebook group https://www.facebook.com/groups/deex.exchange/
"Golos" blog https://golos.io/@deexexchange
VKontakte group https://vk.com/deex.exchangePage
Instagram https://www.instagram.com/the_deex/
Twitter page https://twitter.com/deex_exchange
Blog on the Steemit project https://steemit.com/@deexB
log on the Medium project https://medium.com/@the_deex
YouTube Page https://www.youtube.com/channel/UC5oYUk9QC4kbM5ZBpodOUcQ
Official Crypviser resources in social networks.
Telegram chat Crypviser (eng) https://t.me/crypviser
Telegram chat Crypviser (de) https://t.me/joinchat/F4Llkw1m66Oq-21Yf-oVUQT
Telegram chat Crypviser (ru) https://t.me/crypviserrussian
Facebook group https://www.facebook.com/crypviser/
Twitter page https://twitter.com/crypviser
Blog on the Medium project https://medium.com/@crypviser/
Linkedin Company page https://www.linkedin.com/company/crypviser/