DECA Blogging Bounty Program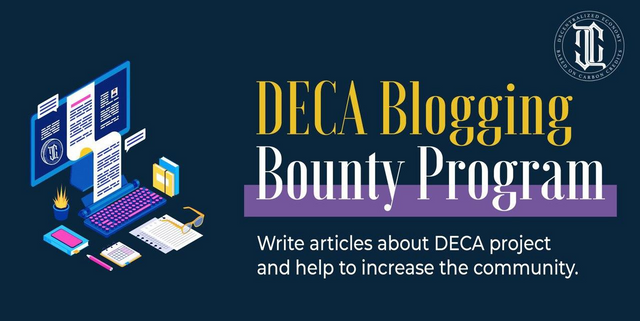 Welcome to DECA, a decentralized economy based on carbon credits!
We are happy to announce our Blogging Bounty Program 🥳
DECA Project is starting a Blogging bounty program for all Bloggers, Creators, and Writers that want to earn extra income while promoting DECA.
About DECA
DECA creates a green economy which digitally signs carbon credits in a blockchain. At this stage, emission reduction through carbon credits is controlled by a few market players: multinational companies and governments. Without a free market or access to people, the impact and purpose of the Paris Agreement are minimized, which is to reduce global emissions by 50% by 2050. Furthermore, current NDC's are not nearly sufficient to reach the Paris Agreement mitigation target. We propose to introduce a Dapp that crypto-democratize the carbon credits by a proof-of-trust mechanism. More information at deca.eco
DECA's Vision
DECA aims to connect carbon markets and high-quality carbon credits to individuals and businesses to ensure social and environmental impact in greenhouse gas emissions. By raising funds, DECA aims to transform the DECA Token to a DECA Currency Platform to create a new green economy based on carbon credits using a lightning network, blockchain, and a Proof of Trust mechanism.
BOUNTY PROGRAM DETAILS
Start Date: June 10.06.2020
End Date: September 10.09.2020
225 DECA Tokens = 1 ETH
How can you participate?
Be a writer for DECA Project! Write articles about our project and increase our community. Minimum words required per article: 500 words (feel free to use original images, graphics, charts, or tables).
What's in for me?
Reward: 10 to 30 DECA Tokens, depending on quality, per blog post.
The payments will be released after the DECA ICO.
The quality is based on the following criteria:
Reach of the article: likes & shares.
Technical and grammatical capacity (no errors or fake data).
Links to DECA Project official social media channels.
Originality and overall impression.
To be considered for a reward, the article or blog post must be 100% original, with no copy/paste information, a minimum of 500 words, and links to the DECA website, DECA's Lightpaper, DECA's Whitepaper & DECA Official Telegram Group
General Rules:
Join DECA Telegram Group. & Telegram DECA Bounty Group.
Write an article with a minimum of 500 words.
The audience for the posted article must be related to blockchain or cryptocurrencies.
You can write about the next topics: articles about DECA social and environmental impact, cybersecurity, price mechanism, data science, open-source, technology.
Publish the article on Medium, Steemit, Bitcointalk, or your Crypto/Blockchain related website.
Make sure to use the name "DECA" on the headline.
Like and share 5 DECA's social network content within 10 days of creation.
Writers should familiarize themselves with the official DECA Whitepaper and Lightpaper to ensure an accurate understanding.
Proofread your text and make sure it is easy to read 🤓.
Avoid duplicates and too-similar content where possible.
After you have written the articles or blog posts, kindly share your content details (website or blog post URL, social media profile, wallet address, etc) into the DECA Telegram Group.
Texts will be evaluated and validated only by DECA Team.
If everything was right, expect to receive the bounty after the DECA ICO 🥳
Payment of bounty rewards will take place after the ICO in September 2020.
Payment criteria:
10 DECA Tokens per article that covers all the minimum requirements.
20-30 DECA Tokens per article that covers the minimum requirements and has great & fresh information about DECA.
Do you have more questions? Send a message at DECA Telegram Group.