SYNCHROBIT: THE CUTTING EDGE DIGITAL ASSET PLATFORM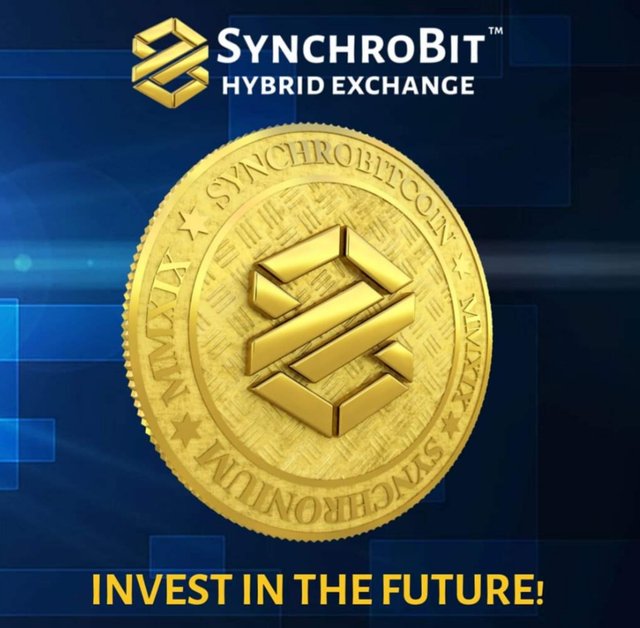 Credit
Ever since the bitcoin cryptocurrency was established in 2009 by Satoshi Nakamoto, about 4000 cryptocurrencies have been created. This has sent people on the quest to understand what and how to trade with cryptocurrencies. As a global hybrid digital asset trading platform, Synchrobit seek to deliver a fantastic user-friendly experience to traders; beginners and professionals, on their platform. The phrase "digital asset trading platform" simply means that Synchrobit doesn't just support trading with cryptocurrency but also other digital assets like; stock, futures, options etc.
Although digital asset trading is a trend in the financial market globally, it is safe to say that there is a lot of risk attached to this trend. Some of these risks include; little or no transparency in the policies and strategies of digital assets trading platforms, market manipulation etc. This is where synchrobit comes in. As a project under the umbrella innovation company, Synchronium, this platform was established to profer reasonable and innovative solution to the diverse problems that plagues the digital asset trading platforms. One of such problem that Synchrobit has successfully solved is to ensure that traders (both green horns and professionals) trade in digital assets with risks minimized while their ROIs are effectively maximized. A feature that distinguishes Synchrobit from other digital asset trading platform is their ability to serve one million transactions per seconds.
More so, because it is a peer-to-peer platform (that is, traders deal with each other with a concealed identity) traders do not have to bother about market manipulation; another problem solved. At its heart, the core values of Synchrobit are simplicity and diversity. No doubt, this makes it dynamic and innovative in nature. Coming from a team of professionals in the digital asset trading industry, digital marketing field, block chain, finance and developers, it is no surprise that this platform is truly cutting edge.
FEATURES OF SYNCHROBIT
*SIMPLICITY AND DIVERSITY: It is almost impossible to find a digital asset trading platform that combines these two features perfectly together. It's either, as a trader, you find platforms that provide you with diverse options to trade with but are often difficult to use or platforms that are easy to operate but possess limited trading tools, options or solutions. Nevertheless, Synchrobit is an exception. The creators of Synchrobit have been able to provide a wide range of trading options, tools, and solutions for traders while making it easy for anyone (Green horns and professionals) to trade.
*ENHANCED USER ENGAGEMENT: They say human beings are social beings. This is one of the saying that this platform leverages on. Because no one is an island, the creators of this platform have done well to integrate tools for communication and socialization for traders on Synchrobit. Regardless of the fact that your identity is hidden, you can relate with other traders on the platform via chat rooms (public and private), Trading groups, Forums, Tournaments, Loyalty programs, Public summit etc. all you have to do to have a swell time on the platform is participate. You would never walk alone.
*SECURITY: It is quite impossible to achieve 100% security protection as hackers keep devising new ways to penetrate into the toughest security structure. Nevertheless, the Synchrobit team believes that the risk of cyber-attacks can be minimized through combined effort of both the users and the Synchrobit team. How? Being an ever innovative company, the Synchrobit team would always be armed with the advanced cyber-security system and technologies which would be integrated into the platform. With this advanced tech at their fingertips, traders would be trained on how to effectively use the provided tools as a weapon to protect their asset and themselves from being victims of cyber-attacks.
*CUSTOMER SERVICES: Unlike any other digital asset trading platform, Synchrobit ensures that traders easily gain access to the platform's customer agent when necessary. The customer care agents are available every day of the week and can be contacted through live chat, phone and CRM system. As a result, you cannot feel stuck or lost while trading on this platform.
There are a lot more features that this platform has that makes it unique and quite interesting. One of such is the diversity of markets on the platform. Some includes; Crypto Market, Crypto Swap, Metals Market (allows traders trade metals like Copper, gold etc.), Energy Market (For gas, crude oil etc.), Commodities' Market (for coffee, wheat etc.), Projects Market (ICO/ STO) etc. More so, with the existence of decentralized wallet for crypto and fait as well as cold-wallet, users have maximum control of their wallet on this platform. A mere consideration of the features of this platform, undoubtedly, proves that the developers are inspired by the need to satisfy their customers maximally. With the ability to think outside the box, the Synchrobit team has successfully created a digital asset trading platform that provides a variety of trading options, tools, solutions etc. while making it assessable to individuals.
CONCLUSION
Trading online in digital asset is undoubtedly risky as statistics shows that traders have several concerns trading on digital assets platform. Some of the concerns expressed ranges from security issues to lack of liquidity, expensive trading fee, missing funds, absence of socialization tools etc. Nevertheless, while creating the Synchrobit platform, the developers took the above listed concerns, and more, into cognizance. In turn, they have created a platform that innovatively resolves existing and perceived problems while achieving maximum customer satisfaction. With advanced technology on their side, they have forged a method that is actively involved in seeking out and troubleshooting problems that might spring up in the future.
USEFUL LINKS
Website: https://snbtoken.io/
Whitepaper: https://snbtoken.io/images/wp.pdf
Telegram: https://t.me/Synchronium
Twitter: https://twitter.com/SynchroniumLtd
Facebook: https://www.facebook.com/synchrobit.exchange
AUTHOR'S DETAILS
Bitcointalk Username: Dannev
Bitcointalk Profile Link: https://bitcointalk.org/index.php?action=profile;u=2317961