Kardiachain: Bringing the world closer to practical blockchain application and mainstream adoption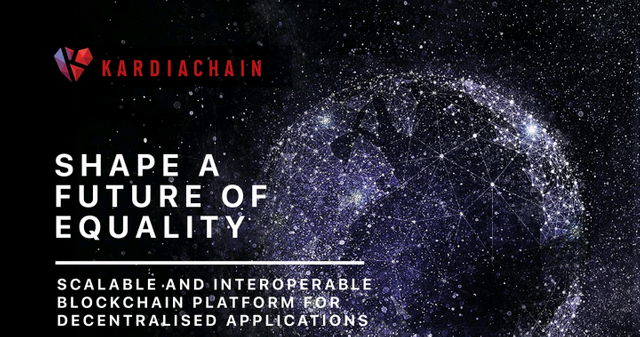 Since the blockchain technology was discovered about ten years ago, it is apparent that the spike in interest us at an all time high, and the recognition it has amassed in recent times is highly perceptible. The crystal-clear spotlight which this technology is now subject to can be attributed to the yet ungratified desire of autonomous enterprises, multinationals, government agencies etc to store data securely, without risks of manipulation or hacks, and without the need to establish trust. This, of course was the foremost promise of blockchain technology at inception, but reflecting over the past decade, it unfortunately has become a scapegoat for failed projects, and a platform for swindlers and hustlers who have no intentions of attaining real time blockchain application and deployment.
The road to restoring the relinquished hope is quite a bumpy one, which requires that certain bottlenecks be effectively addressed. Kardiachain pinpoints three major factors posing a stumbling block towards blockchain mass adoption. They are :
Fragmented ecosystem: Blockchains lack interoperability and therefore, experience difficulty in establishing communication with another of diverse encryption levels, coding language, protocol or consensus mechanism. The fact that they (blockchains) are siloed and cannot easily interact with existing systems remains a major shortcoming that must be arrested, in order to record reasonable progress.

Scalability: Another setback peculiar to blockchain is it's inability to house large scale networks. As organisations scale higher with increasing number of network participants, blockchains struggle to provide the required processing and computational power necessary to maintain operational efficiency, often leading to low quality of service and even total failure.

Limited adoption and low awareness .

Identifying these bottlenecks helps provide the lead towards solving the jigsaw, and achieving all three bespoke components simultaneously would mean putting all the pieces together and restoring the place of blockchain as the next generation digital infrastructure.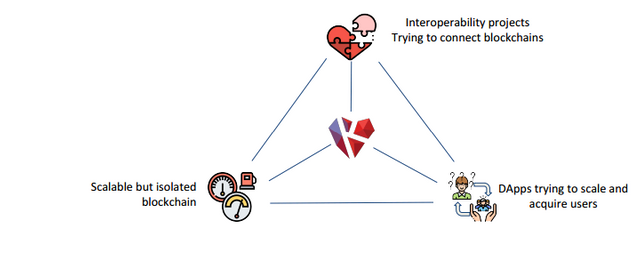 Kardiachain is a platform that presents a radical solution to the challenges through an ecosystem designed to enhance the usability and practical application of blockchain technology by improving scalability and interoperability, so as to attain mass adoption .
The explosion of diversity arising from distinct cryptographic structures in blockchains has stagnated it's growth in no small measures and as such, attaining cross chain interoperability is a huge leap in the right direction. Kardiachain offers a seamless, non intrusive community between blockchains and existing IT systems, enabling easy assets/data transfer, trust minimised trading (atomic swaps) etc, thus solving problems of interoperability and cross chain isolation. Kardiachain adopts the BFT dPoS (Byzantine Fault Tolerance Delegated Proof of Stake) concensus mechanism due to its high speed, efficiency and high quality of service. By leveraging the BFT dPoS, Kardiachain will efficiently scale to an unlimited number of validators, in lieu of having to griw resource requirements as in other protocols, thus, finally lay to rest the age-long issue of scalability, which has rocked the boat of this technology.
Kardiachain believe that by proferring a permanent solution to the fragmented, isolated nature of blockchains, as well as improving scalability, mainstream adoption will eventually be a walk in the park.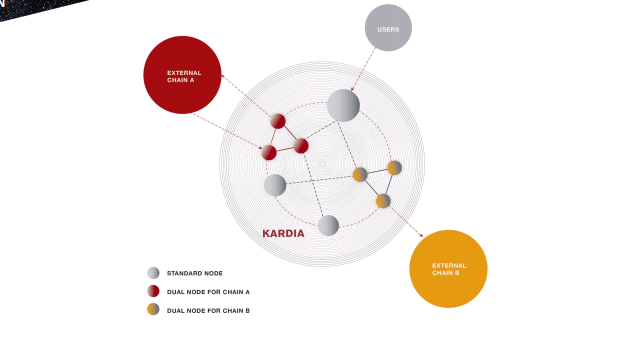 Recently, we had the pleasure of speaking with the Chairman and Co-founder of Kardiachain, Hung Nguyen. He was more than delighted to share his views on Kardiachain and cryptosphere in general.
Please tell us a little bit about your background? How did you get involved in the crypto space?
"1, Chairman/Co-founder Hung Nguyen
I am a blockchain enthusiast and a seasoned investment analyst with years of experience working in finance industry at Nomura, Japan largest investment bank and later at Elliott Management, one of the world top ten largest hedge fund. I am fascinated by new fintech development and often having researches into the field. This was when I came across blockchain technology. I realised blockchain is more than a technology when it can solve a fundamental economic problem which is how can two entity trade with each other without requiring trust between them. Since then, I have made several researches as well as contributing, investing to many pioneer projects in the industry
Furthermore, working in some of the top financial institutions in the world, I reckon adequate financial services are only available to a very small percentage of world population who is already in a good financial position with wide personal networks and connections. KardiaChain is found with the vision to create a flatter world where everyone can enjoy equal opportunities, services I mentioned above as well as the opportunity to invest, to start a business, to work and to be socially mobile
What excites you most about the crypto space right now?
Technological development and real work adoption
How did you hear about Bounty0x?
I have known Bounty0x since it released the whitepaper and finds such a good service that will be demanded by the industry
Where do you see the crypto space heading in the next few years?
The industry will witness another important phrase of institutional adoption which likely to result in a quick accelerator in the rate of adoption of the technology.
For those of us who aren't familiar, please tell us about your project (problem it solves, team, background, stage of development, roadmap, etc.)
I will send our pitchdeck which will go through each of the categories in order, easiest and shortest way to understand about us. Check your email, our telegram group I will send to both places
Final Thoughts

The future of blockchain technology has for long relied heavily on it's ability to house large-scale networks and communicate or integrate with other blockchains and already existing systems. Judging by these metrics, the future has appeared bleak for the majority of it's existence.
Kardiachain emerges with a glimmer of hope, by arresting tailbacks which have proved detrimental towards the growth and adoption of blockchain technology. A new era of digital infrastructure is indeed upon us !.
TEAM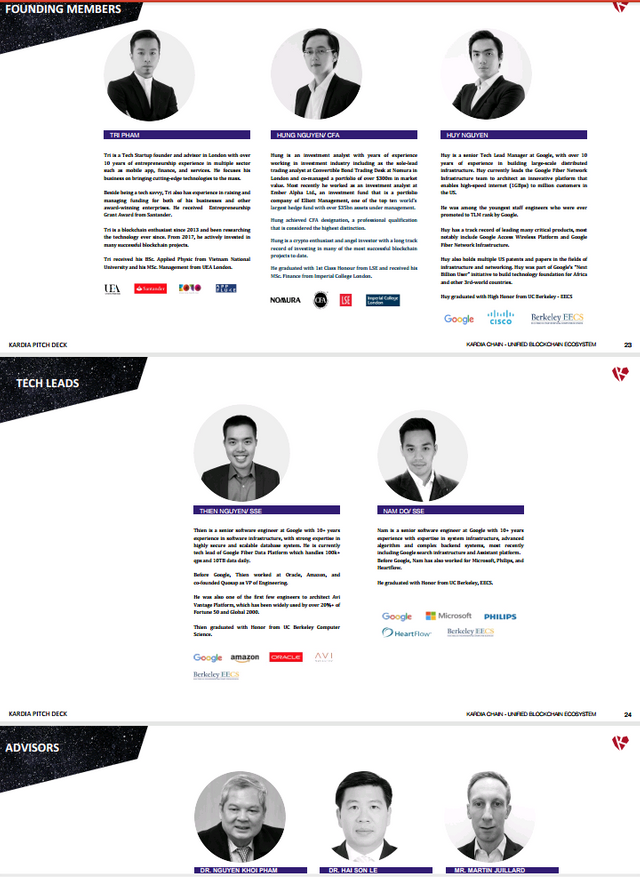 ROADMAP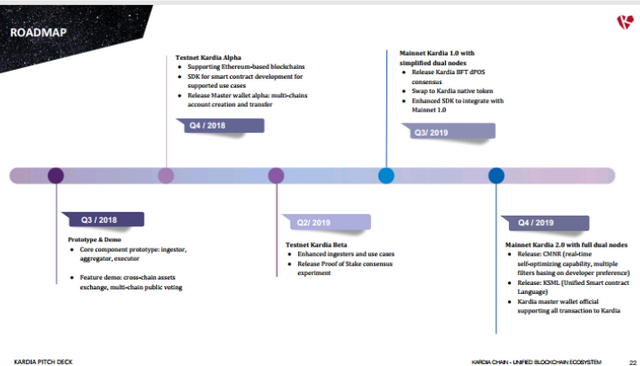 INFORMATION AND RESOURCES

Kardiachain Website
Kardiachain Telegram
Kardiachain Reddit
Kardiachain Medium
Kardiachain Twitter
Kardiachain Linkedin
Kardiachain Facebook
BountyOx username: danielwrites