Utrum ICO Review - Decentralized, Crowdsourced Review Platform for Cryptocurrencies
Those of you that have delved into the world of cryptocurrencies and have found themselves slightly overwhelmed might be relieved with the newest arrival on the scene - Utrum.

Utrum is a decentralized platform which will offer a quality and reputation based crypto reviews, market predictions, and analyses by market experts for the investors. As new cryptocurrencies are created, it's becoming  hard for investors to intelligently find the best cryptocurrency investment opportunities. 
Utrum platform will help investors find out which ICOs are more viable to invest, educating newcomers about cryptocurrencies and blockchain technology, and giving crypto makers a platform, where they can publish their project.
It's basically a network that connects crypto makers, novices, crypto investors, and cryptoanalysts in one ecosystem.
Why it's unique and beneficial
Reward system
Utrum will use an integrated reward system that encourages contributors to provide useful and accurate information. Unlike other platforms, this reward system will use OOT tokens where contributors will create reviews, articles, and predictions to earn the tokens.
Rating system
Utrum will allow different cryptocurrency related services and products to be subjected to analysis, reviews, and ratings by the users. This means that users will determine the trustworthiness of the assets including tokens, wallets, exchange, and investment funds.
Machine learning algorithm 
The algorithm integrated into Utrum platform will learn from the rating patterns and detect any practice that may appear fraudulent.
A comprehensive database of assets and cryptocurrencies
Utrum will have a complete database of all digital assets in the crypto industry. This will function as the building blocks of investments.
Members can ask questions - 
The platform will allow new users to ask questions and get expert advice from professionals.
"Our platform is people driven and community oriented to enhance safety and trust in the cryptocurrency and blockchain world."

Benefits of Utrum as compared to other competing projects
Utrum has the potential for future growth.
Provides lots of interests for early investors.
You can purchase coins hassle free.
Utrum uses a proven and a profitable market sector.
All the materials provided are both professional and quality thereby making it easy for investors to find answers to the questions that they have. 
Token Sale Details
Utrum ecosystem will be powered by OOT token. They have a total supply of 216,000,000 tokens, 50% of these will be for the contributors, 15% will be reserved for the development team, 10% for the day to day operations, 2% for referrals, and 23% for the token sale. 
They aim to raise up to $5 million with a sale of 47,520,000 OOT tokens. This week they announced that in the private sale SuperNet bought 1% of total tokens supply. 
The pre-ICO will take place from 24th April to 10th may and the main ICO will start on 21th may and will end on 20th June.
During pre-ICO there will be a special bonus for contributors that use Komodo to invest.
The exchange rate will be 1 token for $ 0.12. They will accept Bitcoin, Bitcoin Cash, Komodo, Z-cash, Dash, Litecoin as payment methods.
The Team
The members of this team bring various backgrounds to the table all with one thing in common, a desire to see Utrum work.  Meet the team members:

Roadmap
The founder, Sridhar Panasa conceptualized the idea last year in September, with a vision to create an crowdsourced and decentralized  review platform that could help the newcomers and investors to overcome the challenges and the noise found in the industry.
Alpha version of the platform will be released in Q4 2018, beta version in Q1 2019.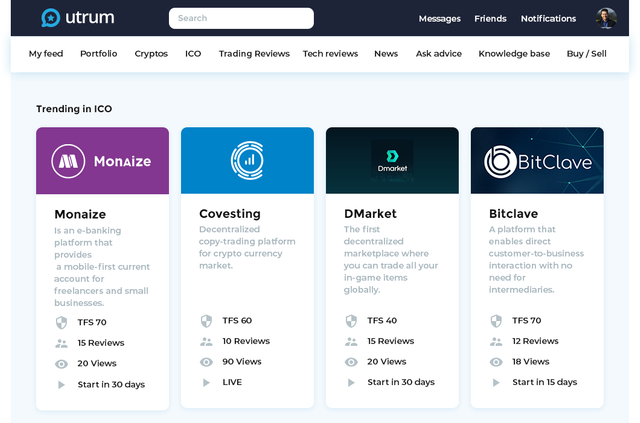 Conclusion
This platform is built on a philosophy of leveraging wisdom while subjecting collected information on the trial. Scientifically, it's been proven that collective information is usually more accurate. However, do not forget to do your own research before you invest in any ICO.
Their well-written white paper and FAQ available at https://utrum.io
Telegram: https://t.me/utrumdotio
Facebook: https://www.facebook.com/utrumdotio
Twitter: https://twitter.com/utrumdotio
Bounty: https://bountyhive.io/r/ringzero