Social Wallet ICO Review - Send Cryptocurrencies Through the Social Media Platforms
The latest developments in the technological field have seen a major escalation in the use of crypto-currencies worldwide. This is a statement subject to no debate, thanks to the existence of over 1500 crypto-currencies globally. The increased acceptance of bitcoin and other crypto-currencies has spread across several retailers, this has in reward fueled the business sector to greater heights. Despite the fame already enjoyed by the crypto-currencies, very few had dreamt of incorporating the social media platforms into the mix.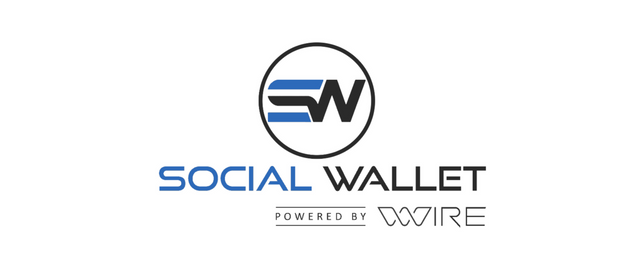 Social Wallet is a platform that through the adoption of blockchain and social media into the crypto-currency world, will enable crypto-currency transaction over diverse social media platforms. That's right, you can now receive any form of crypto-currency via your social media account, with the major requirement being your username. This process addresses speed, security, and accessibility of services to the users. Social media provides the vast communication platform needed while blockchain technology addresses the security issue. 
How it works 
One does not need prior familiarity with the system, neither do you need to have any setup. Facebook, email, and Twitter are the platforms that support this feature for now. Plans are in place to incorporate other platforms. The whole process comprises four steps, these are 
Selection of the recipient social media platform. 
Enter the username of the recipient. 
Specify an amount of cryptocurrency to send. 
Send. 
Social wallet is driven by a utility token known as WIRE token.
Platform
They already have a functional platform and they will release it as soon as the initial coin offering is complete.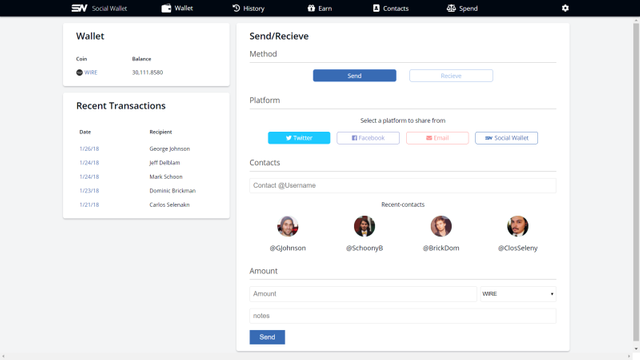 WIRE Token 
Every user must have WIRE in their accounts in order to access service. WIRE will be spent on the transaction fees or even as the cryptocurrency to be transacted. There are no limitations to the number of social media networks that WIRE can be transferred to. It ensures decentralization which exempts the currency from regulations by central government. This fosters reliability and security of the system. 
WIRE Token sale 
According to Social Wallet's schedule, the sale of WIRE tokens is running from February 7th to April 27th 2018. This period is subdivided into six rounds, with the sales currently in the final round. Some of the key points to note here are:
Cost of a WIRE token: $0.15 USD. 
Tokens sale terms: 79 days or less if hard cap is reached.
Minimum purchase: $100.
Maximum purchase: $150,000 per round. 
Available purchase options: Ethereum, Bitcoin, Litecoin, Steam, Steam Dollars. 
Tokens available for sale: 187,500,000 WIRE. 
Circulating supply: 250,000,000 WIRE. 
Hard cap: $28,125,000.
The 25 million tokens are to be held by the team for a 3 years period to help in operations and future marketing. 
Roadmap

Future plans
Through their EARN program, Social Wallet aims at capturing the very 25 billion users of social media, hoping to expand the market. The EARN program is to spearhead user education on the services offered and how to get the best from the platform. They have also partnered with 3rd-party card providers on the blockchain. This move is to bolster their Social Wallet Debit Card program that is to aid sending, sharing and conversion of tokens. 
Yes, there are risks involved, but the economic window that has been opened by Social Wallet is not small. Many businesses and users will surely gain from this platform. The changing world demands radical changes, and this is one of the ways to bring cryptocurrencies into to mainstream.
Their well-written white paper and FAQ available at  https://socialwallet.io
Facebook: https://www.facebook.com/SocialWalletInc
Twitter: https://twitter.com/SocialWalletInc
Bounty: https://bountyhive.io/r/ringzero