Today the Internet is part of the trend of participation in the ICO as an option of earning, and it represents the initial placement of digital tokens of the project before entering the exchange and as an investment collection for further development of the idea and implementation of the plans. Mainly use the blockchain the Ethereum platform.
The advantages of ICO are beginning to attract a lot of enterprises both small and medium-sized businesses, as they allow to collect quite a lot of money for a not very long time, and there were also records for the speed of implementation of the plan in a few minutes. Blockchain allows any person regardless of their geographical location, also bypassing some political barriers, to participate in such an event and thus may support a large number of people.
Also, intermediaries in the form of banking and electronic payment systems are eliminated, which can impose a ban on the transfer, limit the amount, delay for a few days, require various types of confirmation from a person, block accounts, suspecting fraud. Blockchain helps to keep all personal data in complete confidentiality and quickly conduct transactions from one point of the world to another for minimal fees.
I took part in several dozens of ICOS and some of them gave a good profit in the long term of 10.20 and even 30 times the amount of initial investments. Thanks to this opportunity, you can take part in the beginning of the emergence of ambitious and popular projects in the future with a good product.
But now you need to be very careful in choosing such startups, as cases of fraud by the organizers and deception of people who invest in their ideas have become more frequent. It is not always easy for a person to get such reliable information about the team, its history and reliability, or it takes a lot of time. And so now you want a platform that will be able to protect the money of investors and it can become a project ICOVO. 
ICOVO Features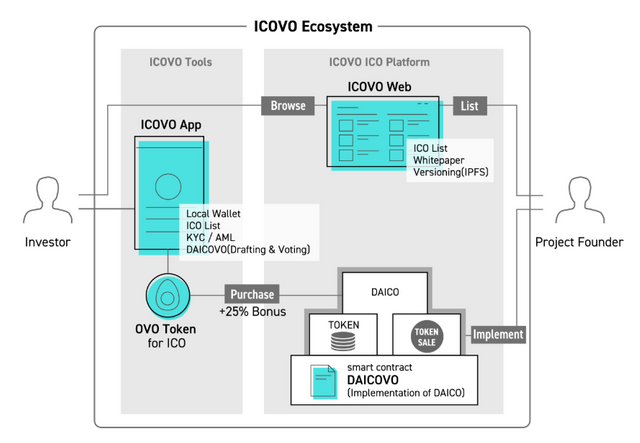 The final objectives of this platform is to to make all ICOs use DAICO platform and infrastructure, So the project team will develop an open source called DAICOVO,and it is aligned with the concept behind DAICO .at the same time they issue OVO coins, I think you have already heard about it . So it will be specialized mostly as a current which is for procuring these ICO investments by investors.
This token is very significant. This OVO token is the world's first and only token which specialized for ICO fund procurement sectorThe value of the token increases when the more sound ICO projects are undertaken on this ICOVO structure,
Most issues will be solved through actually providing ICOVO Application and it is issued for both android and iOS versions. ,and we can say it is the worlds one and only wallet which optimized for ICOs only, when considering ICOVO Web, it will increase usability when people participating in ICOs through their personal computers and mobile phones. So with the help of these features, ICOVO platform will build an realaible ecosystem for promising blockchain-related project startups.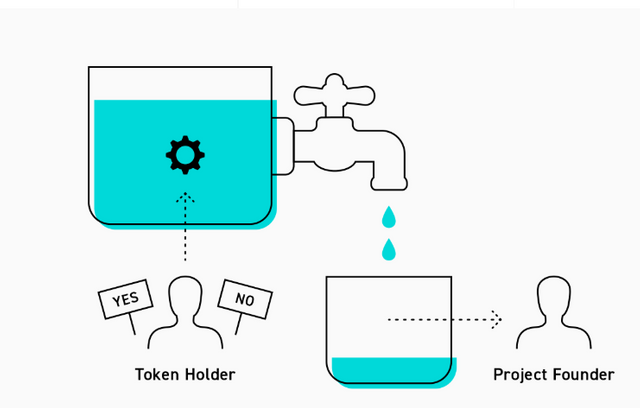 ICOVO creates a decentralized platform and application that simplifies the selection of investors and protects their mobile assets through intelligent contracts that allocate the necessary funds for launching the UPS by conducting their ICO as they progress through the road map in stages.
This suddenly occurred thought will allow to create only healthy and promising design intentions, the team can not avoid the collected funds and savings from investors, thereby gaining additional motivation for further development, release and updating. The depositor at each stage will be able to make a decision on the return of own investments.
The main core of the platform is, of course, a reasonable contract DAICOVO, which was positively shown in the expression by the creator of Ethereum Vitalik Buterin. In order to invest in projects, the contestants will be able to apply their OVO tokens, which will bring concrete benefits. Now you are my idol by knowledge you can download your application for iOS operating systems (https://itunes.apple.com/us/app/icovo/id1393849523) and "android".It contains the following useful functions:
Individual wallet that supports ERC 20 tokens and issuing a covered key that is stored only on the user's phone;decentralized exchanger between owners;the universal purpose of the value of voting; 
Conclusion
ICO, where you can reasonably get the chance to register in white lists, view technological documentation and news material about start-ups, the KYC organization, which will be enough to go through once and upload photos and documents.
It is put in the plans that DAICOVO will be released as an open source, which gives a huge advantage to the founders of ICO, for use giving a large number of free functions: adjusting parameters, creating a badge of a digital icon, deploying, conducting air programs, connecting referral programs. The KYC procedure should take place not only for the investing patrons, but also for the project objects that organized the inventions, which further increases the protection.
In my opinion, ICOVO can significantly help to protect the horizons in the interests of investors and remove many obstacles for the ICO, the creators created also receive an additional incentive for subsequent step-by-step events. The preparatory implementation of the marker comes on the 24th of the first autumn of 2018 and will last until 8 of the 2nd month of autumn 2018 with a good bonus of 40%.
Following more information;   
Website : https://icovo.co/
Whitepaper : https://icovo.co/whitepaper/20180620_icovo_wp_service_en.pdf
ANN Thread : https://bitcointalk.org/index.php?topic=4468796.0
Twitter : https://twitter.com/ICOVOCO
Telegram : https://t.me/icovoco
Facebook : https://www.facebook.com/icovoco/
Reddit : https://www.reddit.com/r/ICOVO/ 
Keep Tabs On Me Daily articles on cryptocurrency and blockchain based projects.