Crypto.tickets dream team!
The team of Tickets Cloud online ticketing service is preparing crypto.tickets, their blockchain-based project, for ICO. The project will become a global decentralized ticketing platform open to all industry members. The ICO is scheduled for October 5, 2017, and will carry on for four weeks. The project has brought together an international team of developers, marketers, managers, and support service specialists. The team has grown to over 30 people located in London, Moscow, Luxembourg, and Delaware.
crypto.tickets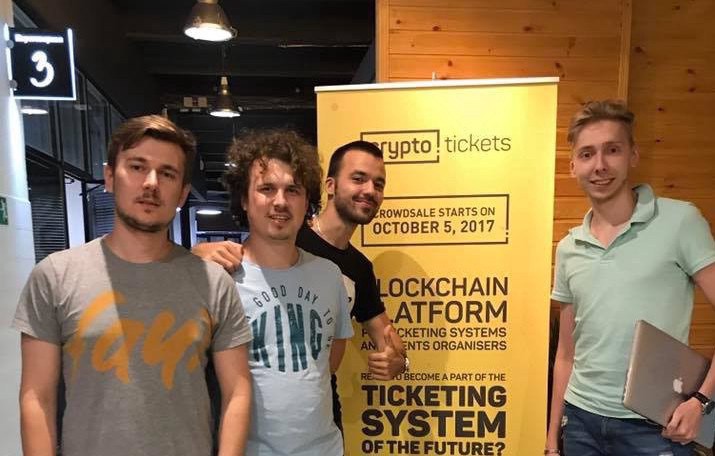 Egor Egerev, CEO and founder. Setting out as a concert and music festival organizer, Egor has created one of the first online ticket services in Russia that later evolved into the B2B platform Tickets Cloud. Egor also founded Russia's largest industry conference Moscow Ticketing Forum. At crypto.tickets, Egor is CEO whose area of responsibility includes product and business architecture.
Egor is the project's visionary who sees a few steps ahead. He's the real engine at the heart of the company, always yearning to take the product one step further and willing to work 24/7 for it. It was him who suggested over two years ago that blockchain and smart contracts would one day revolutionize the ticketing industry.
Katerina Kirillova is the co-founder and director of strategy and development at crypto.tickets. Katerina founded Onstage.pro and together with Egor launched Moscow Ticketing Forum. At crypto.tickets, she is responsible for international marketing and strategy.
Katerina has a trove of experience organizing large events: for the past 15 years, she's been the co-owner and manager of the Moscow branch of Euroshow, the largest event organizing and technical support business in Eastern Europe. In Russia, Euroshow provided local support and organizational assistance for such acts as Limp Bizkit, Prodigy, Rammstein, and Jennifer Lopez, and was employed as a sub-contractor in some massive sports events, e.g., The Sochi Olympics of 2014.
With her vast experience of working with superstars, Katerina helps the team to overcome stressful situations and maintain an atmosphere of trust and cohesion. Katerina is the best person on the team to put together all ideas, however outlandish, gives them structure and brings them to life.
She also holds an MBA from two of the most prominent institutions in the field, Columbia Business School and London Business School.
Ilya Sergeenko is the co-founder and director of investor relations. He's had a knack for entrepreneurship from childhood, helping his mother, a director of a B&M store, with her business. For the past ten years, Ilya contributed to getting ten businesses off the ground, co-owning a ticket operator company at one point. In 2015, he became a business angel, investor, and co-founder of Tickets Cloud. Thanks to Ilya, Tickets Cloud has the best support team, automated business processes, and perfectly designed customer communication management.
Ilya is a graduate of Moscow State and British International School.
Yulia Matveeva is the director of the customer service at Tickets Cloud. For the past eight years, she's been managing all ticketing information at a large event agency. She is very familiar with the issues of ticket sales and all sorts of organizational hiccups that may happen in the event industry. Yulia's portfolio includes such gemstones as putting together a Russia & CIS tour for Zemfira and organizing Russia's largest open air rock event, Nashestvie.
Andrey Fazlyev is an entrepreneur and a big proponent of blockchain. He graduated from MSU's faculty of mathematics and later launched and developed a few projects in the area of commercial property rentals. Together with a partner, he founded BRANDSEVENTS, an agency to bring together organizers and sponsors where he was responsible for more than 100 integrations.
Andrey co-owns an extensive network of mining farms and is one of the co-founders of the Cryptoinvest fund.
Alexander Politayko is an entrepreneur, a marketer, and a blockchain enthusiast. He made his first million at an advertising agency at the age of 18 by selling a large mobile banner campaign. For over 13 years he's been tied up in the field of clubs and concerts, managing over 300 successful events in Europe for acts like Benny Benassi, Xzibit, and Mummy Troll.
Alexander Zelenyak is the technical director at Tickets Cloud. Before 2007 he worked as an emergency medical responder and juggled studying medicine with learning how to code. At some point, the latter passion prevailed, and Aleksander left medicine to embrace programming fully. In 2010 he received an offer from the Moscow team of MapType, a FourSquare competitor, his entrance ticket to the world of tech start-ups.
In 2013, Aleksander met Egor Yegerev, and in 2014, accepted his job offer. Aleksander wrote the very first lines of code for both Tickets Cloud and crypto.tickets. These days, he is in charge of the architecture of both projects and manages the team of developers. Together, they have developed APIs that added blockchain to Tickets Cloud.
Kirill Klenov is our backend developer. He graduated from the faculty of physical and mathematical sciences of the Syktyvkar State University. At crypto.tickets, Kirill is busy making sure that all services are administered properly and run smoothly and securely. At Tickets Cloud, he worked on several interfaces, including ticket scanning, sales counters, and organizers' storefronts.
Konstantin Kiselev is responsible for dynamic pricing. He's a graduate of Moscow State in the field of theoretical physics. Konstatin is a teacher at NVIDIA Deep Learning Institute Education and a co-founder at Conundum.AI and YLabs. He works tirelessly to enable dynamic ticket pricing in Tickets Cloud. When determining ticket prices based on the market situation, his pricing model employs advanced ML algorithms with deep reinforcement learning. It is also capable of accounting for changes that help maximize profits at the end of the sales campaign.
Viktor Portnov also specializes in dynamic pricing. He graduated from the faculty of mechanics and mathematics of Moscow State and has over nine years of experience in data science and various AI applications. He used to work on emotional and facial recognition in video, anti-fraud systems, and dynamic pricing. Together with Konstantin, he's working on dynamic pricing in Tickets Cloud.
Della Bezelyanskaya handles SMM at crypto.tickets. She studied law, with emphasis on environmental and natural resource law. At Tickets Cloud, she first started in support and testing. Now Della tests which messages and posts work better.
Sergey Kudryavtsev is a Ticket Cloud project manager. He is responsible for the entire development process, managing both in-house developers and external contractors. He joined the team in summer 2016, curious to work on a service that connects concert-goers and organizers directly and shifts the landscape of the ticketing market. Sergey thinks that crypto.tickets should serve as the foundation for those changes and has all it takes to.
To learn more about our project, please follow us: